Once made to stitch footballs, Zainab now fights for the right of girls

Azera Parveen Rahman
&nbsp | &nbsp Meerut
12-September-2015
Vol 6&nbsp|&nbspIssue 37
It's eight in the morning and Zainab has already had her bath, said her prayers, prepared the morning meal and even put in an hour of studies before she readies to take classes for a few students and their mothers living in her neighbourhood.
But that is not the most remarkable thing about this 19-year-old from Chandora, a small village near Meerut in Uttar Pradesh. Truth is Zainab was an industrious child labourer, who used to stitch footballs to help out her parents, but has since then transformed herself into an activist committed to the cause of children's education.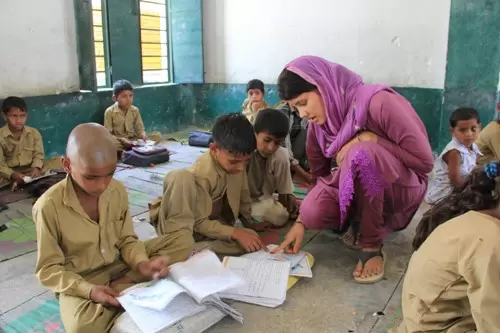 A former child labourer, 19-year-old Zainab has transformed herself into an activist committed to the cause of children's education (Photo: Azera Parveen Rahman\ WFS)

Zainab was only 10 when she was first taught how to stitch footballs. Of course, by then she had already seen many of the older girls in her village do it and so she picked up the skill fast enough.
"Some of my peers had started when they were as young as four or five years old. There would hardly be any boys doing this, only girls. Mainly because girls were not sent to school and were thus expected to lend a helping hand in earning for the family," she recalls. The earnings were quite meagre though – paid at Rs 3 per football the children could hope to make only Rs 25 to 30 a day.
Unlike most of her friends in the village, which is largely dominated by the Muslim community, Zainab was still fortunate because her father made sure that she attended school besides working.
"The village school is till Class Eight so I knew that if nothing else, I would at least study till then. After that there was a big question mark because the nearest high school was four kilometres away, in another village, Sewal Khas. This was why even those of us who managed to finish primary school had to drop out later," she explains.
Whereas for most city folks four kilometres may not seem like much of a distance, in the countryside where there is no suitable public transportation and a very real threat of sexual violence most parents are simply unwilling to take any risks.
For Zainab, the year 2006 is a landmark in her young life. She was in Class Five when the Bachpan Bachao Andolan, a child rights movement, came into their village to empower children to change the prevailing social mindset and say 'No' to child labour.
They proposed the idea of creating a Bal Panchayat through which children would pick the issues that were affecting them and look for solutions collectively. After an election, it was little Zainab who emerged as the Bal Pradhan.
"Right from the start my objective was quite straightforward - tell the children of my village to stop stitching footballs and attend school instead. We did our best to convince families to send their offsprings back to class by talking to them about the benefits of education, particularly of educating the girl children," elaborates the teenager, who has completed her graduation and has taken admission to do her Masters in Social Work (MSW).
Zainab's determination to do well and distinguish herself one day as well as the opportunity to interact with Nobel laureate Kailash Satyarthi, who started the Bachpan Bachao Andolan (BBA) in the early 1980s, has only strengthened her family's resolve to ensure that she follows her dream of studying further – even if it means her father has to take the extra effort to drop his daughter for her classes, wait for her to finish, and then bring her back.
"But it has all been worth the hard work," remarks Abdul Sattar, Zainab's father, adding, "These days the distance we traverse has multiplied; we cover 20 kilometres one way to Zainab's college and then come back all the way but then so has her sense of purpose. I firmly believe that it's the girls who shape our future generation, so they must be educated."
Indeed, even as Zainab has been trying to build a future for herself her actions have inspired many others to follow her lead.
"Over the years, I have kept up my engagement with the community, persuading parents to send children to school. At present, 120 children are enrolled in my village school. There is not a single child in Chandora who is not learning to read and write," she says with great pride.
However, Zainab's efforts at spreading the word on education have not stopped at her village. She, along with activists of the BBA, has gone door-to-door across 10 villages in the Meerut district motivating over 500 children till date to attend school.
What has given Zainab a reason to smile the widest, though, is the realisation of a long-cherished dream - that of getting a high school or college built in her very own Chandora.
"The state government after seeing my concerted endeavours has decided to make an intermediary college in my village. The construction has already begun and, hopefully, the classes would begin next year," she informs.
While the good news is that girls in Zainab's village will be able to study till Class 12 without worrying about anything, unfortunately, despite best efforts the scourge of child labour still continues.
"Children stitch footballs here to supplement the family income. Now that they attend school, they take out time after they get back. Child labour can be uprooted only when some kind of rehabilitation to uplift the families is provided," says the youngster.
Meanwhile, her mission to spread the light of literacy goes on as usual. Along with taking tuitions free of charge for the children in her locality, she teaches their mothers to read and write as well. Besides, she has started two centres, one in her village and another in the vicinity, to teach tailoring so that girls can be independent enough to earn their living. Her sister-in-law helps her run these centres.
With so many things going on, what does Zainab ultimately want to do in life? "I want to be a teacher," she says. And inspired by her, Zainab's elder sister, who could not study much and got married early, unlike the rest of her nine siblings, says that she will now make her daughter study further, "just like her aunt".
(This article is part of U.N. Women's Empowering Women — Empowering Humanity: Picture It! campaign in the lead-up to Beijing+20.) - Women's Feature Service
Wish to share your story?
Trending Now: