When school students teach lessons to society on rehabilitating beggars

P C Vinoj Kumar
&nbsp | &nbsp Chennai
24-August-2015
Vol 6&nbsp|&nbspIssue 34
When a bunch of school children turn change-makers, not just their school but the whole community rejoices.

Thanks to students of Kaligi Ranganathan Montford (KRM) Matriculation Higher Secondary School, R Nagaraj, who was once a beggar, now leads a respectable life as a self-employed person.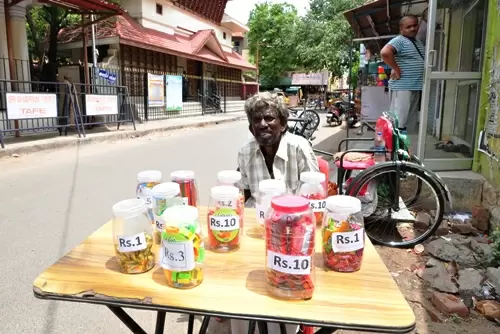 Nagaraj runs a candy shop near the Ayappan temple in Perambur (Photos: H K Rajashekar)

He is a living example to demonstrate that begging can be eradicated from the cities if there is a good rehabilitation plan in place.

For Nagaraj, a former painter, who became a paraplegic after he fell from the top of a two-storey building while at work some five years ago, seeking alms became a remunerative profession.

Through begging, he made Rs 300-400 everyday. He was happy with his earnings and hung around near the Ayyappan temple in Perambur in North Chennai, which is about 5 km from his erstwhile home in Madhavaram.

The temple, which is situated on a narrow street in a residential area, became his permanent address. He sat on the pavement outside the temple, took alms from devotees and slept across the road on the doorsteps of a canteen after it downed its shutters at night.

Nagaraj had none to care for him. "There was nobody to take care of me. I am not married either. I had only my mother, but she was quite old. She too passed away recently," reveals the 52-year-old man, whose life found new purpose and dignity after a group of children from KRM School adopted him last year and took charge of his rehabilitation.

The children set up a shop for him and today Nagaraj sells candies, biscuits and snacks – kept in bottles and displayed on a table - at the same place where he used to be begging not too long ago. He has got his self-respect back and feels contented with the little he earns.

"When I was begging, I used to make more money. There was enough money to eat three meals a day. I had nice food, biryani, mutton, fish and chicken. After I opened the shop, my income has fallen.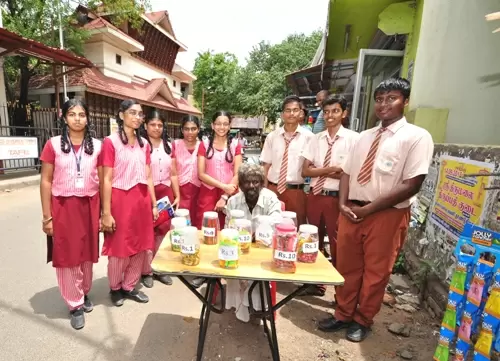 Children from KRM School who set up the shop for Nagaraj

"I hardly earn about Rs.60-70 daily, just enough to eat one simple meal a day. But I have decided to work and earn my living, so as not to let down the children who have shown great love and affection for me," says Nagaraj.

"Some well-wishers offer me money and I accept it, but I never stretch my hands and beg," he adds.

The Class 12 students of KRM School had embarked on a mission when they were in Class 11 to rehabilitate beggars near their school by offering them a livelihood opportunity.

They approached many beggars in the area, but only five of them were interested in working, including Nagaraj. While the others returned to begging, only Nagaraj stuck to his new job.

The students, who contributed money to set up the shop for Nagaraj, continue to refill the stocks for him.

"We spend about Rs.700-1,000 every month in replenishments," says Roshini, one of the students involved in the project. The children have also donated a tricycle for Nagaraj to move around.

About 13 students are part of the initiative and they are supported by their school management.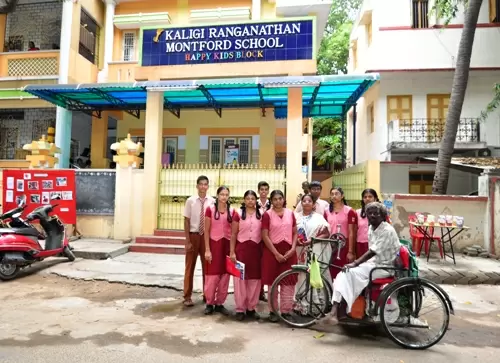 Nagaraj on his tricycle with KRM school students and the headmistress

R J Bhuvanesh, CEO of Kaligi Ammal Ranganathan Education Trust which runs the KRM School, says the project has instilled the 4 Cs of 'creativity, critical thinking, communication and collaboration' in the children.

The headmistress of KRM School, Anitha Daniel, says that students from Class 11 are encouraged to take up a social project, and the children continue the project till they complete their Class 12.

"Many children are associated with their projects even after leaving the school," says Anitha.

The earlier batch taught the housekeeping and cleaning staff in the school to read and write and boosted their self confidence.
"The illiterate women were taught to write English alphabets. They can now sign in English. Five women cleared the Graded Examinations in Spoken English (GESE - grade 1) conducted by Trinity College, London, in Chennai," says Anitha.

In Nagaraj's case the students are aware about his low income from the shop, and they have plans to buy him more things so that his earnings would increase.
Wish to share your story?
Trending Now: