Keeping himself in the shadows, octogenarian lights up rural areas in many ways

10-August-2015
Vol 6&nbsp|&nbspIssue 32
"India lives in its villages." The prescient Mahatma who said this had inspired many people to serve in villages.
Octogenarian Arun Chavan, the founder and honorary secretary of Verala Development Society (VDS), based in Sangli and Kolhapur districts in Maharashtra, is one such person who for more than forty years has helped transform deprived villages into prosperous ones through community-based sustainable initiatives, even before government projects were sanctioned in the region.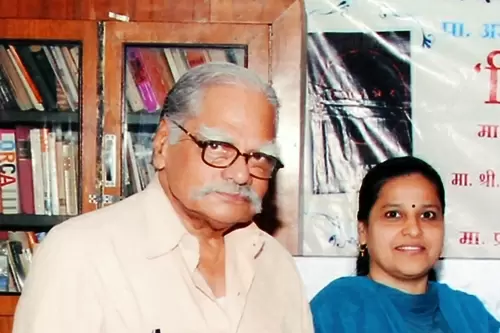 Humble and modest, Arun Chavan, inspired by Gandhi's ideals has dedicated his life to the upliftment of villages

Though his name hardly shows up in Google searches, and he is not on Facebook to tell his story, this unsung hero has done phenomenal work through the organisation he founded and has offered a lifetime of service without seeking rewards.
VDS has built 250 irrigation wells, primary schools, a high school, has electrified villages, created a weavers' cooperative society, and made a mark in afforestation and adult education programmes.
After all, Arun belongs to the pre-independence generation when ideals were acted upon. Born in Bengaluru in a family hailing from Kavathe near Sangli in Maharashtra, and educated in Kolhapur and Mumbai, Arun grew up in an atmosphere charged with the freedom cry.
His father was an educated village head and his maternal uncle, under whose shadow Arun grew, was a dedicated Communist party member.
It was only after Arun obtained a post-graduate degree in English Literature from the University of Bombay that he started reading about Gandhiji and his thoughts began to change. "Two books – Louis Fischer's Life of Mahatma Gandhi and Taya Zinkin's Story of Gandhi –gave me an insight into the greatness of Gandhiji's mind," says Arun, now 84 years old.
After working as a college lecturer in English in Kolhapur, Arun served as Controller of Examination and then as Assistant Registrar in Marathwada University, Aurangabad, and Shivaji University in Kolhapur. But somewhere the spirit of Gandhi and a fervour for nation-building had made a home in him.
One day in the year 1968, he happened to meet two-village level activists, and the conversation turned towards development. Their villages were dry, undeveloped and poor, and the trio decided to launch an initiative for development through community participation.
Arun quit his regular teaching job to turn full-time activist and social worker. He was in his early forties, and his family (wife and two daughters) were understandably against this ground shift full of uncertainty. But Arun had made up his mind.
It was only when he experienced first-hand the realities of village life that he recognised Gandhi's genius, and understood his idea of Gram Swaraj or self-rule: that every village should be "independent of its neighbours for its own vital wants and yet interdependent for many others in which dependence is necessary."
It was to this vision that Arun dedicated himself. He started with the goal of transforming two dry villages of Alsund and Vazar, near Sangli in the Khanapur block of Sangli district in Maharashtra, into green ones.
These two villages with a population of 3,000 and 2,000 respectively became models of self-development. Arun's mission was to work with the villagers, initiate community participation, and enable them to meet core human needs.
Back then, in the late sixties, even after two decades of independence, villages in India were grappling for the basic human needs of food, shelter, clothing, education and healthcare.
Like many others, these two villages lacked electricity, potable water at home, road connectivity and schools. Lying in a low-rainfall region, Alsund and Vazar were left at the mercy of fate with no intervention from the Government. Development was but a dream.
Fittingly, on Gandhi Jayanti, 2 October 1969, Arun formed the 'Verala Development Society', registered as a charitable trust in 1970 in Sangli, with nine initial members. Their primary challenge was irrigation, as Alsund and Vazar barely received 450mm of average annual rainfall. The only source of water was the seasonal river Verala and shallow wells, which went dry in summer.
VDS started with water conservation and water harvesting. The first step was the construction of two percolation tanks at Alsund and Kamalapur villages, making bunds in agricultural lands and building 43 small and big check dams across the streams.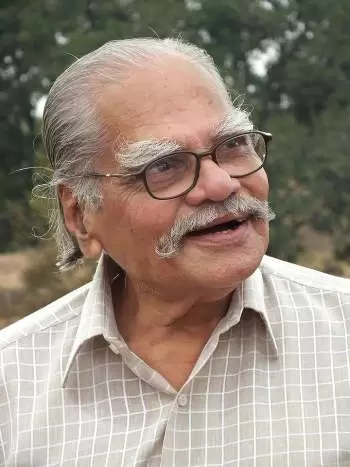 Arun had kick-started several development works in the villages that changed the lives of people

The period 1970-74 saw the building of 25 km of road and 100 irrigation wells. In 1973, they were way ahead of the administration in Sangli (which began such work only three decades later), developing a local watershed in the Alsund village cluster.
Then, changes in cropping pattern were introduced, and so there was shift from traditional millets, sugarcane and groundnuts to growing seedless grapes, vegetables and horticultural crops as well.
The good-quality seedless grapes ushered in prosperity. Even now, after four decades, the farmers have an edge in technology and export grapes to Europe, the Gulf and South East Asians countries. The technique of desalination of soil and cultivating salt-tolerant root stock, a method pioneered by VDS, works wonders in the Deccan Plateau. In Kavathe Piran village, 12 kms from Sangli town, seedless grapes were introduced in reclaimed land in 2000, helping farmers reap rich dividends.
One such beneficiary was sugarcane farmer Uday Suryavanshi, who planted Thompson seedless grapes on four acres. He harvested his first bounty in April 2005 - 10 tonnes per acre of excellent quality grapes. "Today I cultivate grapes on 4 acres and earn up to Rs 9 lakh per annum in profit," says Uday, who has begun raisin production too.
"Alsund and its vicinity was a scarcity-prone area, but it is evergreen and prosperous," said Arun. That job done, VDS's focus shifted to children, women and the most underprivileged in society such as nomadic and de-notified tribes.
"We will be starting a technical educational centre like an ITI in the region to impart vocational training to youngsters belonging to the most deprived sections," says Arun.
Spanning the districts of Sangli and Kolhapur, VDS works to the direct benefit of as many as ten villages and several thousand villagers. There is relief and support for every category of person. Smaller VDS centres educate children between 6-17 years. For women and children, its members visit villages to spread awareness regarding various Government schemes for their good. A Counselling Centre for Women at Alsund provides social, medical and legal counseling for needy and destitute women.
And weaving this all into one enduring fabric, the principle of community participation guides VDS activities. In fact, the nine members of the Executive Committee and the 75 General Body members are all volunteers.
They work through 'shramdaan' (community service) in public utility projects in the village. For example, Verala volunteers learnt how to make check dams from technical experts in the State Government. They then guided the farmers to build the dams.
VDS has also kick-started initiatives in village development work, which have then been taken forward by others. One such is the Food-for-Work programme they introduced in 1972-73, long before the Maharashtra Government included food as wages under the Employment Guarantee Scheme (EGS).
"As many as 20,000 people found employment under the Food-for-Work programme in five talukas of Sangli district for three months during a famine," said Arun. The VDS had procured food from CASA (Church's Auxiliary for Social Action).
As each person got food ration for five persons, more than 1,00,000 people received food. The work undertaken by them included constructing percolation tanks, roads, schools, wells, contour bunds, soil improvement work and afforestation.
VDS's strength lies not only in building but also in rebuilding after destruction. Following the 1994 earthquake, they built 143 earthquake-resistant houses in the Sahyadris and a few in the Kutch, introducing pioneering and sustainable construction methods, with funding from Oxfam.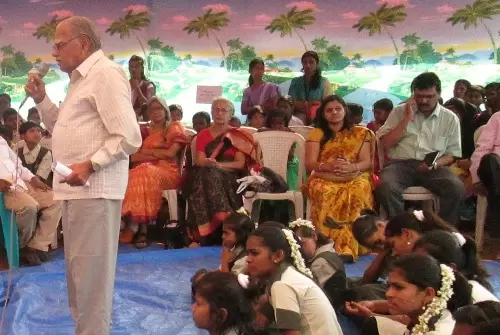 VDS's many endeavours aimed at making women self-reliant

"In the Sahyadris, we used local techniques and local materials," reveals Arun. "For cementing bricks we used slurry (made of red earth) instead of mortar. The roof was made of lightweight tiles." In the Kutch, the houses were made of Hydraform blocks (manufactured by compressing raw earth, sand and cement) that are eco-friendly, locally made and cost-effective.
VDS's many endeavours aimed at making women self-reliant include, education of adult women, non-formal education for girls drop-outs from schools, small savings promotion among women, training women in home remedies for minor ailments in absence of medical facilities, tailoring classes, employment in weaving units and other avenues of self-employment.
Regular Kishori Vikas Shibirs (Teenage Girl's Workshops) are organised to educate growing girls about hygiene, sanitation, marriage, children and the importance of education. It's interesting to note that Arun's own elder daughter has turned part-time farmer!
Yet the man with the salt-and-pepper hair, with forty years of fortitude behind him, remains humble and modest, continuing to lead and guide from the front. He adheres to Gandhiji principles of non-violence, democracy and the sanctity of the means to achieve ones ends.
Reflecting the ideology of the Father of the Nation, Arun has succeeded in transferring the process of development into the hands of those whom it should benefit – the masses – and in keeping Gandhi alive in the villages he loved.
Wish to share your story?
Trending Now: