How a woman brings about changes for the betterment of the people in her village
Rakhi Ghosh
&nbsp | &nbsp Khurda
27-July-2015
Vol 6&nbsp|&nbspIssue 30
Till a few years ago, Mahendra Bhoi, 35, a resident of Sarakana panchayat in Odisha's Khurda district used to pack his bags every winter and head out to the nearest city to find work.
It was not an easy choice to make, staying away from the family, but for their sake he had to head out. This, despite the fact that he had a valid job card, which entitled him to 100 days of work under the National Rural Employment Guarantee Act in the vicinity of his panchayat.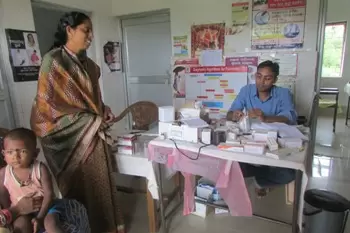 Sarpanch Soudamini Das has ensured that access to basic healthcare is no longer the uphill task it used to be in her village (Photo: Rakhi Ghosh\ WFS)
In fact, like Bhoi there were hundreds of job cards holders, who had to migrate to make ends meet. The situation, however, is very different today, as Sarakana's new Sarpanch has made it her business to ensure that out migration from her panchayat is down to a trickle.
Indeed, ever since Sarpanch Soudamini Das has been elected in 2012 things have slowly changed for the better. For instance, access to basic healthcare is no longer the uphill task it used to be.
Basanti Nayak clearly remembers the days when getting to the nearest health facility, the Community Health Centre (CHC) at the block headquarters in Balianta, was so fraught with problems that she preferred to be at home in pain.
"Either I had to convince my son to take me or request someone in the village. If no one was heading in that direction then it was next to impossible to get there.
"And if one did manage to reach the CHC standing in long queues for hours on end was the next hurdle to overcome. Thankfully, a Primary Health Centre (PHC) has opened right here in our village, which is a blessing," she says. The Sarakana PHC, which caters to four panchayats, is truly a godsend for nearly 10,000 people.
Over the last few years that Das has headed the Sarakana panchayat, which comprises 15 wards and 10 revenue villages, she has accomplished many things. Once a quiet young homemaker, completely ignorant to the workings of the panchayat, she has transformed into the person on whom the community relies on for effective leadership and some ingenious problem-solving.
"When in 2012, 50 per cent seats in the Panchayati Raj were reserved for women many well-wishers and my family encouraged me to contest. Not only was it challenging to convince the 4,500-odd voters to rest their faith in me but after being elected sarpanch fulfilling the responsibility of ushering in real development was even harder," she says.
Das began by calling a mass meeting of all the panchayat members and the people where she picked her first task – to aggressively push for projects like building concrete roads and repairing ponds that would facilitate necessary infrastructure creation and provide much-needed work under the rural employment guarantee scheme.
"When I realised that there were government schemes under which such activities could be sanctioned and that this would provide fruitful employment as well I decided to pursue it rigorously at the block level," she says.
Of course, like most of her counterparts, Das, a first-timer, had to learn the ropes of governance, especially because she had limited awareness of the rules and regulations under the Panchayati Raj system.
According to Sukant Mohapatra, State Coordinator, The Hunger Project, a non-profit that conducts capacity building programmes for elected women representatives in the Gram Panchayats , "By and large, elected women representatives (EWRs) are less educated and especially have a limited understanding of budgeting at the institutional level.
"Moreover, as a group, they are never really allowed to voice their opinions or put forth their development ideas at the block level, suppressed as they are by the menfolk in the community.
'So, for women sarpanchas wrapping their head around the decentralised planning and development process is quite tough in the beginning. Through our regular training we have tried to build-up their self-confidence, communication and leadership skills."
In 2012, after the panchayat elections the then Panchyati Raj Secretary Aparajita Sarangi had called for organising Palli Sabhas, apart from Gram Sabhas, in all the panchayats to create awareness among the villagers about their role in the development process.
Mohapatra recalls, "This move helped both the sarpanchs and ward members to gain a better understanding about how to conduct Palli Sabhas and Gram Sabhas. Further, they got a good idea about the demands and requirements of decentralised planning."
Das, who is fondly called "sarpanch didi", has learnt how to expertly tackle the system, and this has enabled her to get things done – be it making MGNREGA work available in Sarakana, ensuring the supply of drinking water and electricity to everyone or being instrumental in opening a much-needed PHC.
She elaborates, "In the very first Palli Sabha, the villagers had asked for concrete roads and work for all job card holders. These demands were then discussed in detail in the Gram Sabha. After several rounds of deliberations a resolution was passed and submitted to block office at Balianta.
"Within a few weeks, the Block Development Officer (BDO) approved a total of six projects, which included building pucca roads and repairing ponds. Daily wagers, who were forced to leave to earn a decent living, got work and payment on regular basis."
Next on her agenda was the construction of anganwadi centres. For this, again a resolution was passed in the panchayat meeting and sent to the Child Development Project Office (CDPO). "We already have three proper anganwadi facilities while another two are nearing completion. I am glad that children will no longer have to sit under a tree, and be exposed to animals and the elements," she says with satisfaction.
Notwithstanding these crucial achievements, it is the mention of Sarakana's fully functioning PHC that brings the biggest smile to Das's face. A long-standing requirement in the area, the previous sarpanch had already got the building constructed.
But despite best efforts there were no doctors or other medical staff made available to provide essential healthcare. It was only after Das did the necessary homework and put together an impressive team of ward members and villagers to put their case forward at the Collectorate that she was able to secure an appointment with the District Collector.
Once they were able to convince him the orders were issued immediately. At present, there is a doctor, Auxiliary Nurse Midwife (ANM) and pharmacist posted at Sarakana. "The PHC opened in July 2014 and everyday we have around 30 to 40 patients coming for check-ups and treatment," says Dillip Sahu, the pharmacist.
These days, apart from development, finances occupy Das's mind. When she had taken charge the Panchayat fund was zero. Currently, their coffers have a healthy Rs 3 lakh, all thanks to the regular haats and leasing of ponds, although she has set a target of Rs 5 lakh by 2016. "We need this money to invest into other development work," she says.
Riding on the success of sarpanches like Das, Balianta's BDO Anamika Adhikari is convinced that "decentralised planning plays a vital role in the development of panchayats".
She says, "With the focus firmly on the proposals presented at the Palli Sabhas, it's the people who now power local development work. A better understanding between the sarpanches and the panchayat members will further aid their efforts."
Adds Anuradha Mohanty, Executive Director, PECUC, a Bhubaneswar-based non profit that sensitises EWRs, "Soudamini's journey is certainly inspirational. Like her, women representatives have to learn to embrace their role as a leader and not be a mere proxy."
Das, who has studied till Class Ten, dreams of bringing comprehensive social security to her panchayat. "The people elected me with the hope that I would bring sustainable development to our panchayat and I want to prove them right," she signs off.
(This article is a part of the Government of India-UNDP media fellowships on decentralized Planning-2015.) - Women's Feature Service

Wish to share your story?
Trending Now: