From a domestic help to a social activist, this Kolhapur woman has come a long way

04-July-2015
Vol 6&nbsp|&nbspIssue 27
Anuradha Bhosale, 43, the Vice President of Avani, an NGO in Kolhapur, Maharashtra, working for child rights, is no stranger to the plight of child labourers. She herself was one when she was only six.
Born in Shrirampur, 30 kilometres from the well known town of Shirdi, to poor parents, Anuradha was forced by circumstances to work as a domestic help even as a child. But no ordinary little one, she refused to resign herself to fate.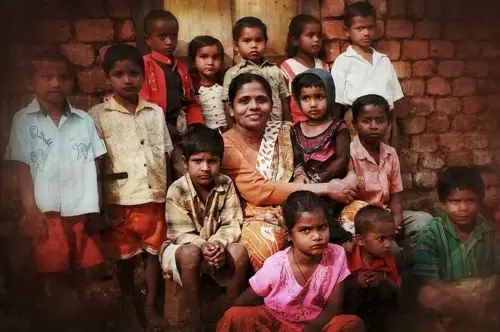 Since 1995, through Avani, Anuradha Bhosale, has rescued 5,700 child labourers in Kolhapur district (Photos Courtesy: Avani)

She mapped out the coordinates of her own life, with strength and foresight beyond her young years. She knew education was the golden compass - it pointed the way out of poverty, but there could be no quick tricks.
"I was a curious child and right from childhood I wanted to go to a school," says Anuradha. Her considerate employers didn't mind if she worked and studied alongside, so young Anuradha saved money and enrolled into a nearby school, St Teresa Primary School, in the small village of Harigaon. After class seven, she was admitted into a boarding school run by missionaries.
She had been right about education. It opened new routes in its wake, and Anuradha readily chose to make her way on them. After graduating with a Masters in Social Work, her fees funded by kind missionaries, from the reputed Nirmala Niketan College of Home Science in Mumbai, she plunged herself into serving the community.
As Project Holder in the Social Work Department of the Bajaj Auto Company in Pune, she managed environmental and sanitation projects in 124 villages in western Maharashtra, as part of their corporate social responsibility initiatives.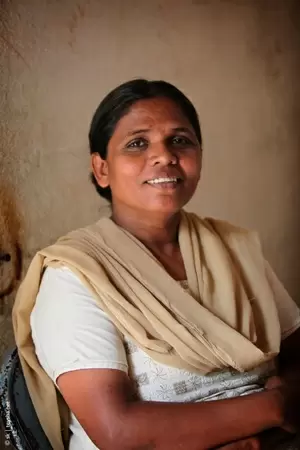 Anuradha has a Masters in Social Work from Nirmala Niketan College of Home Science in Mumbai
Following this, in 1996, she joined the Verala Development Society (VDS), whose mission was to provide houses to homeless, divorced and widowed women. VDS is an NGO working for community development since 1969 in Sangli and Kolhapur districts of Maharashtra.
The next year she joined Avani, a project of the VDS to conduct surveys of migrant children in Kolhapur. Life had come full circle.
And Anuradha had found her calling.
Once, just after college, she had broken-heartedly witnessed the plight of migrant children crushing rocks for road construction, and she had not forgotten the sight. Now here, in Kolhapur, was her opportunity to work for the betterment of child labourers and migrant children, and she had all intentions of making full use of it.
Working tirelessly from a bench in the Town Hall garden - in the absence of office space - she took the first step of introducing the families of these children to micro-finance by helping to organise self-help groups for women. Members could then take a loan from the group to finance a small initiative if they wanted.
Anuradha was well aware of the vicious cycle of child labour, beginning from the vulnerable position of women in a male-dominated society, and nearly always curving into children being exploited for manual labour and domestic work from sheer poverty.
To address the root cause of child labour, she founded the Women and Child Rights Campaign (WCRC) to educate, empower and unite disadvantaged women who may be widowed, divorced and abandoned.
It was through her efforts via Avani that many such women became aware of their legal rights and, in 2010, as many as 3,741 women received Government entitlements in the form of cash, leading no doubt to many children being saved from working as child labourers.
During Anuradha's determined campaign for child rights and for the empowerment of abandoned women, paradoxically her own personal life hit rock bottom. This campaigner for abandoned women was forced by her husband and in-laws to leave her home, with her two young children and only the clothes on her back.
"My daughter was six and my son only one when I was driven out of my home," Anuradha recounts. However, she had learnt not to ever blame her destiny, only to script it. It made her resolve only stronger.
Her education and her social work kept her going, and from strength to strength. In fact, her own situation inspired her even more to work whole-heartedly for deprived women.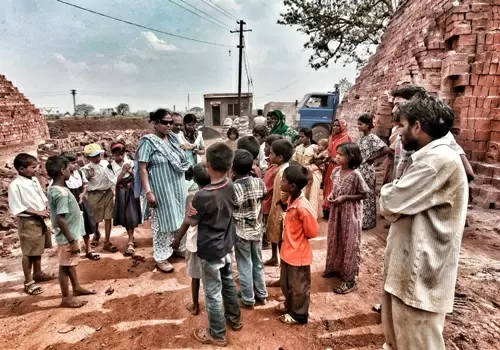 Many child workers have been rescued from brickyards and admitted in schools

Today she is happy that her children, Kadambari and Granth, who study in class 12 and 7 respectively, mingle with the children of Avani and support her work.
Since 1995 Avani has rescued 5,700 child labourers in Kolhapur district and also continues to work towards the prevention of child trafficking and female infanticide. Anuradha convinced many labourers to send their children back to the villages to stay with their grandparents or relatives and study there. Some of those who could not do that went to schools run by Avani, or the brickyard schools.
The nomadic families from the drought-affected areas of western India come to Kolhapur to find work in hot and dusty brickyards – where bricks are made – and among them are many children. These young ones – some only five years old - carry a thousand bricks a day on their head for a measly 20 rupees a day.
Rewind that day after day, month after month – and feel the terrible weight of that on the tender body and mind of a child just about old enough to leave kindergarten.
Avani rescues such children and provides the exploited, abandoned and poorest of them with safe housing and education. Not only that, it's 360-degree care: food, nutrition, recreation, health check-ups, et al.
One such boy Sunil Kamble, now a Class 12 science student in Kolhapur recalls his travails as a five-year-old child labourer before Avani came to his help. "I used to carry a load of 14 bricks on my head each time, and carried around 2,000 bricks in a day," Sunil says.
It was Anuradha who visited the brickyard and convinced his mother to let him go to school. Now aspiring to be an engineer, Sunil spreads the word about educating children and banning child labour, whenever he visits brickyards.

According to the International Labour Organization there are an estimated 168 million child labourers (in the age group of 5-17 years) in the world and India is accountable for a horrifyingly large proportion of these – Indian NGOs estimate as many as 60 million!
In Kolhapur district where Avani works to conduct surveys to identify child labourers and rescue them, there are a whopping 50,000 child labourers. It's not only the brickyards that are guilty, but Avani has rescued children from sugar-cane fields, construction sites, domestic work, street begging, retail shops, hotels, lodges and even from the exploitation of their own families.
"Even today it is difficult to make people understand that they should not employ child labour," says Anuradha. "But when we rescue one child, it saves the lives of thousand children as it sends out a message to other employers."
When she first went to brickyards to convince the owners to not make children work, the powerful owners sent their goons after her to beat her up. However, she persisted and a transformation took place.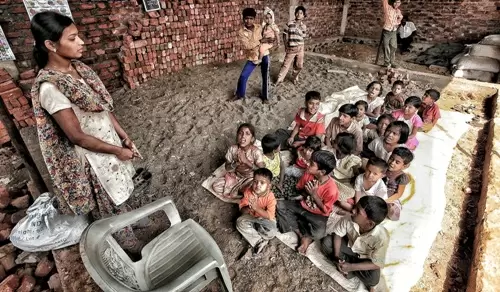 Avani operates 21 schools in the brickyard labour camps and have schooled more than 1,100 youngsters till date

Today, those very hostile owners are friends of Avani, and one of them has recently donated 7,000 bricks to build a school for the rescued child labourers and orphan children, transferred from Government juvenile homes.
Sachin Mate, one such brickyard owner, recounts how Anuradha would untiringly try to persuade the employers and parents of child labourers to send them to school. Mate used to take child labour for granted, but now he has completely stopped employing children.
"Now many migrant workers, having realised the importance of education and child labour as a crime, leave their children back in villages," he says.
Education continues to be the catalyst of change. For children as young as 3-6 years, Avani operates 21 schools in the brickyard labour camps and have schooled more than 1,100 youngsters till date.
For the dropouts, Avani conducts a programme to re-educate them and enroll them in school. The organisation has also established children's homes for migrant children.
However, this is only a drop in the ocean, and Anuradha knows it. According to her, the 1986 Child Labour Act had several limitations. Only 77 establishments were considered hazardous according to the Government, but Avani and other concerned NGOs felt that any occupation that employs children is hazardous for them as children are deprived of nutritious food, proper shelter and education.
In 2007, Avani led the mobilisation work with other NGOs and approached state and central Governments, with the aim to make policy-makers realise the imperative need for every child to go to school. In 2010, the Right to Education for children between 6-14 years was finally enacted as a law.
"Though the law has its own limitations, with time those will be overcome," says Anuradha. "We have to save the childhood of children." Yes, the golden compass is still very much in her hand, and it's pointing towards light.

Trending Now: