Healing bodies, minds and hearts through action, service, hope, is the doctor's prescription

04-May-2015
Vol 6&nbsp|&nbspIssue 18
A single incident may change a life, but in the case of Dr Glory Alexander, it transformed thousands. As the founder of Asha (Action Service and Hope for AIDS) Foundation, she has been administering affordable treatment, care, optimism and opportunity to HIV/AIDS patients for more than a decade and a half.

It's now almost three decades since a man asked her, 'Do you think I might have AIDS?' - a question that made a deep impact on her. It was 1987, early days in HIV history. And Dr Alexander, gold medalist from Christian Medical College (CMC), Vellore, young Consultant Physician at the Baptist Hospital, Bengaluru, was stumped.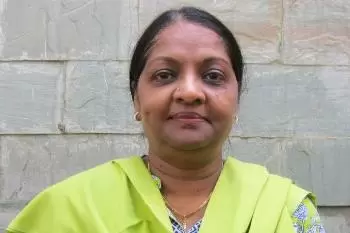 Dr. Glory Alexander's ASHA Foundation looks after the education and nutrition needs of 120 HIV-positive children
The 53-year-old man who lay suffering before her was far from his home in San Francisco, USA. He had taken refuge, on a whole different continent, in the Sathya Sai Baba ashram in Puttaparthi, Andhra Pradesh, to escape the stigma his condition usually brought. When he became severely ill, he came to the Bengaluru hospital, where he was being treated for a lung infection.

Dr Alexander had completed her MD in Internal Medicine just a year earlier, but she had not studied anything about AIDS. No case of AIDS had been detected in India at that time. The doctor rushed to the library to scan the medical textbooks and found the mention of a test for AIDS. However, it was not available in Bengaluru, and the patient's blood sample had to be sent to CMC, Vellore.

Sadly, even before the result marked 'positive' came back 36 hours later, the man died.

Meanwhile, life went on and Dr Alexander continued to work at the hospital till 1991 as a specialist, then until 1994, as Head of Medicine, Ministry of Health at Nizwa Central Hospital in the Sultanate of Oman.

That year, back home at the Baptist Hospital as acting head of the department of medicine, the soft-spoken doctor's leadership and administrative skills quickly became apparent. She brought in new staff and changed routines, reduced patients' waiting time and introduced study sessions to help the staff keep up with the latest medical developments.

Still, that first painful encounter with AIDS haunted Glory.

After that case in 1987, she had not come across any patient suffering from AIDS, but by 1995-96 HIV/AIDS had become a hard reality in India. Even then the patients would often be treated for pneumonia or some other ailment and discharged without the primary disease being treated.

"In those days we lost many patients because the necessary drugs were not easily available and treatment costs were prohibitive, between 25,000 to 30,000 rupees per month," says Dr Alexander, now in her mid-sixties. It was only when Indian pharmaceutical companies started making generic drugs and ART (Antiretroviral Therapy) became available in 2004 that HIV patients found some relief.

The mention of HIV/AIDS would, however, invoke fear, provoke hostility, or trigger embarrassed silence. Dr Alexander saw the discrimination HIV/AIDS patients faced in and out of hospitals, and she decided to address their problems directly.

She was a good doctor in a high-ranking position, but she felt she could do more. Be more. It could not have been simple to give up a secure, salaried job for an uncertain future, but she had the whole-hearted support of her father and her orthopaedic-surgeon husband.

Caring coursed in her blood. Brought up in Bengaluru, young Glory did her schooling from Kendriya Vidyalaya and inherited the compassionate gene from her father. Intelligent, hard-working and with a leaning towards serving society, she had then gone on to the renowned CMC Vellore, excelling in her graduate and post-graduate studies.

The foundations were strong and her career was building up well, but in 1998 she gave it all up to help AIDS patients full-time through the Asha Foundation, which she founded.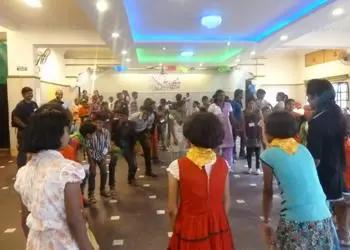 Children having fun at one of the camps organised by ASHA Foundation
With her meticulous and single-minded nurturing, the Bengaluru based Foundation soon became a trusted organization for anyone seeking help for HIV/AIDS. The Foundation works for the prevention, awareness, treatment, care, support and rehabilitation of HIV-infected persons, and focuses specifically on women and children, who are often innocent and unsuspecting victims of HIV infection. It provides personalised and good medical care to HIV+ patients, either free or at a significant discount.

"ART has been a boon," says Dr Alexander. The Government provides free treatment to the patients from its ART centres, but the patients need to be counselled one-on-one to follow an exact and rigorous timetable of treatment, for life.

Besides doing that, the Foundation runs an AIDS helpline and telephone counselling service, an automated information system in English and Kannada. In 2000, they set up a manual telephone counselling service weekdays from 9 to 5 and receive 8-15 calls a day.

While counselling and treatment saves precious lives, it is the 'prevention of mother to child transmission' [PMCT] that is first priority for Dr Alexander. Way back in 2003, when HIV testing for pregnant women was not mandatory, Asha Foundation tested 1,40,000 women and found 750 HIV+.

"With timely intervention, the transmission could be drastically reduced from 45 percent to two percent," says Dr Alexander. One such unsuspecting mother Padma Kumari got the biggest shock of her life when she tested positive for HIV.

"I really didn't know what to do and reconciled to dying," she says. The Asha Foundation came to her rescue, urged her to live for herself and her child, and start ART. Now Padma works as a primary schoolteacher and considers the Asha Foundation her mentor, guide and saviour.

Sometimes, a second chance makes all the difference between life and death and Dhana Lakshmi, another HIV patient, feels blessed that she got one from the Asha Foundatio. She tested positive for HIV when her daughter was in Class V; it seemed like the end.

Thanks to Asha Foundation, she too trained as a primary school teacher and saw her daughter through college. "Just as a daughter feels safe and happy at her mother's house. . . we feel the same way at Asha," she says emotionally.

Solace, support, solutions. . . Dr Alexander provides all that and more. The Foundation looks after the education and nutrition needs of 120 HIV-positive children. The children visit the Asha Foundation office for their monthly special multigrain supplement.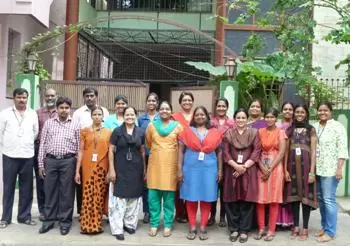 Dr Alexander with her team of doctors and volunteers
There are other supplemental actions also. Asha Foundation has helped HIV+ women, including widows of HIV+ men, to form the self-help groups (SHG). Besides attending sessions on hygiene, health, counselling, legal rights and HAART (highly active antiretroviral therapy), they can take loans from their SHG savings and the ASHA Foundation.

Some of them work as HIV counsellors, some as saleswomen, or teachers or garment workers. The Foundation also helps them to benefit from Government schemes: just last year 20 such women members received houses under the Rajiv Gandhi Housing Board Society.

The welling cup of good work brims over. The Asha Foundation also has an adolescent health education project, 'Anmol Ashayein' (precious hopes), which extends to more than 180 schools in Karnataka and beyond. Dr Alexander's daughter, the older of two siblings both now in their twenties, has a degree in communicative English and women's development and has helped work out this curriculum on value-based sex education.

It doesn't end there, because optimism means going on until you reach the other end of VIBGYOR. And that's exactly what Dr Alexander is doing. "We have introduced Camp Rainbow for HIV affected children," says Dr Alexander. "There are conflicting opinions about when to tell the children that they are HIV+. So we take the 10-16-year-olds with terminal illness for four-to-five-day long summer camps and tell them about HIV in a subtle way," says Dr Alexander.

What an impossible task, what a heartbreaking task. But Dr Alexander shows you how it can be done with the three-point formula for healing bodies, minds and hearts: action, service, hope.

Trending Now: