Assamese who created a 1,360-acre dense forest in a river island is the Forest Man of India

Partho Burman
&nbsp | &nbsp
27-April-2015
Vol 6&nbsp|&nbspIssue 17
It was the scorching summer of 1978 when Jadav Payeng, a Mishing tribal teenage boy, returned to his birthplace at Aruna sapori, a river island on the Brahmaputra.
He had just completed his Class X exams from Baligaon Jagannath Baruah Arya Vidyalaya in Jorhat and was about to loop strangely back into a different phase of his life. But no one could have predicted how different.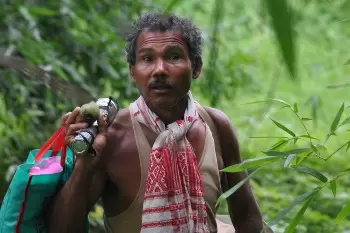 Jadav Payeng has created 1,360 acres of dense forest and is known as the 'Forest man of India' (Photos by Jitu Kalita)
On reaching, Payeng witnessed a sight that shook him to the core.
More than a hundred snakes curved, looped and twisted lifelessly on the deserted sandbar.
The boy's heart broke.
And from it burst forth a springtime without bounds.
Distressed and seeking counsel, the boy went to the nearby Deori community village. The snakes had been washed up to the sandbar by floods and had died without tree cover.
The villagers exhorted him to grow trees to save the reptiles. For where there are trees, there are birds, and where there are birds, there will be birds' eggs and fledglings - food for snakes and their ilk. Along with their native wisdom, the villagers offered the boy 50 seeds and 25 bamboo plants.
The young lad, just 15 or 16, set out all alone in April 1979 to plant life on the tough terrain of the eroded island covered with sand and silt. He sowed the seeds and shoots.
Thirty-six years later, he has reaped a forest.
Like all truly great people, Payeng, now in his mid-fifties, hailed the 'Forest Man of India,' planter of a jungle, resuscitator of the earth, lone green warrior, is innocent of his feat.
"I never thought that my small initiative would make such a difference one day," he says.
After all, Payeng, third among 13 siblings, which included seven sisters, started small and poor. His father Lakhiram and mother Aphuli Payeng sold milk for a meagre living.
The 1965 deluge wrecked Aruna sapori and forced Payeng's family, among others, to move 12 kilometres away to Majuli on the other side of river. But that was not the only parting.
Before relocating, acute poverty compelled his parents to leave five-year-old Jadav in the care of Anil Borthakur, a court-master at the District Judge Court in Jorhat, who looked after his schooling.
After Class X, Payeng gave up school to look after the livestock left by his deceased parents. He still has a hundred cows and buffaloes and makes his living from selling milk. But he is no ordinary cattle owner.
He can lay claim to 1,360 acres of dense, defiant forest.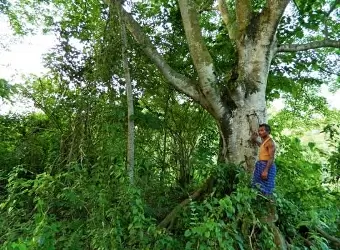 Payeng's forest is now home for five Royal Bengal tigers, over a hundred deer, wild boar, more than a hundred vultures, and several species of birds
From desolation sprouted inspiration, which swelled into an obsession. Payeng's zeal to revive the land knew no fences.
In the fertile period between April and June, he planted the forest. He rattles off the species, like names from an intimate family tree: bamboos, baheda, teak; gambhari; custard apple, star fruit, gulmohur; devil's tree, tamarind, mulberry; mango, jackfruit, plum, peach, banyan; elephant grass and medicinal plants… the list is varied and exhaustive.
The rest of the year, he collected seeds and saplings. "I covered a distance of a kilometre in five years," Payeng recalls, "and in stages it got covered with dense vegetation dominated by trees." Local inhabitants nicknamed him 'Molai' meaning 'forest' and dubbed his woodland 'Molai Forest'.
At the age of 39, on the insistence of village elders, Payeng married 25-year-old Binita and they have three school-going children - daughter Munmuni, 16, and two boys Sanjiv, 14, and Sanjay, 13. It was for their schooling that Payeng moved with his family to Eklong Mising Gaon, Kokilamukh, Jorhat, in 2011.
This meant that now his day breaks even before dawn, at 3 am, and a localised steeplechase begins.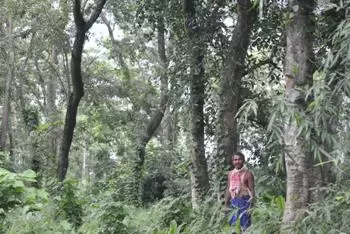 Payeng makes daily trips to his forest and is planning to stretch its boundaries
He cycles an hour to Kartik sapori, then rows his boat for about five kilometres, and then cycles again for half an hour across grassy meadows to reach his cow-shed to clean out the dung, milk the cattle, and spread cattle-manure to fertilize the fields. Milk dispatched for sale, a quick breakfast behind him at 9, and he is ready to walk into his jungle, his karmabhumi.
The forest that Payeng grew now houses five Royal Bengal tigers, over a hundred deer, wild boar, more than a hundred vultures, several species of birds, including pelicans, three or four greater one-horned rhinoceroses, besides of course, the snakes, who were at the genesis of this extraordinary story.
A herd of 115 elephants visits regularly for 3-4 months. "In 35 years, the Royal Bengal tigers have feasted on 85 of my cows, 95 buffaloes and 10 pigs," Payeng says matter-of-factly, then adds jokingly, "They (the tigers) do not know farming, you see."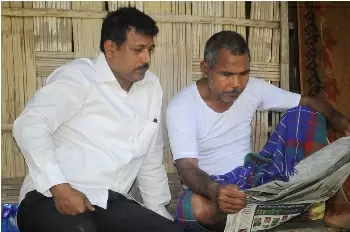 Payeng with his friend and mentor Jitu Kalita
Surrounded by his beloved trees, Payeng may well have remained in their shadow had it not been for Jitu Kalita, a local wildlife photographer, who published an article on him in a vernacular daily in 2010. Today, Jitu is Jadav's friend and mentor.
The local administration has been neither of those. Hell, this forester without designation does not even own a ration card.
Payeng laments the indifference of the forest department, saying that they neither helped him grow the forest nor paid heed when he informed them of the endangered rhinos regularly visiting his forest.
They believed him only when a rhino was poached on in August 2012. "My younger son and I couldn't eat for a couple of days when we saw its horn, tail and nails gouged out," Payeng grieves.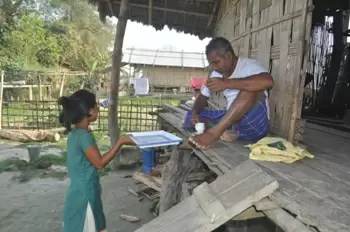 Payeng with daughter Munmuni, the first of his three children, all of whom share his love for nature
"It is a huge forest and cannot be protected by a handful of staff." In any case, Payeng believes that law enforcement alone cannot help protect vulnerable species. His sage advice is to form 'community reserves' and organise awareness camps to guard against poachers and conserve wildlife.
For his remarkable solo undertaking, the Jawaharlal Nehru University invited Payeng on Earth Day and honoured him with the title of the 'Forest Man of India' in 2012.
Later that year, the then President APJ Abdul Kalam felicitated him with a cash award in Mumbai. The same year, he was among the 900 experts who gathered at the seventh global conference of the International Forum for Sustainable Development at Evian in France. Sanctuary Asia bestowed on him the Wildlife Service Award. This year, he received the Padma Shri.
However, prizes matter little to this man for whom a whole crowded forest stands up in ovation.
"The Padma Shri is an award for encouragement," he says, "but my aim has always been to do good for the country. Even the President of India has to do something for the earth; otherwise, there will be nobody left, nothing.'
This nature-lover strongly recommends making Environmental Sciences a mandatory subject, to start them young – just as he did. "If every schoolchild is given the responsibility to grow two trees, it will surely lead to a Green India," Payeng urges.
Expectedly, he spends all the cash awards on more forest. He has now recruited four labourers for planting as he eyes another 5,000-acre area.
"The forest could stretch till Majuli," he envisions, "further to Kamalabari and up to Dibrugarh district."
Next year, Payeng plans to grow trees in some dammed areas in Rajasthan with his soul-brother Rajendra Singh, the 'Waterman of India'.
All his waking hours, Payeng sees the world in green. Come sunset, he wends his way back home on bicycle-boat-bicycle for his 8-pm meal. A little after-dinner apong to smoothen the day's furrows, and it's time for bed.
Tomorrow is another day, and in it lie the seeds of many more forests.
Wish to share your story?
Trending Now: