A woman pilot gives wings to the dreams of less fortunate children

Partho Burman
&nbsp | &nbsp New Delhi
06-April-2015
Vol 6&nbsp|&nbspIssue 14
As a little girl, when her father dropped her to school, it puzzled her to see that street kids did not go to school like she did. What was different about her – or them, she wondered.
When she grew up, she realized what it was – the opportunity. And she decided to give them exactly that.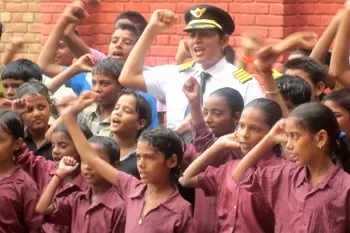 Captain Indraani Singh provides education to underprivileged children through her NGO Literacy India
Captain Indraani Singh was always about giving wings to her dreams. Born and brought up with her two brothers in a simple Bengali family long settled in Delhi, she aimed high.
Her family might never have thought it possible for an ordinary person to become a pilot, but young Indraani was not bound by any such preconceived notion.
After completing her schooling from Summer Fields School, while in college she trooped off to join the All India Gliding Club.
From then on there was no looking back. After the thrills of flying the engine-less gliders, young Indraani joined Indian Airlines to fly nothing less than the Boeing 737.
In 1989, she went to Toulouse, France, to train for flying the Airbus 320 and became the first ever woman in Asia to fly the aircraft. Again in 1995, she became the world's first woman commander on the wide-bodied Airbus 300.

Her head might have been in the skies, but her heart was right on the ground. She had not forgotten the poor children on the streets, whom she had always wished to help like a modern-day Robin Hood. And this dream took shape in 1996, when she founded a trust – 'Literacy India' – in Palam Vihar in Gurgaon, Haryana.
Recalling the birth of the idea, Capt. Singh, now 52, says, "When I joined in Kolkata as a First Officer in 1987, I used to help the rickshaw-pullers, the Bangladeshi refugees." She intensified this small initiative after she returned to Delhi in 1993.
By this time she was married to Capt. Kirat Singh Grewal, a school buddy and her New Delhi Flying Club instructor, and they had a son.
"In 1995, six to seven officers I knew wanted to teach the children of the domestic help and security guards, but nobody was ready to lead," Singh says. That's when she took command.
Now it has been 19 years, and Singh has been facilitating education for deprived and underprivileged children through her Trust.
Starting with only five students in 1996, Literacy India, supported and financed by individual donors, NGO partners and earnings from supplying corporate gifts to Gurgaon businesses, now has a staff of 200 and reaches out to more than three lakh children across eleven States in the country, including the Maoist conflict zone in West Bengal.
The Literacy India School in Gurgaon with 600 students from Lower KG to Class X epitomizes her mission.
"About 8-9 years ago," she recalls, "I was approached by the health consultant of UNICEF to work in Purulia, West Bengal, with the tribal people." When she went there, she made an instant decision to support them. "I sat with everybody," she says, "including the Maoists. People can recognize who is thinking well for them."
Finding an overwhelming response, her Trust now supports initiatives related to women empowerment, girl child education and community building in the region.

Singh noticed that girls were far keener on moving ahead, and women, bearing the brunt of alcoholic husbands, domestic abuse and extreme poverty, wanted to stand on their own feet. This led organically, in 2004, to the inception of Indha Craft – a community production centre – through which she empowers poor women.
The 'indha' (or the base) on which a village woman balances and carries a veritable tower of water pots, is the philosophy behind Indha Craft – to enable the underprivileged woman to form a solid base to raise the quality of her and her family's life.
Singh's practical and pragmatic vision alchemizes change into transformation. She believes that it is critical to empower a person after education, and then offer employment. This concept of 3E that powers Indha Craft (Empowerment, Education and Employment) has benefited almost 9,000 women till now and provides the financial backbone to Literacy India.
Under this umbrella, besides recycling paper, the women produce bags, home décor items, general utility, personal care and stationery products, and corporate gifts, among others.
Combining two roles that require sharp focus and solid commitment was not easy. Naysayers and skeptics were in plenty. Singh was accused of using social work as 'time-pass' and of harbouring ulterior motives, even political ambitions.
"In 1996, nobody helped me in setting up an NGO," she says without rancour. "The more people refused to help me, the stronger became my resolve. The underlining lesson for me has been that if you have compassion, come what may, you can make it happen."
And that includes juggling the demanding schedules of her 26-year job and her mission. Not surprisingly, with 14,000 hours of flying in her logbook, she navigates expertly between the two coordinates of her life.
"Stamina builds with work," she smiles. "You should love what you do. I love both my profession and my passion."
Occasionally, both work and wishes meld. Once Dr APJ Abdul Kalam was on board her flight. "I was very impressed by his book India 2020 and went to greet him," she shares.
"He too was eager for a peek into the cockpit!" After he became President, she wrote to remind him about the meeting, mentioning that she ran a charitable trust and would love the children to perform at the Rashtrapati Bhavan."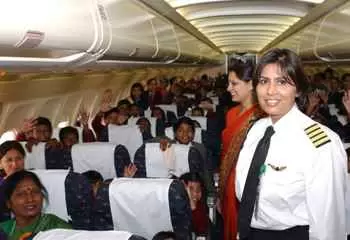 Children enjoying a joyride on an aircraft
A few days later, she received a call from Rashtrapati Bhavan, telling her the kids were on for the show! Always one step ahead, Capt. Singh then wrote to the Minister of Civil Aviation, requesting a joyride for the kids. They got it the next day.
Grit and guts are bound to beget glory. Besides receiving the Godfrey Phillips Bravery Award for Social Acts of Courage, the Women Achievers Award 2009 from the International Congress of Women, and the Power to Excel Award by India @ 75, Singh has also been honoured as one of the People of the Year by the Limca Book of Records in 2014.
Her goals have only multiplied, ranging from a Vidyapeeth – counselling sessions for growing adolescents - to Pathshala, a programme to help more government schoolchildren with tuitions and learning modules for illiterate working-class children; from Gurukul, which aims at ' mainstreaming' the children into various schools and colleges, to expanding Karigari, a rural vocational training centre for youth and women. There is also Shiksharth, an initiative to make children aware of constitutional rights and civil laws.

It does not stop there. Dreams are continually being underpinned by plans: A school in Kargil; taking Gyantantra, a revolutionary educational software, to more and more children; a yoga and recreational centre and growing the handicrafts division into an online store selling worldwide. She also has plans to implement a digital learning programme for 25,000 children by 2016.
However, hoping is not enough for this tractor-driving, scuba-diving, river-rafter and painter. Capt. Indraani Singh's motto is to make sure it happens.
"If somebody creates an obstacle," she says, "take it as a challenge for growth. Plan how to make things better." From someone who has looked at clouds from both sides, that's darned good advice.
Wish to share your story?
Trending Now: