Those illiterate women did it to save the future of their children, not for a pat in the back
Chetna Verma
&nbsp | &nbsp Rudraprayag
31-January-2015
Vol 6&nbsp|&nbspIssue 5
Studies of the major natural disasters of the decade indicate that in India, women have no technical knowledge of disasters in general.
In fact, their participation in planning, designing, implementing and monitoring emergency programmes and rehabilitation projects is still just restricted to tokenism. The truth is that they continue to be largely seen as victims of disasters and little else.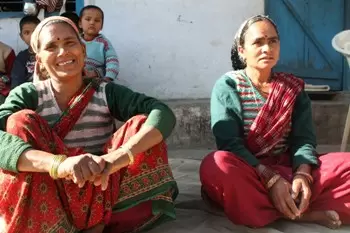 Asha Devi (left) motivated 80 women to risk their personal safety during the devastating flash floods of 2013 to save the only school in their vicinity (Photos: Chetna Verma\WFS)
"There can be no disputing the fact that we are the worst affected as we are the ones to face the social impacts of natural disasters. We cannot help it, given our lower economic, social and political status.
"But that is not all. What we do, or have done, during disasters often gets neglected or sidelined as the focus remains on our vulnerability," remarks Asha Devi, 42, who hails from the Garhwal region of the hill state of Uttarakhand, which saw massive destruction consequent to the cloudburst and flash floods that happened in June 2013, affecting Rudraprayag, Chamoli, Uttarkashi and Pithoragarh districts.
The middle-aged woman gets visibly annoyed and anguished when women are always portrayed as the victims – and she has good reason to feel that way.
In mid-June 2013 when the angry waters wiped out entire settlements along the mountainside, women from her village, Sumari Bhardhar in Jekholi Block of Rudrprayag district, had put their fears aside and come together to save the expensive equipment, furniture and documents of the Rajkiya Intercollege at Tilak Nagar located at the hilltop about a kilometre away from their village.
"We knew the building would collapse as the flood waters were incessant and powerful. I was worried about the critical infrastructure, like desks and cupboards, as well as the documents in the institution.
"This school had started after years of effort so how could we jeopardise it. Our future, too, was linked to it. That is why 80 village women joined in my efforts to save whatever we could," recalls Asha Devi.
Despite being illiterate, the women knew the importance of quality education and were clearly determined to save what they could of the school's valuable equipment, even in the face of great adversity.
"That day is still fresh in my memory. We had created a trail of only women and children, as the men were busy trying to salvage what they could in our agricultural fields. We carried heavy desks, tables and cupboards down the hill," recalls Shiv Devi, who was one of the 80 women who risked their personal safety to save the school.
Many of them were injured in the process as the track was dangerously slippery and it was difficult to maintain their balance on the downward slope with the heavy load on their backs. There were nearly a thousand articles that they managed to save, including tables, desks, cupboards and other important things.
"We put our lives at stake to save the school. At that crucial juncture none of us thought that we should take photographs as proof of what we were doing," states Asha Devi.
There is a hint of disappointment in her voice as she goes on to talk about how during the weeks that followed the calamity several print and television reporters looking for stories of courage came to speak to them and recorded her statement. However, eventually, there was no mention of them or their incredible achievement anywhere.

"Of course, we had not done it for a pat on the back. We did it to save the future of our children. But when these reporters came to us and spent so much time talking to us, we felt this was a great opportunity to visiblise hill women's determined efforts to make a difference.
"However, when they told us to produce some photographs of our work, we were really disheartened. Tell me, in such trying circumstance, who remembers to take pictures. I guess this is why the role we played during the disaster went entirely unnoticed," shares Asha Devi.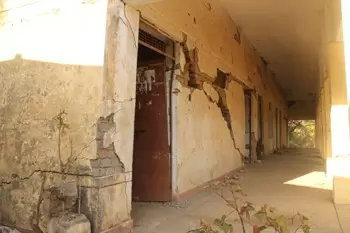 The damaged school building from where the women shifted expensive equipment, furniture and documents during the floods of 2013
The women of Sumari Bhardhar stored the furniture in their homes, sheds and fields and tried to save it from the deluge as far as possible. "After the rain stopped and people started to rebuild their lives, we returned every single thing to the school administration," says Pushpa Devi, another member of Asha Devi's band of bravehearts.
Sadly, they did not get any appreciation from the school administration or the state Education Department either. "The school building has been rebuilt on the land donated by villagers and they are using the same goods we had helped rescue.
"Someone had told me that the Shikhsha Vibhag (Education Department) has given teachers a total of Rs 40,000 but how the funds have been used I really do not know," wonders Asha Devi.
Her team and she have proved that in spite of being physically weaker than the men, the tremendous willpower and intelligence women have comes in handy during emergencies when the need of the hour is to think on your feet.
These pahari (mountain) women have shown that despite being most vulnerable, they know how to respond to grim situations whether as saviours during times of disaster or as those who bring happiness back into people's lives. They certainly must not be seen merely as victims. - Women's Feature Service
Wish to share your story?
Trending Now: