She works for the welfare of sex workers by first taking the children away from them

Kavita Kanan Chandra
&nbsp | &nbsp Mumbai
08-December-2014
Vol 5&nbsp|&nbspIssue 49
This year on November 14, Children's Day, a Science Club was started for the children in the sex district of Mumbai, Kamathipura. After the function was over, women of the community spotted a 13-year-old girl who seemed to have lost her way.

Instead of going to the police station, they took her to an NGO, Prerana. Thanks to Prerana, the girl, who had run away from home, was soon reunited with her family.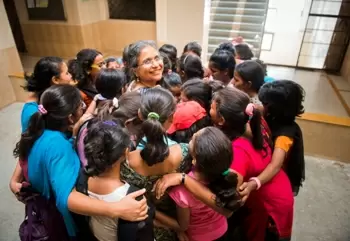 Priti Patkar's NGO has worked with 30000 sex workers, over 10,000 children, and extended victim assistance services to 750 children rescued from brothels
Priti Patkar, who set up Prerana, shudders to think what would have happened otherwise, as she tells us the story. While she lavishes praise on the sex worker community who acted as alert responsible citizens, it also speaks of the trust she herself has earned.

A trust built up over 28 years of working here. A journey which started while she was still doing a Master's programme at TISS (Tata Institute of Social Sciences) and used to go on field trips to municipal schools in Kamathipura and pass through the red light districts. A gold medal from her alma mater later, she got logistical support from them to start her NGO Prerana in 1986 at Kamathipura.
She started with a night care shelter for children of sex workers, so that the kids were at least away from the place where their mothers attended to clients. Even though the brothel keeper was a tough cookie, there was no interference in Prerana's work.

For them, ironically, it also meant that their business would go smoothly as the children were being looked after. The mothers were happy to have their kids safely tucked in the night, with nutritious meals and recreational facilities.

Today, Prerana's innovative three-pronged approach to address the issue of trafficking of sex workers' children includes a night care centre (NCC), an educational support programme (ESP) and an institutional placement programme (IPP).

Currently there are three night care centres in the three red light zones of Mumbai, looking after 250 children. Each one of them has the educational support programme, which focuses on everyday education, extra-curricular activities and vocational training.

The IPP then shifts the child away from red light areas, placing him/her in a safe residential facility with the mother's approval. Prerana ensures that the children are looked after with regular checks and follow-ups.
Priti is an Ashoka Fellow and has contributed to forming the first network of anti-trafficking organizations
Over 28 years, this has meant that Prerana's statistical count of providing support is staggering. Having worked with 30000 sex workers, they have provided protection and development inputs to 10,000 children directly, to another 15,000 indirectly, legal aid to 2250 children, and victim assistance services to 750 children rescued from brothels.

Prerana has also conducted sensitization and training programmes for 5000 police officers and for over 300 civil society organizations.

Children, Priti says, are most vulnerable to trafficking during their adolescent years, by when they are shifted to the protected environment of Group Homes, where they live a protected life.

"Till date I have not met a single mother who has asked me to leave her child alone. They want their child to get educated and live a life faraway from sex trade.

"Dignity is very important to them and as a civil society, the least we could do is to help them achieve a life of dignity for their children," she says.

But officials are not so helpful. "In one of the child welfare centres, the official asked why they should admit children of sex workers in their shelter homes if their mothers could not take care of them," she reveals.

Ruing the attitude in NGO and Government run shelter homes, she says when sex workers have no socio-economic status how are they supposed to break the vicious cycle, if civil society or government agencies do not bring appropriate interventions?
Nagesh Kukunoor has recently made a film 'Lakshmi' on child trafficking and had the preview at one of the Prerana centres. The kids loved interacting with him.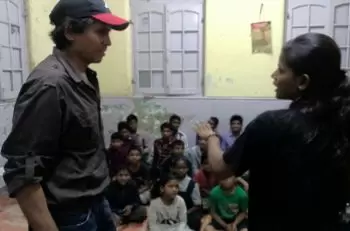 Nagesh Kukunoor interacting with the children
Seeing the programme 'Girls on Focus,' where eight girls are trained in photography, he promised to return to conduct a photography workshop for them. Such interaction and also seeing their peers who have successfully integrated into the mainstream provide motivation to the children.
Priti's child rights advocacy led to the Government of India incorporating her suggestions and programmes outlined by her in the 1998 National Plan of Action against trafficking of children and women.
She also contributed to the putting together of the first network of anti-trafficking organizations, and the first comprehensive national programme for AIDS affected children, which was lauded as one of the world's seven best interventions of working with AIDS affected persons by an American University.
She is also an Ashoka Fellow and recipient of the 2014 Vital Voices Global Leadership Awards in the Human Rights category. She continues to make several legal interventions as well in her advocacy work, which have been timely and often path-breaking.
Wish to share your story?
Trending Now: