Training those who cannot afford coaching institutes to clear entrance exams

18-October-2014
Vol 5&nbsp|&nbspIssue 42
Cracking tough engineering entrance exams to some of the prestigious institutes in the country becomes an easy task to students who can afford to join some of the expensive coaching institutes.

For those who can't afford to join coaching institutes, there is a beacon of hope now.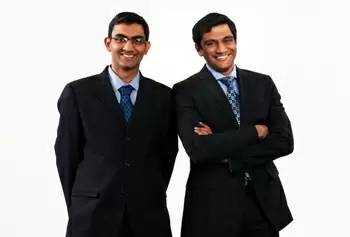 Krishna and Akshay were inspired by a few of their own classmates who had overcome incredible odds to get into IIT and decided to help other such aspirants
Krishna Ramkumar and Akshay Saxena, both alumni of IIT Mumbai, are helping underprivileged students to join engineering colleges through their mentorship program called 'Avanti Fellows.'

"We have both for-profit and non-profit coaching centres. At our for-profit centres, students pay Rs.2000 per month, which is about one third of the fee charged at other institutes," says Krishna.

Avanti Fellows was started in 2010 with volunteers from different IITs, who acted as mentors for underprivileged children studying in classes 11 and 12.

Today they are supporting around 1200 students across the nation, out of whom 800 are enrolled in their non-profit centres.

They have for-profit centres at Mumbai, Delhi and Kanpur and non-profit centres at Chennai, Delhi and Pondicherry.

In Chennai, they provide free coaching at 4 corporation schools, where about 150 class 12 students attended their classes last year.

Krishna is happy that their efforts had borne fruit. "Around 60 percent of students who attended our classes secured admission into various engineering colleges in Tamil Nadu," he says.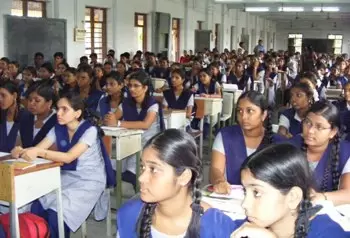 Avanti Fellows from a Chennai Corporation school
At their for-profit centres, Krishna says most students come from low cost private schools, who can't afford the fees in regular coaching institutes.
It was while they were studying at IIT that Krishna and Akshay got inspired by a few of their own classmates who had overcome incredible odds to just get into IIT.

Despite severe financial constraints, they had relied on self-study and borrowed books. Yet, once they were in, their effort was often hampered by lack of proper guidance.

Krishna should know, for he was head of the student mentorship program at IIT, which helped new entrants make a smooth transition to college life.

This experience exposed him to the immense power of mentorship. "I wanted to level the playing field for several more students from deprived backgrounds," says Krishna.

At Avanti Fellows their selection process involves conducting career guidance sessions and aptitude tests in several government and low-cost private schools.

The students who they feel have aptitude for science are then invited to enrol in the mentoring program.

Students of classes 11 and 12 enrol for the two year course, which requires about 20 hours per week.

According to Krishna, the teaching method of Avanti is such that they implement a 'flipped' classroom that reduces teacher dependence and enables peer collaboration as the primary mode of instruction.
Classrooms are run by facilitators who are not subject experts but instead focus on creating a shared learning environment.
Students spend most of their classroom time working on problems along with their peers, thus improving their problem solving skills. Once a week, they attend tutorial sessions run by subject experts to resolve their doubts.

For example in the Avanti chapter of Pondicherry, students of Jawahar Navodaya Vidyalaya are receiving free coaching through peer to peer. Mentorship is done by volunteers from IIT Chennai.

"The children are in constant touch with their mentors. During weekends these IIT students personally come to tutor them," says Jyothsna Kondakamarla, Program Manager, Avanti Pondicherry.

The results here are already showing. In 2014, out of 23 students who appeared for engineering exams, 21 qualified for NITs and 11 among them for IITs too.

In fact if 2014 results are taken across Pondicherry, Delhi and Mumbai, 75 percent of the students cleared JEE Mains and 41 percent JEE Advanced to gain admission into the IITs.

"To have confidence in oneself is very important while preparing for IITs, for at times we do feel down and one has to reassure that we can do it," says Vedant Somani, Avanti's top ranker (All India Rank 36 in JEE Mains) this year.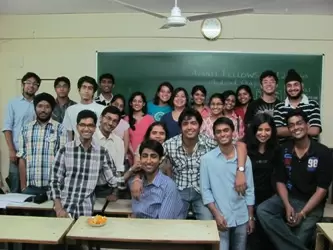 Student volunteers who mentor the Avanti Fellows
Away from his home in Sirpurkagaznagar in Adilabad district of Telangana, he stayed in a hostel as a student of Jawahar Navodaya Vidyalaya, Pondicherry.

The interaction and discussions with fellow IIT aspirants helped him a lot. Vedant says the IIT Madras student, his mentor was always available for him, guiding him in studies, and even playing a game of basketball to take his mind off the book load.

The larger social business enterprise though works in a two-fold way. The for-profit section develops curriculum centred on a peer-to-peer-learning pedagogy and implements this in learning centres at an affordable price point.

The non-profit side readies learning centres in government schools. These are funded either by the government or funding agencies such as Draper Richards Kaplan Foundation.

So is this just a race for rank and notching up numbers. Numbers who come from economically challenged backgrounds? Krishna who left his lucrative consulting job, hopes not.

In fact the duo say that they aim to remove the economic and social barriers to attending top universities in India by making a high-quality math and science education affordable and accessible.

Co-founder Akshay, on leave of absence from Harvard Business School points out that the Avanti combo is a learning experience.
Combining coaching from highly qualified students as mentors, with collaborative learning, information technologies and the internet, the system helps students access quality education, he says.
Over the next three years, they plan to enrol over 10,000 students and prepare them for admission to engineering and science colleges. They have around 100 employees out of whom 28 are IIT graduates.

Trending Now: