A visionary Ophthalmologist prepares a 'business plot' for helping others

29-September-2014
Vol 5&nbsp|&nbspIssue 39
Reports claim that nearly 10 million people suffer from eye disorders in North East India and only 25 per cent of them have access to treatment facilities. The situation is even worse in Assam. A recent World Health Organisation report claimed that nearly 19 per cent of Indians suffering from cataract come from the state.

Shockingly, the disease that is often associated with old age has also been reported amongst several children across the state. Combined with other eye ailments and refractive disorders, Assam could easily be an ophthalmologist's worst nightmare.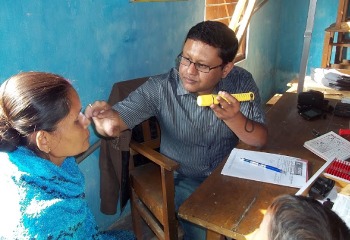 Parveez Ubed's ERC Eye Care provides quality eye care to the poor and those living in rural areas
Parveez Ubed, an ophthalmologist, was aware of the severity of the situation as he finished his post graduation from Guwahati Medical College in 2007.
He decided to go back to Jorhat, the city he hailed from, and worked at Jorhat Medical College and an NGO run eye care centre for the next two years.
He noticed that people living in rural areas do not have the same right to access services and medical care as people living in urban areas.
With the aim of providing quality eye care to the poor and those living in rural areas, he started his own eye clinic, ERC Eye Care, in Jorhat in June 2011, with an investment of Rs 4 lakh.
"I had no clear picture of what I wanted to do and how. I knew the greatest challenge was to make eye care affordable and accessible. People had to spend much on travel for treatment of even minor eye infections that they never visited the hospital," he says.
But running the clinic with limited resources at his disposal was a challenge.
He then started working on a sustainable business model that could simultaneously usher a change in the life of thousands living in poverty and also bring in revenue.
"All my nights were spent in reading MBA books to find a business plan," he says with a laugh. When he managed to develop a "business plot", he was advised by his friends in the US to submit his plan to a Netherlands based social enterprise platform.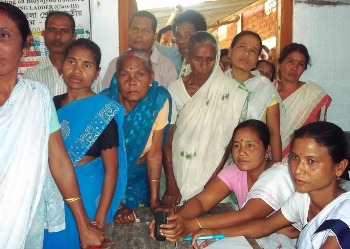 ERC has so far treated 29,000 patients and has delivered 13,000 glasses
The model was based on the premise that he would charge Rs 500 less than other eye care centres and provide services at much lesser cost. He received a shot in the arm when his plan was rated sixth best among the submissions.
A team of optometrists from ERC visit villages and conduct camps across the district. ERC charges Rs 50 as consultation fee while the price range of their frames and glasses start from Rs 99 and Rs 250 respectively.
ERC has so far treated 29,000 patients and has delivered 13,000 glasses. Out of the 29,000 patients, 15,000 had received free treatment.
In 2012, he got the Mahindra Spark the Rise Award and a cheque of Rs 3.6 lakhs with which he set up a vision centre in Nakachari village.
"The major breakthrough came in 2013 when Singapore-based angel investor Sadeesh Raghavan and venture capital funds like Beyond Capital, Ennovent Impact Investment Holding and Ankur Capital invested in ERC Eye Care," says Ubed.
Soon awards and accolades followed. ERC has also been Sankalp Award 2013 finalist, Eureka 2012 semi-finalist, and MAD (Make a Difference) Hong Kong Fellow.
Several reputed institutions like IIMs and Tata Institute of Social Sciences have done case studies on this unique social enterprise.
Today ERC boasts of 6 vision centres and one mobile unit. The mobile unit has specially been of great success and holds camps across different villages in the region.
"ERC was named as one of the India Development Marketplace awardees. It is a World Bank funded initiative that aims to identify solutions with clear evidence of social impact that have potential to be scaled, replicated or mainstreamed," Ubed says.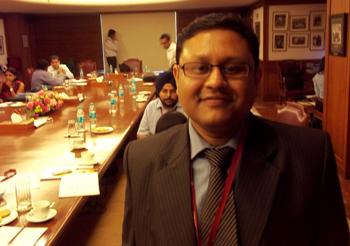 Ubed reveals that ERC is building a 3000 sq ft hospital in Sivasagar district
They received US $1,50,000 funding and a major part of the money is being invested in building a 3,000 square feet hospital in neighbouring Sivasagar district. Ubed is hopeful the hospital would start operations by November 2014.
"Since Jorhat already has a medical college we thought of setting it up in Sivasagar which is very close to Jorhat as well," Ubed says.
In the last financial year, ERC had a turnover of almost Rs 24 lakh. They aim to raise it to Rs 1 crore this financial year. The company has been registering an impressive 100 per cent growth every year since its inception.
Ubed considers himself lucky, and thanks other stakeholders without whom he says it would not have been possible.
"We are disconnected from mainland India in a way and considering that this place is considered unsafe for foreigners, we have had a lot of foreign visitors.
"That says a lot about ERC. We have been able to provide a model that is sustainable and makes a huge difference in the daily lives of marginalised sections of the society. And we would continue to do that," Ubed asserts.


Trending Now: