If charity begins at home, it needs the social media to spread and reach more needy people

06-September-2014
Vol 5&nbsp|&nbspIssue 36
In a world where hashtags bring down governments, mobilise people, and become harbinger of change, India's very own #ricebucketchallenge, the brainchild of a Hyderabad journalist Manju Latha Kalanidhi, is making waves on social media and inspiring people to donate rice to the hungry and poor.

While #icebucketchallenge which originated in the US challenges people to pour ice water on their head to raise awareness and collect funds for research of the disease amyotrphic lateral sclerosis or ALS, Manju Latha's #ricebucketchallenge has encouraged hundreds of people to donate bucketsful of rice and biryani to the poor. Her facebook page (facebook.com/ ricebucketchallenge) has photos of people from India and even abroad donating rice to the poor.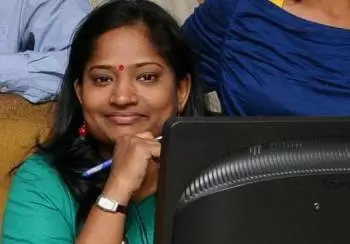 Manju Latha has been labelled a rockstar, and a changemaker
It all started when Manju Latha saw clips of Indian celebrities and her friends take up the ice bucket challenge. It irked her to see Indians donating for a cause that was not a major issue in the country.

"It's a novel idea, but at the same time it's very American. For us ALS is not a priority while it remains a big issue in US. We have poverty, hunger and corruption that need immediate attention.

"I reasoned with my friends and drew the conclusion that something was wrong with Indians taking up the #icebucketchallenge," says 38-year-old Manju Latha, who has been a journalist for nearly two decades.

She was born and brought up in Warangal. A science graduate, she went on to do her PG diploma in journalism from Asian College of Journalism, Bangalore. Now, a senior editor at www.oryza.com – a web site dedicated to global rice news, research and analysis—she had earlier worked in Indian Express, Deccan Chronicle and Hans India.

Ask her about the story behind Rice Bucket Challenge, and she says, "I was only dealing with rice at work and would often see statistics on the poor and hungry in the country."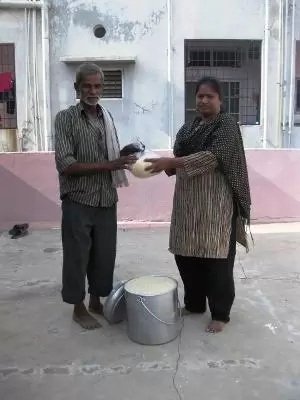 Manju gifting the first bucket of rice - the photo she posted on Facebook
While working late at night once, she stumbled upon the idea of #ricebucketchallenge. "Rice is the most easily available, and non-perishable item. What better gift one could give to the hungry than rice!"

On August 22, 2014, Manju Latha in a late night post on Facebook said: "Chalo I am all ready for a 'Rice Bucket Challenge'..desi style.. cook or buy one bucket of biriyani and feed the poor in your locality. If you can't take this challenge, donate medicines worth Rs 100 to the nearest government hospital.. Whoz joining me in this one? My own version/response to #icebucketchallenge."

The next day, she and her husband, Vijeye Devuni, a HR professional, donated a month's supply of rice to a man who sold idlis on his bicycle. She posted on Facebook, "I managed to begin charity at home…" and uploaded the pictures that went viral.

Soon her initiative found its way into newspapers, television channels, and radio. She was labelled a rockstar, a changemaker, and as someone who inspired people.

Few days later, a friend of her friend offered to start a facebook page on the challenge and it turned out to be a massive hit.

One facebook user after another posted pictures on the page that showed them donating rice. Later, one Chennai entrpeneur Sam Paul donated Rs 9000 for the cause and put up a picture of the cheque on facebook.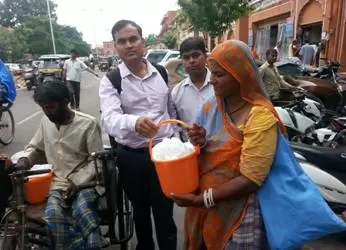 One of the hundreds who accepted the rice bucket challenge and posted their photo on Facebook
Since then the response has been phenomenal and more than 2,85,000 people have visited the page that has crossed 70,000 likes. She believes that more than 10,000 kilos of rice has been donated till date.

Even foreigners have shown keen interest in the challenge. People from Jordan, Dubai, Cambodia, UK, Philippines, Turkey, Indonesia, among others have come forward to help the needy.

Many educational institutions across India are inviting students to donate rice. One college donated 1020 kg of rice while several other institutions have promised to organise rice donation camps in near future.

Just before we caught up with her she had attended an event wherein Taj Palace in Hyderabad had distributed 500 packets of Biryani to the poor.

A journalist with 17 years of experience in mainstream English media, Manju Latha has transformed from a news writer to a news maker. And she certainly doesn't mind the spotlight as long as it serves the cause.


Trending Now: