Despite hurdles, a forest officer scripts a success story in Jharkhand

21-June-2014
Vol 5&nbsp|&nbspIssue 25
When IFS (Indian Forest Service) officer Dhirendra Kumar took charge as Special Secretary, Department of Industries, Government of Jharkhand, in 2006, the condition of sericulture, handlooms, handicrafts and khadi sectors was miserable in the State.

Those employed in the sectors were migrating to cities in search of jobs. More importantly, the State's traditional arts and crafts were dying a slow death.

Just that Kumar would not let that happen. Taking prompt steps to turn around the situation, he played a key role in establishing the Jharkhand Silk Textiles and Handicrafts Development Corporation Ltd. (Jharcraft), which has become a success story today.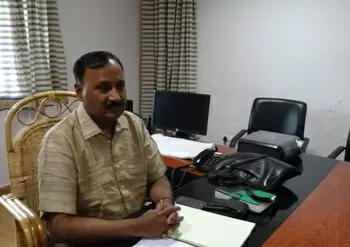 Kumar played a key role in establishing Jharcraft whose annual turnover crossed Rs.80 crore last year
"When I first entered this office, there was a chair, a table and an old rickety fan. So, literally I had to start from scratch," says Kumar, managing director of Jharcraft.
How things have changed now! The furnishings at his aesthetically decorated office of Jharcraft are a tribute to the craftsmanship of Jharkhand's artisans and weavers.
Go organic is the mantra here. The whole value chain of Tussar silk produced by Jharcraft is organic. The vibrant handloom curtains, the naturally dyed leather laptop bag or even the terracotta cups in which tea is served is eco-friendly.

Jharcraft's annual turnover crossed Rs.80 crore last year and it has directly impacted over 3.47 lakh people including sericulturists, weavers and artisans.

Production of silk has increased manifold. When Kumar joined the department, Jharkhand's annual silk production stood at 90 metric tonnes. With the aim of reviving the sector, he set an ambitious target of achieving annual production of 900 metric tonnes by end of the 11th five year plan in 2012.

However, within 3 years they touched 425 metric tonnes, and achieved 1025 metric tonnes by the fifth year, surpassing their own expectations.

The results are showing on the ground. With more than 1.25 lakh tribals engaged in sericulture alone, their income as well as lifestyle has improved. Now, Jharcraft is chasing a silk production target of 8000 metric tonnes during the 12th five year plan (2012-2017)

An estimated 44,000 weavers, 50,000 handicraft artisans, and 16,000 spinners are collaborating with Jharcraft.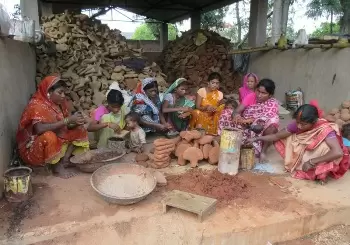 Women making mud moulds for dhokra craft
Jharcraft has provided livelihood for thousands of rural women; many from BPL (below poverty line) category are earning at least Rs 4000-Rs 5000 per month.
"I earn about Rs 6000 per month and my dream of sending my children to school has become a reality," says Munera, a mother of five children, and a poor housewife from Murma, Nayasarai near Ranchi.

Sericulture has also contributed to protecting the forest. Naturally endowed with Sal trees on which the silkworms thrive, the villagers are now encouraged to protect over 2 lakh hectares of forest.

Modernization is also being given priority. Jharcraft has developed a solar powered spinning machine called 'SAMRIDHI,' which has reduced the drudgery in spinning silk.

Social welfare schemes have been introduced for the people. Health insurance has been provided to more than 75,000 people collaborating with Jharcraft

Schools have been opened in artisans' villages. Transparency is maintained at all levels with a 'Helpline' for artisans and direct market links have been provided for them. Plans are afoot to receive funds from SAARC and also to link up with international designers.

The Jharcraft Nayasarai Handloom & Handicraft cluster employs over 480 women. Jharcraft's ambitious 'Srijan Project' has given employment to 40,000 poor women, including those living in the naxalite belt of Churchu block covering twelve villages near Hazaribagh.

Jharcraft has even revived dying arts and crafts like the 4000-year-old art of Dhokra, practiced by the Malhor tribes in Jharkhand. It was almost lost when Jharcraft initiated its revival in 2009 through NGOs. Today 400 artisans make their living from this art.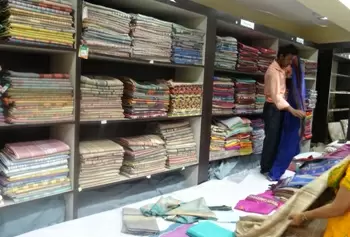 A Jharcraft showroom for silk sarees
About 100 Dhokra artisans permanently work at the Urban Haat in Hazaribagh. "We encourage artisans to do traditional designs but give concept for utility items too. Dhokra art is developing as an industry. Artisans have given up alcohol and their lives have changed for the better," says Rishav Sahay, Director Craftedge, working closely with Jharcraft.

In the cotton handloom sector, 120 cooperative societies were revived.

In fact, Jharcraft's initiatives have not only revived the dying arts and crafts and weaving sector in Jharkhand but also checked the rural to urban migration. It has actually triggered a reverse migration, from the cities back to villages.

Those tribals who were suffering from malnutrition are now able to afford proper meals and have started sending their children to school.

Looking back at Jharcraft's growth, Kumar must have many reasons to smile, and few things to complain about, even about the tough time he initially had convincing the Government and his own men on reviving the dying arts and crafts of Jharkhand.

But in the end he overcame all the hurdles to script a government sector success story, a rare occurrence these days.

Trending Now: