Farms n Farmers has helped hundreds of farmers increase their income by 25-40 per cent
14-June-2014
Vol 5&nbsp|&nbspIssue 24
IITians Shashank Kumar and Manish Kumar decided to work in the dusty hamlets of Bihar along with farmers instead of choosing a cushy corporate job like many of their classmates.

"We wanted to work as entrepreneurs. After exploring many options we settled on agriculture sector, though we had no idea what exactly we would be doing," says Shashank, who finished his B Tech from IIT Delhi, in 2008.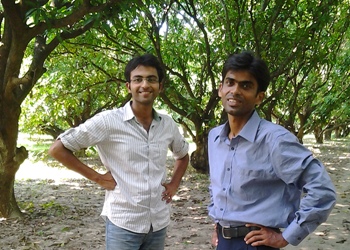 Hailing from villages, IITians Shashank and Manish have struck a chord with the farmers
But those were the initial hiccups. Today, their social enterprise, Farms n Farmers (FnF), has helped hundreds of farmers increase their income by 25-40 percent.

The duo has introduced innovative agricultural management among farmers that begins from the stage of studying soil quality and making crop selection, to providing advisory support and the marketing assistance for the farmers. Crops are chosen based on demand in the market and soil conditions.

Both have their roots in Bihar villages, and they quickly understood the plight of farmers. While Shashank (27) is from Chapra district, Manish (29), an alumnus of IIT Kharagpur, hails from Vaishali district.

Studying the way the agriculture market operated, they found the farmers got a raw deal and middle-men exploited them and ate into their profits.

Shashank and Manish strove to work for the betterment of farmers by employing few changes with the aim to maximize the returns from the land and increase their profit.

Having worked as a business consultant in Gurgaon for three years, Shashank had a fair idea of supply chain, retail and FMCG market. He learnt that in retail chains there are always issues of raw material procurement, price volatility and other problems.

Embarking on entrepreneurship, he was ready to work with small and marginal farmers (land holdings of 2.5 - 5 acres) in the field of retail and supply chain.

FnF centres in villages procure the produce from farmers and sell it in the market for a marginal profit. There are currently 4000 farmers collaborating with FnF, which is rapid growth given the fact that just 14 were associated with FnF when they launched in October 2010.

FnF is contemplating post-harvest processing to move up the value chain. One of the options they are considering is making flavored honey with the produce from the bee farmers in the litchi orchards of Muzaffarpur.

Elaborating on their working model, Shashank says that at the very beginning of the crop season they assess the demand of the market. Depending on farmer profile, the soil fertility of the land, and other seasonal factors they decide the cropping pattern.

Back in 2009 they had set out by doing an extensive survey of land and crops, and research of marketing agricultural produce for a year. They interacted with various stakeholders, including farmers, middlemen and buyers.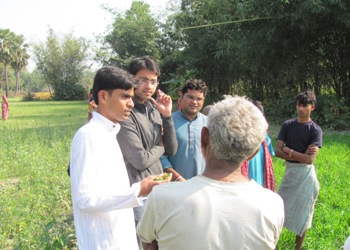 In the field: the duo interacting with farmers
They convinced 14 farmers in Vaishali district to grow 'Rajma' crop along with wheat. Wheat and rice are staple crops in Bihar, so all farmers grow them. The duo pushed for growing other crops as well.

In their pilot project in October 2010, they experimented with rajma as it required only two irrigations and less labor, while wheat crop required five irrigations and intensive labor. Being a leguminous crop, rajma also increased the fertility of the soil.

As water and labor were scarce in the region, rajma proved beneficial to the farmers. FnF had provided quality seeds, ensured expert monitoring of the crop, and also took care of marketing the produce (both wheat and rajma).
Farmers had reaped good profit and there was no looking back for the duo since then.

In few blocks of Muzaffarpur where only paddy is grown, they suggested growing export quality long grain paddy that required lesser irrigation and is a short duration crop. Farmers who took heed harvested three crops instead of two in a season and made more profit.
Similarly in a maize growing area, farmers cultivated baby corn and sweet corn in 30 percent of their field based on FnF's suggestion and reaped profit. While harvest time for maize was 150-160 days, the crops that FnF introduced could be harvested in 60-100 days.

FnF has established DeHaat (or local contact centres) at block level for farmers to provide them with different kinds of farming support including knowledge, training, credit, and marketing of the produce.

FnF has 12 DeHaats and operates in eight districts (Vaishali, Muzaffarpur, Purnea, Begusarai, Khagaria, Buxar, Rohtas) of Bihar.
With FnF preparing to stand by the farmers and willing to put its own money in innovations and experiments, sparing the farmers of any financial risk, the enterprise has gained the confidence of farmers and is set on a high growth trajectory.


Trending Now: