A loving and caring home for children whose parents are in jail
Rakhi Ghosh
&nbsp | &nbsp Bhubaneswar
07-June-2014
Vol 5&nbsp|&nbspIssue 23
Manas Ranjan Sahoo, 17, and his friend Bighnaraj Bagh, have both done well in the recently conducted all India Pre Medical Test (PMT) and Joint Entrance Examination (JEE) for engineering.
If all goes well they will soon be taking admission in a medical and engineering college, respectively. When thousands of students successfully crack these competitive exams every year, what's so special about Sahoo and Bagh's achievement?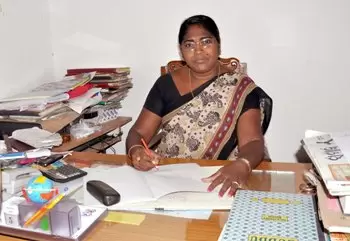 Social activist, Nirajalaxmi Mohapatra runs a home for children of convicts in Bhubaneswar. (Photos: Piyush MohantyWFS)
Both of them are the children of convicted prisoners serving time in different jails in the state of Odisha, and they have lived through their share of difficult times to reach this point.
Neither their parents nor they had ever dreamt of a stable future but that will soon become a lived reality. How did the boys make this happen? They have only one person to thank and they fondly call her "Mama".
And it is not just Sahoo and Bagh – today there are 54 children like them who have reason to smile and hope. The woman who has given them a new lease of life is the Bhubaneswar-based social activist, Nirajalaxmi Mohapatra.
It all began in 2003 when the Odisha government was implementing a reforms programme in prisons across the state. Mohapatra, who was a part of this effort, used to regularly visit jails to counsel women inmates.
On one occasion she happened to see two children playing in the prison courtyard. After some inquiry she found out that they were living there with their mother and grandmother.
"I was shocked to see two children inside the Bhubaneswar Special Jail. When I asked the jailor why they were there I came to know that their entire family had been convicted in a murder case and there was no one to take care of them.
"As per the prison bye-laws children can stay with their parents till they turn five. Then, if the authorities agreed, they could extend their stay for another year. But after that they have to leave. The jailor added that because these children were shunted around they never get the chance to live a decent life," recalled Mohapatra.
She went back home a troubled person that day and spent many sleepless nights thinking about those children.
"Several days later I had finally developed a concrete proposal to set up a hostel for such children where they could live and freely pursue an education.
"When I discussed this with the then IG-Prisons, Bidya Bhushan Mohanty, he came on board and forwarded it to the state Women and Child Development department. The Department too accepted the idea and provided an initial investment of Rs 44,000."
Mohapatra's unique hostel opened its doors to the children of inmates in November 2003. The two children she had seen playing in the Bhubaneswar prison, Gobind Mahakud and Bebina Nayak, found a secure home there and even started going to school. With the help of the prison authorities, there were soon 23 children at the hostel.
Since financial assistance from the state government was minimal Mohapatra decided to raise funds from the public.
Says she, "The initial days were really difficult for me. My assistant and I were taking care of 23 children entirely on our own steam. We were looking after their food, education and all their other needs.
"Finances obviously were a major constraint. To run this hostel I have gone from door to door collecting donations so that I could give these children better facilities."
Not one to rest, Mohapatra travelled to other prisons to counsel and convince inmates to send their children to her hostel in the state capital.
"It was when I went to the Rourkela sub-jail that I met Bharat and Kaushalya Sahoo, Manas's parents. They had been convicted in a murder case over property.
"They were willing to send their son to the hostel and so I made my way to their native village of Bagdega in Sundergarh district. There I found out that both Manas and Bighnaraj were only spending their days grazing goats. Although I had gone to fetch one child I brought them both to the hostel. Today, by performing well academically, they have set an example for the rest of the children," she proudly remarks.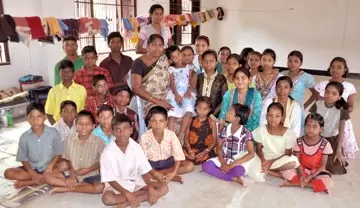 Nirajalaxmi with the children at the hostel
Presently, Mohapatra's hostel is home to 54 children of different age groups. All of them are good in their studies and also love their extra-curricular activities like dance, music and painting.
Remarks this dedicated caretaker, "From experience I can say that taking care of the children of jail inmates is far more challenging than caring for other children of their age.
"They live under a great deal of mental stress. They know that society looks at them differently because their parents are criminals. It's not easy for them to have normal relationships, whether it is striking a friendship in the neighbourhood or interacting with fellow students at school," she says.
Bhubaneswar based sociologist Dr Kalindi Jena, who has spent a lot of time with the hostel children, is glad to be associated with this intervention.
Says she, "There was time when having a convicted criminal for a father adversely impacted the entire family, especially the children.
"There was nobody to care for them or save them from falling prey to bad company and following in their parents' footsteps. Mohapatra's hostel provides them with an alternative. I strongly believe that society also needs to change its attitude towards these children."
There have been moments of crisis for Mohapatra and her wards. In October 2013, for instance, when Cyclone Phailin struck, the hostel was faced with a tough situation and had to be evacuated in a rush. Thankfully, there was a place to move into.
"We were in a small rented accommodation and were anyway trying to get a bigger space. But not many people were ready to give out their home for children of convicts. Meanwhile, I had been approaching the administration to construct a building for us and this happened in 2013. When Phailin hit, we moved into this new place which can board up to 100 children."
The hostel is presently surviving on public donations and Mohapatra believes that if the state government can absorb the costs of running the hostel, the children dream big and flourish.
A conversation with Manas Sahoo's father, Bharat, reveals the sense of peace that inmates feel when they perceive that their children are doing well.
With tears in his eyes, he remarks, "Our life is over. But my son has made me proud in my native village and this has happened because of Nirajalaxmi didi. She is a real mother to the children of inmates. We may have given birth to them but she has shown them the right way to live."
Mohapatra's hostel has truly transformed lives. - Women's Feature Service

Trending Now: