Report through a cell phone and listen to the news through the cell phone

03-May-2014
Vol 5&nbsp|&nbspIssue 18
In the age of smart phones, it is hard to believe that a non-smart phone is changing the lives of tribals in Central India. But with the help of CGNet Swara, this is becoming a reality.
CGNet Swara has democratized journalism. It allows ordinary people to report news that would otherwise be ignored by the mainstream media.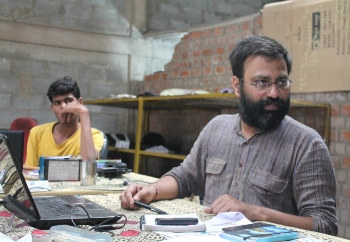 Shubhranshu Choudhary, the brain behind this innovative media, is a former BBC South Asia producer
This is how CGNet Swara works. Anyone can call a phone number (+91-8050068000) to report or suggest a news story or simply to listen to stories of local interest.
The network receives more than 500 calls per day. 5 or 10 stories are chosen – after properly verified for their authenticity – daily and played on the phone as news reports. The reports, which are received in Hindi or in adivasi languages like Gondi, are published in English on the CGNet website and simultaneously, mailed to the members of CGNet online group.
"When media becomes subsidized, there is no free media. When there is no free media, there is no independent thinking. With no free brain, we have a faulty democracy.
"We felt there was a need to democratize the aristocratic nature of the media to create an equal media for everyone," says Shubhranshu Choudhary, former BBC South Asia producer, and the man behind this innovative media.
And that is how CGNet Swara was born.
In 2010, Choudhary launched CGNet Swara with help from Bill Thies, then a technology researcher at Massachusetts Institute of Technology (M.I.T.), and his team, using the funds from his Knight International Journalism fellowship received in 2009.
"We have the tradition of oral history in rural areas where more people can speak than write. CGNet Swara is like poor people's facebook without internet," he says.
CGNet was started as a Yahoo mailing group in 2004. The group was created to pick up ground issues concerning the tribal population in the state of Chhattisgarh torn between insurgent Maoists and the Indian Security Forces.
Even when the issue was not on the radar of national media, they exposed human rights violations in Chhattisgarh that was picked up by international media like New York Times, Washington Post and BBC.
Today the CGNet online group has about 2500 members and it complements its mobile avatar, CGNet Swara.
"As per our observation, there is no Maoist problem. The problem lies with the faulty communication system," says Choudhary, who won the Digital Activism Award 2014, defeating the whistle blower Edward Snowden.
"The tribals in Chhattisgarh do not speak Hindi or English. Those who speak the language do not understand their concerns. The small problems continue to accumulate and become bigger. And media labels it as the 'other problem'," he says.
So what made them move on to mobile phones from the internet?
Choudhry says in India the internet penetration is low and the CGNet group was confined to only a small population that had access to the internet.
According to the Telecom Regulatory Authority of India (TRAI), only about 7.5 percent use internet in India. In Chhattisgarh, only 5 out of 100 people have access to the Internet. But the mobile phone had a better reach. Even in rural areas there are about 20 phone connections for 100 people.
Choudhary expanded his project to a larger tribal belt known as Gondwana. (Hence the name Central Gondwana Net Swara, where Swara is an indigenous word meaning voice.)
According to him, few powerful people with money own the media today. "It is like a pyramid style model where the information is bombarded from above, without knowing the ground reality," he says, adding, "Thus the need for democratization of media comes in; there is no band-aid solution."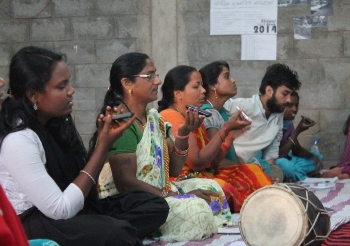 The mobile phone penetration in rural India has encouraged tribal reporters to come out with stories
At CGNet Swara, he adds, there is no sermonizing. "Instead there is a dialogue, a bottom-up communication," he says.
His reporters need not have the skill of writing, they just have to communicate the news orally, and the information is out.
The content of the phone calls vary from water problems to bribery. The project has had an impact as most of the problems they report get solved.
"Many national newspapers pick up our stories and report them, thus reaching it to more people. The aim is to complete the circle where rural and urban activists help each other," says Choudhary.
The project is getting help and support from all corners. In 2013, United Nations Democracy Fund supported the project. Recently, they received fellowship from Bill and Melinda Gates Foundation as well.
Today, CGNet Swara has around dozen full time members, half of whom are tribals. Choudhary is also planning to expand the network by including radio in it. "We are trying to get it on shortwave to form a community radio to reach those who do not have a mobile phone," he says.
Choudhary says he is happy with what he is doing. "Today's mainstream media has black holes where there is no space for stories like ours. But I am glad our voices are being heard."
He says even though he earns less than what he earned in the past, it is the smile on the face of people that gives him immense happiness.
"Democracy may not be the best form of governance but it's surely better than aristocracy, and that is what we are trying to build," he says.


Trending Now: