Chucking a safe job, she launched her bank that is now helping women
Ratna Bharali Talukdar
&nbsp | &nbsp Jorhat
21-April-2014
Vol 5&nbsp|&nbspIssue 16
Six months ago, Purnima Das (name changed), a lower primary school teacher, who had recently taken a divorce from her alcoholic, abusive husband, wanted to procure a small plot of land to secure the future of her only daughter.
For that, she needed a loan but the thought of approaching a regular bank scared her. She knew there would be tons of paperwork involved and even then she was not sure if her application would be approved.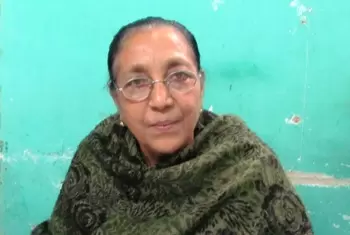 Lakhimi Baruah established the first all-woman bank in the Northeast (Photos: Ratna Bharali Talukdar WFS)
That's when Purnima made up her mind to get in touch with Lakhimi Baruah, 65, who had made a name for herself by being the brains behind the first all-woman bank in the northeast, in the Upper Assam town of Jorhat.
As she had anticipated, Das got her soft loan in no time and with minimal hiccups from the bank that mainly caters to the financial requirements of the under-privileged and women in distress.
Of course, Das's interaction with Baruah did not end there. Two months later, she came back with one of her friends who, too, was a single woman with an only daughter in need of a loan to buy land.
The similarities in their circumstances and stories made Baruah curious – and also a bit suspicious. When she made further inquires with Das, what she heard by way of an explanation proved to be a real eye opener.
Das told her that the problems she and her friend were facing were indeed quite common and that while she had at least managed to get a divorce, her friend was still suffering torture at the hands of her husband.
"When she came to know that I had managed to avail of a loan without suffering unnecessary harassment meted out to women like us in the name of procedures, she got the courage to take that first step towards freeing herself from her husband by applying for a loan to buy her own piece of land," narrated Das.
Women like Das and her friend have been traditionally reluctant to approach a mainstream bank, whether to open a savings account, get a fixed deposit or apply for a loan and often had to forego the financial assistance they could have otherwise easily obtained.
Baruah had understood this dilemma very well over 16 years ago when she was working for Central Co-operative Bank in Jorhat.
As an employee, who was dealing with customers on a daily basis, she quickly realised that banks were failing to address women-specific issues, and large numbers of women were being excluded from the formal banking system because of this.
Even if women were not forbidden from entering the intimidating premises of a bank, they were still made to feel like outcasts once they came in.
That's when the unique idea of setting up a women's bank to empower impoverished women by making them financially able and independent came to her.
She quit her secure job to establish the Kanaklata Women Urban Cooperative Bank (KWUCB) and her dream institution opened its doors to customers in 1998.
Despite many teething troubles and fiscal challenges, the KWUCB, which received its licence from the Reserve Bank of India in 2000, has only grown over the years.
Baruah has not only been able to keep operations running smoothly, she has even expanded KWUCB's presence by opening three branches in the district reaching out to over 28,000 customers. Two more branches – one in adjoining Sivasagar district and another in Golaghat district – are coming up soon, the banker reveals proudly.
A large section of KWUCB's clients are female account holders who are tea garden labourers, daily wage earners or scavengers.
Most of them have very low levels of literacy which is why Baruah insists that all the 27 employees of her bank know how to guide the people who come to them with compassion.
Stories of swift assistance being rendered by the KWUCB have travelled far and wide, mainly through word of mouth and these have contributed to building formidable reputations in the region.
To sweeten the experience for its customers and keep services at par, Baruah and her team have designed a number of innovative schemes, including the Zero Balance Account, the Kanaklata Daily Deposit (KDD) and the option to start a recurring deposit at just Rs 20.
"Women do daily wage jobs and find it is easier to deposit a little amount from their earnings each day, which makes the KDD scheme the most popular," reveals Baruah.
A customer can also avail of a loan of up to Rs 9 lakh. Apart from connecting with rural women, the KWUCB is the preferred banker of a large number of Self-Help Groups, as it has introduced a number of micro-finance schemes.
The financial guru adds, "We have introduced these small deposit instruments because they have proved useful in times of family emergencies -- health crises and the like.
"When we motivate women to come forward and save with us, often they have to open an account quietly, keeping family members in the dark. But when a dire need surfaces, families then discover that the women of their households have been keeping money aside and they are valued for their contribution. Financial independence always increases the status of women within their families."
The KWUCB also provides small and soft loans to its account holders to support their domestic needs, including the purchase of tin sheets, construction of rooms, making arrangements for safe drinking water and the purchase of household goods.
The banking team uses different platforms, like village fairs and public meetings to conduct its awareness campaigns to encourage poor, rural women to take to formal banking.
For Baruah, the success of KWUCB has been a dream come true, but she knows that there is still a long journey ahead.
She concludes, "On the one hand, there's patriarchy that stands in the way of women gaining financial independence; on the other, there is a severe lack of awareness among rural women about saving the hard earned money they make from various sources like poultry, piggery and weaving.
"I strongly believe that the process of women's empowerment in the region will gain momentum only if they can become financially stable." - Women's Feature Service

Trending Now: