More than the stint as Deputy Mayor, it is service to widows that excite this woman

21-April-2014
Vol 5&nbsp|&nbspIssue 16
Since childhood, scenes of widows draped in white sarees, heads shaved and bare-footed, often stirred Dr Laxmi Gautam, an academician based in Vrindavan, with the resolve to fight for their well-being.

Vrindavan, located on the banks of the Yamuna in Mathura district, Uttar Pradesh, is a renowned Hindu pilgrimage site.

Vrindavan is also known as 'the city of widows'. Estimates of the widows in Vrindavan vary from 2000 to 6000. "The media quotes a high number. There are only around 2000-2500 widows in Vrindavan," says Laxmi.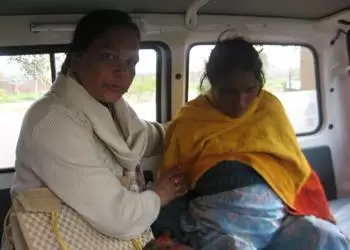 Laxmi has been caring for the widows of Vrindavan since last five years
Many widows from West Bengal have made Vrindavan their home after being abandoned by their families.

"Mattayon kee seva (to serve these widows) is my mission in life," says Laxmi, adding that she has whole-heartedly devoted her life for these women, who suffer the wrath of conventional social taboos.

Laxmi says she has been observing these widows since her childhood, as Vrindavan is her birth place. She used to wonder why they appeared to be different from the other women.

"They are usually abandoned or left on the streets in Vrindavan. Many used to work as domestic helps," says 51-year-old Laxmi, who has been teaching Ancient History and Culture for last 11 years at the Institute of Oriental Philosophy in Vrindavan College.

The academician admits that living in an environment with these women had an impact on her life. As she grew up, she felt the need to help them. For past five years, she has been doing her best to care for the widows of Vrindavan.

Whenever she comes across destitute widows on the roadside, she buys them food, milk, snacks, and clothing from her earnings.

Laxmi then takes them to some nearby government hospital where they are provided free and immediate medical-aid. If the hospital is unable to provide medicines free of cost, she says she would pay for it.

After they are discharged from the hospital, she makes arrangements to send them back to their homes. If anyone is unwilling to go back, she puts them in one of the local Ashrams or in any of the homes run by the NGOs.

She specifically mentions the Apna Ghar ashram (home for destitute) in Rajasthan, where she often sends the widows who have no support.

According to Laxmi, while most of the abandoned widows want to go home, they decide to stay back due to the fear that their children would not take care of them.

Laxmi does not accept donations for her work, though people approach her with the same.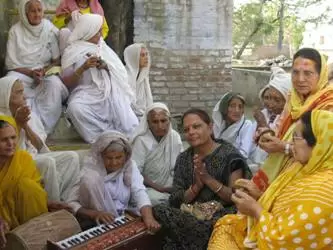 Laxmi with some of the widows singing bhajans
"Whenever I am short of money, my two sons pitch in with financial support," she says. Both her sons are well employed. On an average, she helps three or four widows in a month.

The incidents she recounts are heart-rending. On December 26 last year, she met a widow whose daughter had tried to poison her after snatching her cash and other accessories.

On March 27 this year, she found an unclaimed body of a widow that was lying on the road for three consecutive days. The deceased's son had driven her out of the house, she reveals.

Laxmi also shares how her own daughter was asked by her in-laws to leave the house during her seventh month of pregnancy because she was carrying a female baby. "They even used to torture her for dowry. My daughter and her child are living with us now," she says.

She says women suffer the most right from the time they are conceived. They are discriminated at home, educational institutions and work-places. After marriage, many women face dowry related problems as well.

The condition of widows is pathetic and miserable, she says. "They are not only dressed in white sarees with their heads shaved and bare-footed, but they are also not allowed to participate in any social function."

For men who lose their wives the situation is different, she observes. "They are free to remarry, but for women it's difficult," she says.

Laxmi also cremates the unclaimed dead bodies of women. Ask her how many bodies she might have cremated so far, she says she does not keep a count on it.

As a member of BJP, she was deputy mayor in Vrindavan municipality from 1996 -2000.

But for now she derives greatest satisfaction in serving the widows. Helping widows is her first priority, she asserts.

Trending Now: