Agastya Foundation works in 12 states providing innovative science education

25-January-2014
Vol 5&nbsp|&nbspIssue 4
A man who reached the position of Vice President of Mergers and Acquisitions in Citibank back in 1993, and later set up his own business in New York, returned to India to start a school, but ended up setting up 'Agastya Foundation,' an educational trust that promotes scientific temper and the spirit of enquiry among children in the age group of 6-18 years.
Agastya Foundation, founded by Ramji Raghavan, today works in 12 states, providing innovative science education through 80 mobile science labs, 35 science centers, and a science park situated on a 172-acre campus in Kuppam, Andhra Pradesh, about 125 km from Bangalore.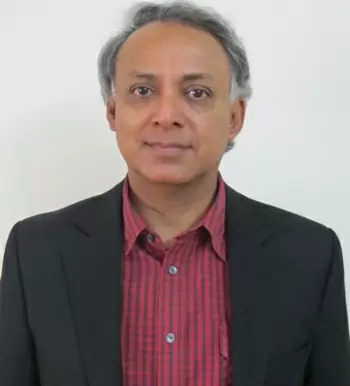 Agstya's educational projects have touched the lives of over one million children
Ramji states that Agastya has touched the lives of over one million children and 30,000 teachers since its establishment in 1999.

Their projects benefit children in rural and urban areas. Underprivileged children are also benefitted. The various programs foster creative thinking, application of knowledge, team work, and leadership skills among the children.

Agastya works with a team of 500 full time employees and 300 teachers.

Equipped with arts, ecology, science and mathematics labs, their vans travel far and wide giving hands-on science education to children. They cover couple of government schools daily. Each session extends to 2-3 hours and in a day around 50-100 simple experiments are demonstrated to the children.

Agastya had one science van in Bihar. Former President Abdul Kalam was so impressed with its service that he donated one of his prize moneys to Agastya for buying more vans to be used in Bihar.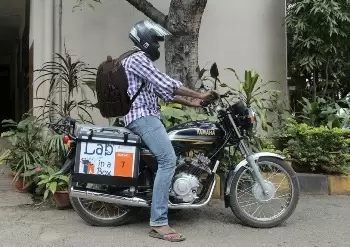 A mobile science lab on a two-wheeler
"We've launched more vans and added computers to them. This is causing a small educational revolution in Darbhanga district of Bihar," said Ramji.

Agastya's contribution to education has been widely recognized and applauded. Recently it won the Google Global Impact Challenge award for its TechLaBike project (motorbike science labs).

The award money would help them add a fleet of 30 TechLaBikes to reach out to more children and teachers of government schools, who have no access to experiential learning.

In another initiative, Agastya is working with 5000 young students in Karnataka, Andhra Pradesh and Gurgaon under the 'young instructor' program.

Ramji narrates how it all began. At a science fair, where only 500 children were expected, just two days before the event it was known that 5000 children would be attending. They roped in young volunteers and quickly taught them the experiments.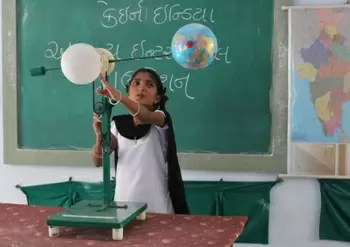 Simple experiments ignite the interest of children in science
The young instructors not only did their job well, but Ramji found that the experience boosted their confidence and brought their leadership skills to the fore.

Another project, Operation Vasantha, is a game-changer, he says. This also started when Ramji visited a village where an educated older girl, named Vasantha, was teaching younger kids in the evening.

Agastya soon launched a program in 100 villages where an able student is trained to teach the other kids in the village.

The young volunteers are trained and provided a mini 'science lab' in a bag that contains low cost tools to conduct simple experiments. Their goal is to scale this project to 1000 villages in the near future.

Their programs have brought immense benefit to the rural communities. The underprivileged kids are developing scientific skills, the young volunteers are developing skills as agents of social change, the teachers are happy that the children are regularly attending school, and parents are delighted.

"India needs to unlock the creative potential of people. It is heartening to know that children of small farmers, stone cutters, and construction workers excel in science competitions amidst students from the best of public schools", says Ramji.

Referring to studies in the US, he says more than IQ and talent what is needed in a child are the EQ (emotional quotient) and CQ (creativity quotient).

He feels that CQ is absolutely essential for the poor to give them confidence. He recalls how two village girls Rani and Roja, sitting under the shade of a tree in Agastya campus discussed the cooling effect of trees.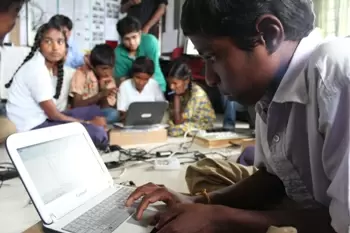 A child learning to use the computer
Sparked by the curiosity they asked Agastya teachers, and later developed a science project that won them the coveted IRIS-intel prize (one of India's largest science competitions).

Ramji had the best of education, completing his schooling from Rishi Valley, graduation from Delhi's Hansraj College, MBA from London Business School and PG Diploma in Development Studies from the International Institute of Social Studies, Netherlands.

He was lucky, but millions of children in India are not. He had dreamt of making a 'Shangrila' in the Himalayas, but ended up transforming a piece of forsaken barren land in Andhra Pradesh into a 'Shangrila' for education.

Ramji was influenced by the thoughts of philosopher Jiddu Krishnamurthy, the founder of Rishi Valley School, his alma mater.

At the height of his professional career in London, he was motivated to get out of his comfort zone for the betterment of education of disadvantaged children back home. It was a move that is changing the lives of thousands of children in the country.

Trending Now: