'I am ready to take on any man, including government officials'
Mehru Jaffer
&nbsp | &nbsp Gorakhpur
06-December-2013
Vol 4&nbsp|&nbspIssue 49
It is no longer possible for anyone to mess with Meera Chaudhury of Janakpur village in eastern Uttar Pradesh. Over time, this 50-year-old has been transformed. From being a loving mother-of-six and a hardworking farmer, she is now a seasoned union leader.
Meera is the backbone of the local branch of a powerful union of small and marginalised farmers that was formed in December 2000, following a state-wide farmers' conference held in Lucknow.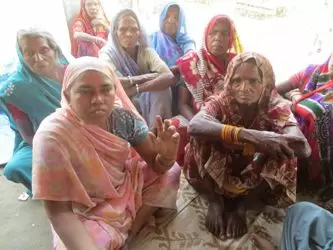 Meera Chaudhury (left) of Janakpur village with her friends. This hardworking farmer leads a feisty union of small and marginalised farmers in the region (Photo: Mehru JafferWFS)
She has been associated with the group since 2003 and understands the challenges, both environmental and administrative faced by the farming community.
The first time that Janakpur took notice of this feisty woman was around five years ago when she led a movement against alcoholism ensuring that the age-old tradition of fermenting mahua fruit to make country liquor was eliminated.
This drive earned her the title of 'commander-in-chief' of Meera's Sena, a group of rural women and men that raises its voice against all cultural, social and government policies that do more harm than good.
Farmers' rights, livelihood issues, especially rural women's access to work and land, and gender equality, are priorities for Meera and her group.
Livelihood concerns have been dogging the local farming community for a few years now. Climate related risks in the form of floods and droughts that hit this region with frightening regularity have been responsible for this, as crop failures and loss of livestock become a part of life.
And with the responsibility of running a household getting tougher with each passing year, the burden on women has increased manifold – they stretch themselves doing household chores and then looking for ways to supplement the family income.
Understanding the need of the hour, Meera's Sena has taken it upon itself to ensure the implementation of livelihood schemes in their area and has, on occasion, even confronted officials who create unnecessary hurdles.
Recalls Satyendra Kumar Tripathi, a farmers' rights activist and project officer with the Gorakhpur Environmental Action Group (GEAG), a non government organisation that works with the local community and provides support to the farmers' union, "On one occasion, Meera took the local bureaucracy head-on when she boldly asked an official, who was demanding a bribe, whether he hadn't received his salary from the government that month."
Of course, Meera's brand of activism is centred on women. That's because she knows that not only are they central to the home economy, they are the ones who are critical to the success of climate change adaption strategies, which can ensure a more stable future for the next generation.
Gender inequality is what drives her to work tirelessly. "Both women and men are part of the same society but they do not enjoy the same rights," feels the union leader, who has been a keen observer of women's rights for over a decade.
Supporting her in her crusade is GEAG. "Awareness is the key to any social change," believes Tripathi.
Keeping in mind that gender is a social construct and that the position of women is quite unfavourable in these parts, most awareness campaigns initiated by the organisation have started off by addressing and promoting gender equality.
This has meant a special focus on looking at the disadvantages women are up against in their own environment so that they can challenge the unfair practices themselves.
Meera herself has been a beneficiary of this approach, having been associated with GEAG for many years. She says, "There was a time when I was afraid to even look at the men in my family. Today, I am ready to take on any man, including government officials."
Meera's determined army is well on its way to building a more environment-friendly and gender just life for themselves, but much still needs to be done.
As Tripathi concludes, "Together we are getting there, but of course there is still a long way to go." - Women's Feature Service


Trending Now: