A die-hard social activist brings down noise pollution by refusing to lower her voice

16-November-2013
Vol 4&nbsp|&nbspIssue 46
If the crackers made lesser noise this Diwali in Mumbai, it was due to the efforts of Sumaira Abdulali and other anti-noise pollution activists from her NGO Awaaz Foundation.
Noise levels have been reducing during Diwali in the past three years, but this was the quietest Diwali in a decade in Mumbai.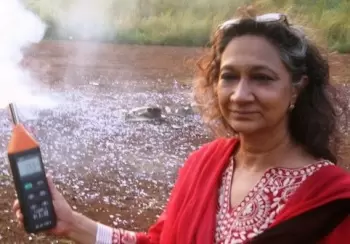 Sumaira's efforts to reduce noise pollution in Mumbai is bearing fruit. In the photo above, she is seen holding the device to measure noise levels
"The decibel levels had dropped because crackers were burst for fewer days this year. The number of serial and rassi bombs that make more noise had also come down," says Sumaira.
Sumaira is the face of the anti-noise pollution brigade in Mumbai as she leads the campaign against noise pollution in the metropolis. She steps up her work during festivals like Diwali.
This year's campaign got the support of Mumbai police, who posted messages on the Promenade setting a 10 pm deadline for using firecrackers.
Police also set up sms based complaint systems to monitor compliance and worked closely with Firecracker Distributors' Association to control noise levels.
"These measures resulted in greatly reduced noise levels during the entire period of Diwali," observes Sumaira.

Awaaz Foundation's campaign on controlling noise pollution in the past few years, especially through the schools and housing societies, is bringing in the results.
Sumaira says the children are even educating adults about air and noise pollution due to bursting of crackers. Citizen groups are also working towards environment friendly Diwali in Mumbai.
Just before Diwali, Awaaz Foundation did an analysis of presence of heavy metals in the fire-crackers. Traces of lead, copper, Aluminium, Vanadium, and Zirconium were found in them.
Since presence of such metals could be harmful for humans as the crackers would let out toxic fumes and add to the environmental pollution, Sumaira informed the authorities about their findings.
Sumaira launched her campaign against noise pollution in 2002 in Mumbai. Her campaign slowly spread to other cities. She registered her NGO Awaaz Foundation in 2006.
Sumaira's work is not limited to noise pollution. She also takes up other issues like illegal sand mining, protection of trees and forests, marine pollution and oil spills, and ban of tobacco sales in the vicinity of educational institutions.
She was twice attacked for her work against the sand mafia. After the first attack in 2004, she formed MITRA (Movement against Intimidation, Threat and Revenge against Activists) to work for the protection of activists.
It was Sumaria's uncle, Saad Ali, who nurtured her interest in environment. As she recalls, it all started in a small way in 1998 in Alibaug where she has an ancestral home near the beach.
The local fishermen sought her help when a Mumbai businessman had enclosed a village road leading to the beach and also posted a few armed guards at the place to intimidate them.
Acting on the advice of her environmentalist uncle and support of the fishermen, she dealt with the issue.
From protesting before the Collector's office to filing PIL (public interest litigation) in Bombay High Court against Coastal Zone Regulation violation, she was able to clear the encroachments on that village road.
In 2004 she took on the sand mafia operating in Alibaug. She complained to the Collector but to no avail, since a politician's son was apparently involved in the matter.
That was the first time she was attacked. The assailants broke the window pane of her car and hit her on the head.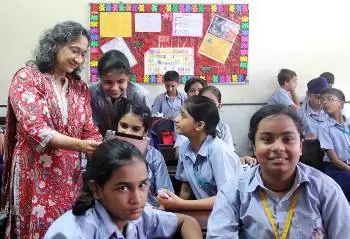 Sumaira has been creating awareness among school children on the importance of reducing noise pollution
Sumaira founded MITRA after she was attacked in 2004. She came to know that lot of activists and people who file PIL were being threatened but there were none to support them.
In 2010 the attack was much more serious in Raigad district after she had filed a petition against sand mining. Two SUVs had chased her car on a lonely road, but fortunately she was saved.
Recently, Awaaz Foundation succeeded in their battle to declare the Sawantwadi - Dodamarg wildlife corridor in the Western Ghats in Sindhudurg district as an eco-sensitive zone.
The Bombay High Court's direction to Ministry of Environment and Forests after three years of hearings was a great victory for people, and a big blow to the sand mining mafia.
"The local people know which region deserves to be protected," says Sumaira.
She argues that it may be difficult to lobby for protecting the entire stretch of Western Ghats, but if small regions within it are protected, then ultimately the entire region could be protected.
When Sumaira is praised for her environmental works, she in all modesty gives credit to all the people who volunteer for the causes she takes up.
"Most of these people are professionals and they are sincere in their approach to protecting the environment. The lawyers who help me do it for free; thus their support is very important," she says.
Having been a student of flying school, she says the discipline cultivated in flying has helped her in many ways and adds that it is important to take a firm stand in the causes one believes in.
With the firm support of her family and likeminded individuals, Sumaira is set to bring many more positive changes for benefit of the people and the environment.


Trending Now: