'When I saw the shore shrinking, I feared losing my freedom'

Souzeina Mushtaq
&nbsp | &nbsp New Delhi
18-October-2013
Vol 4&nbsp|&nbspIssue 42
The morning sun is getting hotter in Jantar Mantar as protestors get ready for the day. Jazeera V, a mother of three from Kerala, is also setting her seat. She has bought a new plywood board to sit on. Fixing it on the bright blue tarpaulin, she asks her elder daughter Rizwana, 12, to get some bricks to put it on.
As the seat is set, she picks up a broom to clean the sides of the pavement—peepal leaves are scattered all along, with black ants feeding on it. She strokes her black abaya and headscarf, and hands her one-and-a half-year-old son Mohammed to Rizwana.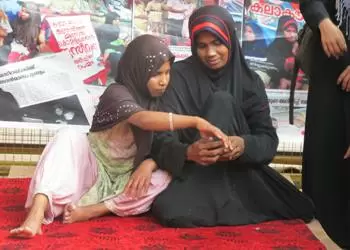 Threats, assaults and a dampening police-mafia nexus have not stopped Jazeera's campaign against illegal sand mining in Kerala (Photos: Souzeina Mushtaq)
Meanwhile, her other daughter, Shifana, 10, takes out oranges from the blue plastic basket, and the kids enjoy their breakfast.
Jazeera is in Delhi to protest against the illegal sand mining on the coastlines in Kerala. Born in a conservative Muslim family in Kannur district of Kerala, Jazeera, 31, was one of the daughters of a merchant father and a housewife mother.
After her father's death while she was studying in 8th standard, her three brothers took household matters in their hands. They allowed Jazeera to study until 10th standard, and married her off at 16.
Forced to oblige, Jazeera was not happy with the marriage. Soon her apprehensions came true—her husband was a drunkard and a womanizer. The marriage broke up later. By that time, Jazeera had given birth to two daughters.
After six years of "difficult" marriage and "threatening" life under her "authoritarian" brothers, Jazeera decided to leave Kannur to Ernakulum. She worked there as a maid for two years. Then she moved to Kottayam where she became a bookseller.
She later returned to her hometown in Kannur, and learnt driving, getting inspired by another woman driver. Securing a driving license, she bought an autorickshaw in 2006 on a loan under the Prime Minister's Rozgar Yojana project.
Seeing a woman-in-hijab driving an auto was hard to imagine in the conservative surroundings. The male auto drivers conspired against her, and with the help of the local police, they asked her to stop plying on the roads. This enraged Jazeera, who complained, and the problem was resolved.
But Kannur no longer interested her. She went back to Kottayam, and started driving autorickshaw again. There she met Abdul Salam, a local Madrassa teacher, whom she married in 2011. She became pregnant and moved to Kannur back to live with her mother, as doctors had advised rest. It was from there her fight against the sand mining began.
"What I saw was unbelievable. The beach which used to be the size of a football field was reduced to a footpath. New buildings and houses had proliferated along the coastline. Some more constructions were coming up," she says.
Since sand from rivers was not enough for building, the builders soon started using sand from the coastline. "The builders had employed local people, mostly the migrants from Orrisa, Bihar and Tamil Nadu."
According to Jazeera, authorities knew about the mining but did not stop it. The sand, used for making art in weddings, was disappearing, and so was the distance between her house and the sea.
She also learnt that it was rampant in other parts of Kerala too. But the struggle had to start from her home-- her two elder brothers were engaged in the sand mining work. They did not stop until Jazeera took to the streets to protest.
In the meantime, she gave birth to a baby boy, but continued with her fight. She kept going on the shore, taking pictures of the vehicles ferrying sand and handing them to the police. Still no action was taken against them.
"There was a nexus between the police and the builders. They used to ask me the vehicle number, and then they used to ask that particular vehicle to leave before arriving on the scene," she says.
But she refused to give up. Despite nobody to help her, she tried to block trucks by sitting in front of the vehicles loaded with sand, forcing them to put it back. She was threatened, beaten up, and even physically assaulted by a group of women workers, who pushed her head in the heap of sand. Her house was damaged and mobile snatched away.
She began a sit-in agitation in front of the police station at Puthiyangadi, demanding action. Her protest went on for one week. Several environmentalists and human rights activists intervened.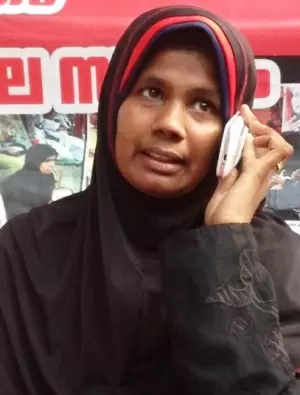 From Kannur she took the fight to the State Capital and then to New Delhi
Soon the district collector called her and assured her of stern action. She went back home, but was disappointed to see the same condition. To remind him of his promise, Jazeera went to the district collector's office. Instead of any help, the officials abused her. Even this did not stop Jazeera.
She started protesting outside Collector's office. After nine days of the protest, the district authorities agreed to set up police post in the area. Soon she realized that the deployed policemen were those supporting the sand mafia.
Feeling cheated, she, along with her three kids boarded a train to Thiruvananthapuram to protest in front of the Secretariat. Three days later, Chief Minister Oommen Chandy called her for talks and promised to look into the matter. When Jazeera asked for the promise in writing, the CM refused. She continued with her protest for 64 days.
Campaigning against the sand mafia in Kerala for at least a year and a half, Jazeera came to Delhi on Oct 6, and is protesting in Jantar Mantar outside Kerala House. Jazeera is hopeful that her struggle will yield positive results. "I got support from everyone here. I am sure my voice will not go unheard," she says.
Taking cognizance of allegations of illegal sand mining in coastal Kerala, National Human Rights Commission on Oct 9 asked the state government to file a report.
A day later, Rural Development Minsiter Jairam Ramesh wrote a "personal letter" to the Chief Minister of Kerala seeking "specific attention to the plight" of Jazeera. Ramesh urged Chandy to order a "fair enquiry by an independent and credible authority and take appropriate action" to redress her grievance.
When asked what gave her courage to resist the sand mafia, Jazeera says, she shares an intimate bond with the sea.
"Since my childhood, I had restrictions on me for going out. But at night, I used to go out on the shore and feel free. When I saw the shore shrinking, I feared losing my freedom. I decided to fight," she says.


Trending Now: