A visionary who helps the poor and downtrodden crack JEE

Kavita Kanan Chandra
&nbsp | &nbsp Mumbai
30-August-2013
Vol 4&nbsp|&nbspIssue 35
It is no ordinary feat. Year after year, students from Super 30, a Patna based IIT-JEE (Indian Institute of Technology – Joint Entrance Exam) coaching centre for meritorious students from economically disadvantaged families pass out with flying colors.
This year 28 out of the 30 students from Super 30 cleared the IIT-JEE exam. Last year 27 cracked the test. Since its inception in 2002 nearly 300 students from Super 30 have joined the country's premier engineering institute.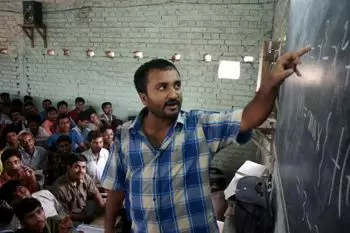 Anand Kumar provides free coaching along with food and lodging to the IIT aspirants
Children of vegetable vendors, rickshaw pullers, and daily wage earners have done it, thanks to the brain behind the Super 30 initiative, 40-year-old Anand Kumar.
Anand might have missed the opportunity to study in Cambridge University due to paucity of funds but this did not deter him to channel his mathematical expertise to teach others.
His love for mathematics made him start a Mathematics Club, 'Ramanujam School of Mathematics' even during his college days. He laid the framework for 'Super 30' in Patna in 2002 under the aegis of the school.
In his decade long teaching in Super 30, Anand has proved that talent requires nothing but encouragement and opportunity. "My background steeped in poverty was a big motivation to start this program," said Anand.
It was the blessings of his teachers and support of his family members that gave him the moral strength to take the plunge.

He scouted for talent amongst the poor but meritorious students and prepared them for the IIT exam. "We select students through screening and interviews. The poorest of poor students are given preference," said Anand.

Today his free of cost tutelage, including food and lodging, is shaping the lives of many students.
Though approached by many private and government institutions, Anand refuses to accept financial assistance from anyone but sets aside a portion of his earning from private tuitions for this noble cause.

He believes in the power of youth and feels it is their responsibility to make India a true leader in the world.
Speaking at a youth conclave at Mumbai University in August, he said, "Life is made of moments and success is made of opportunities. We should learn to appreciate both and make full use of them to climb the ladder of success."

Anand's family wholeheartedly supports him in his endeavor. His mother Jayanti Devi had been by his side through thick and thin.
"Without her I would not have been what I am today. She was the one who helped Super 30 take shape. In the initial years she herself cooked food for the 30 students in my care every day," said Anand.
His family had been through tough times after the death of his father, a lowly paid postal department employee. His mother made 'papad' to make ends meet and he used to deliver them in the evenings while solving mathematics during the day.
When his brother was studying violin at Banaras Hindu University, Varanasi, he used to make weekend trips there to avail of foreign journals and books by acclaimed mathematicians in the university's Central Library.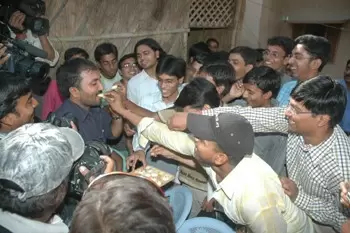 Scenes like these are common at Super 30 when IIT-JEE results are announced
In the movie 'Arakshan' (Reservation) by eminent film director, Prakash Jha, it was said that the protagonist Amitabh Bachchan's character was based on him to some extent. In fact, Anand had even helped Bachchan prepare for his screen role of teaching the underprivileged children.

When a physically challenged Alok Ranjan from Jharkhand or a priest's daughter Preeti Kumari from the nondescript town of Banka make it to IIT through Super 30, it is definitely something to cheer about.
Anand hopes that they meet success in life but do not forget their duty towards the society.
Anand is humble and down to earth. When asked if he regretted in not making it to Cambridge, which might have made him a world renowned mathematician, he said he had no regrets.
"Perhaps destiny has willed it this way and that is the beauty of destiny. All one needs to do is hard and honest work, and you can succeed in any field you venture into," he said.
Anand has the distinction of being in the list of 20 pioneering teachers in the world as selected by 'Monocle', the UK based magazine. Newsweek magazine had Super 30 in its list of the four most innovative schools in the world.
Many documentaries made on Anand have won accolades internationally and his yeoman service to education has been praised by one and all.

Trending Now: