Visually challenged and begging for a living, they find joy in giving
Ritwik Bagchi
&nbsp | &nbsp Kolkata
06-July-2013
Vol 4&nbsp|&nbspIssue 27
Notwithstanding their daily grim battle for survival, a group of visually challenged people - the majority of them beggars - have come together to contribute their lot in improving the lives of others.
Forty sightless people have formed the Paschimbanga Agragami Andha Samity (West Bengal Forward Association for the Visually Challenged) to give shape to their dreams that include training the needy to earn their daily bread.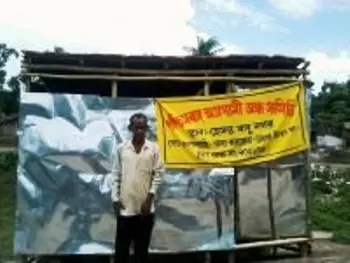 Kanai Sarkar standing before the new makeshift office of the organisation (Photo: IANS)
"During the 1980s, we started organising the blind people of the Kadambagachi area. We began an initiative to educate the poor, blind people by first teaching them braille.

"Gradually, we came in touch with a larger number of blind people in our neighbourhood," said PAAS secretary Kanai Sarkar, who makes a living by singing along with his sightless wife in trains.
Born in 2008 and based in Kareya Kadambagachi of North 24 Parganas district, 40 km from Kolkata, the organisation has drawn its members locally as also from neighbouring districts like South 24 Parganas and Nadia.
PAAS has reached out to visually challenged people from diverse sections like beggars, singers and hawkers and has now blossomed into a platform for addressing the concerns of the sightless.
There were many smiles June 17 on the weather-beaten faces of the members when the organisation got an office of its own - a small room with roof and walls of tin - beside platform number two at the Kareya Kadambagachi railway station.
"We will register our organisation soon," said a delighted Sarkar.
The members have been playing the Good Samaritan over the past five years.
"We contributed Rs.500 to the Chief Minister's Relief Fund for victims of Cyclone Aila (that struck the Sundarbans region in the state's southern tip causing immense damage in 2009)," said Sarkar.
Last year, they distributed blankets among the poor and destitute people of Kadambagachi.
Asked about PAAS' programmes, Sarkar said besides arranging proper singing lessons for the blind by roping in good teachers, they want to help the distressed.
But how are they going to make that possible when they themselves are economically backward and a majority of them earn their livelihood by begging in trains and on the streets?
"We will raise funds according to our ability. We will prove that we can contribute to society, albeit in a small way," Sarkar explained.
PAAS also wants to present a charter of demands to the government.
"We want a disability allowance and government identity cards for every blind person," Sarkar said.
Sarkar is anguished at society's insensitivity to the visually challenged.
"While it is the duty of society to cooperate with the physically challenged, in practice they are being pushed to the margins. The government too doesn't have an efficient system to educate the marginalised blind in the rural areas."
The organisation is concerned over many blind people not getting BPL (below poverty line) cards despite fulfilling all the criteria.
"When BPL cards are made, blind people are often neglected."
PAAS has also linked up with the Paschimbanga Oikya Pratibondhi Mancha (West Bengal United Platform for the Physically Challenged, West Bengal) umbrella organisation encompassing all physically challenged people.
"It provides us a stronger base to convey our demands," Sarkar said.
Adam Ali, a singer who claims to have been a regular artist for All India Radio till 2000, is the president of PAAS. He is ready to teach the grammar of music to talented blind people.
"Earlier, we lacked a place to gather for music rehearsals. Now we can do that in our new office," said Ali told.
It is a new dawn for the likes of Maya Das, Chandana Sarkar, Jayanti Ghosh, Seikh Abul Hossain. The milk of human kindness has imbued them with the passion to stand by others less fortunate. - IANS


Trending Now: