They all gained strength, power and voice to bring out the best in them

Abha Sharma
&nbsp | &nbsp Rajsamand
28-June-2013
Vol 4&nbsp|&nbspIssue 26
Amri Bai, a simple woman in her fifties, had never had the opportunity to deal with the world until she became the Ward Panch of Kesuli Gram Panchayat.
Once a shy housewife whose life revolved around her family, she is a completely changed woman now.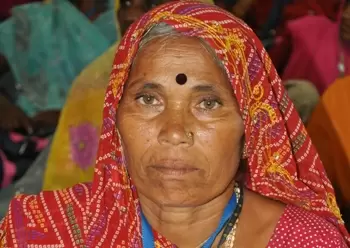 Amri Bai, who belongs to the Gameti scheduled tribe, has brilliantly scripted her own success story. (Photo: The Hunger ProjectWFS)
If Amri represents one face of women's grassroots leadership in Rajasthan, then Rakhi Paliwal is the other face, albeit a contrasting one. An aspiring law graduate, this Upsarpanch (deputy village head) is trying to transform her Upli Oden panchayat with the click of a mouse.
Both women are shining examples of political empowerment in Rajsamand district of Rajasthan, although they are entirely different personalities – Amri is traditional whereas Rekha is a tech savvy and modern.
What they have in common, though, is the zeal to bring about change in the lives of the people they represent.
Amri, who belongs to the Gameti scheduled tribe, has brilliantly scripted her success story. She never had the chance to go to school and was, as she puts it, an "angootha chhap" (illiterate) like most of the women in her village, Pipalwas.
But because she was a respected member of the community, when Kesuli Gram Panchayat in Khamnor block became a reserved seat in 2005, she was considered the most suitable candidate for the post of Ward Panch.
Prior to her entry into public life, Amri never had the courage to speak up for what she believed in
Even after her nomination to the panchayat, she knew most people would expect her to remain in the background.
As she grappled with questions regarding her role, responsibilities and capacity to handle public office, Amri got a rude shock when the Block Development Officer (BDO) snubbed her for being illiterate.
"He angrily retorted, 'What can you do? You can't even read and write'," she recalls, speaking in her regional dialect mixed with Hindi.
His words hurt her but she did not take time to make her next move. Amri decided to study.
Around that time, Aastha, an Udaipur-based non government organisation (NGO), was also conducting a women's leadership training for panchayat members with the support of The Hunger Project, and this exercise helped her immensely. She was finally on the path of transformation.
From then on, Amri had one goal in life. She would practice her alphabets all day, even as she did the household chores, worked in the field or took the cattle for grazing.
"I would write on the slate, on walls or the floor, wherever and whenever I got time," she elaborates. Her hard work paid off when "it was the turn of BDO Sahib to be shocked when I sent him a development proposal written in my own handwriting".
"I was not able to write and used to put my thumb impression because I couldn't sign. Now I can read and do official work myself," she says with great pride. Thanks to the leadership training she also learnt about her rights and duties as a Panchayat representative.
When she sat for the first time on the chair opposite a 'thakur' (upper caste) in the village, her husband hurriedly asked her to sit on the floor. But she replied courageously, "If I have been chosen the Ward Panch, it is my right to sit in the Panchayat."
Amri's commitment ensured that she won for the second consecutive term in 2010, this time from Ward No. 5; earlier she was elected from Ward No. 4.
Of her many achievements, she is most pleased with the fact that she has managed to get a concrete road laid in the village, a hand pump installed in the Bhil basti and ensure the BPL list was rectified successfully.
Unlike Amri Bai, who started her political career with nothing, for Rakhi Paliwal, the road to success has not been fraught with any inhibitions and worries.
Educated and brimming with confidence, Rakhi, in fact, has an edge over others because she is computer savvy as well. She truly believes that solutions to even the toughest problems are just a mouse click away.
Rakhi has also been lucky to get guidance from her father, who was the Upsarpanch of Upli Oden panchayat in 1995.
He, however, could not contest elections after the introduction of the two-child norm that disqualifies those with more than two living children from contesting panchayat elections.
Fascinated by politics, Rakhi, who is in her early twenties, decided to take the plunge and proved herself by winning from the general seat in 2010.
Exhilarated over being the youngest deputy sarpanch, Rakhi started a Facebook page where she posts the problems of her panchayat, shares information with people and keeps herself abreast of the latest developments in the region.
How does posting village information on the web help the village? She replies, "There have been times when the District Collector has immediately responded to my queries on Facebook and directed me to the concerned department for follow-up.
"It is true the elders are not net savvy but even in villages you will find youngsters using the Internet and they update their family on welfare issues."
Rakhi's daily schedule is packed because she is pursuing a law degree. Her college is 50 kilometres away so she leaves home at 6.30 am. Back by 2 pm she has lunch and gets on to her official responsibilities.
Focused on girls' education these days, she is trying to get the collapsed wall of a local school repaired. She has spoken to the Sub-Divisional Magistrate (SDM) about this, but work is stuck due to a lack of funds. Pictures of the broken walls have been put on the Facebook page to keep everyone abreast of the situation.
Her e-approach to problem solving has attracted a lot of attention and other panchayats are also planning to follow suit. "Social networking is now possible at the grassroots because many youngsters are using Facebook these days," she observes.
As she awaits the results of her first year LL.B. exam she has devoted her vacation time for panchayat work and is holding training courses in painting, toy-making and computer learning for women.
She says, "I don't want to invest time and energy in getting buildings made. It is my dream to see my village as a Nirmal Gram. I want proper supply of "bijli-pani" (water and electricity) and a toilet in every home. And, of course, the benefit of government schemes should reach all deserving people."
The amazing confidence displayed by women like Amri Bai and Rakhi Paliwal demonstrates the potential of women leaders to bring about much-needed change in society. - Women's Feature Service
Wish to share your story?
Trending Now: