Starting with one abandoned child, Udhavum Karangal has grown into a big family of 1263 in 30 years

Catherine Gilon
&nbsp | &nbsp Chennai
19-April-2013
Vol 4&nbsp|&nbspIssue 16
Running a family is quite a hassle especially when you have 1263 members vying for your attention at the same time.

Yet 'Papa' Vidyaakar of Udavum Karangal (Helping Hands), a Chennai based NGO, manages to play the role of a lovable father and friend to near perfection, for the 314 children, 572 psychiatric patients, and 377 old and dying destitute under his care.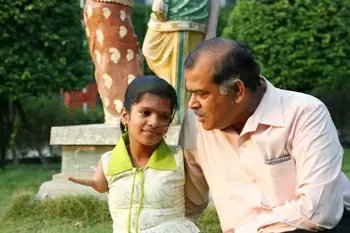 Vidyaakar started his home in a single room for a rent of Rs.90
In his thirty years of service, 60-year-old Vidyaakar, who has chosen to remain a bachelor, has impacted the lives of around 8845 people, many of whom are well-placed in life today. (See Box)

Talking about his early days, Vidyaakar says, "Back in my teens, I just wanted to help people, so I chose nursing profession. The idea behind taking such a course was to work as a social worker in some hospital.

"But I found that such services were underutilized and you cannot do what you want to do. It was more of a clerical job. I started volunteering in a cancer hospital for counseling and health education. Then, I pursued psychology in Vellore to strengthen my counseling skills."

Soon after, he decided to do social service on his own. As a first step, Vidyaakar started visiting slums in Chennai. He counseled the residents and helped them to obtain bank loans, and took tuitions for the children.

He acted as a bridge between the impoverished lot and resources like Lion's Club, Rotary Club and so on.

Papa Vidyaakar fondly reminisces, "It was in 1983 that I took up a single room for a rent of 90 rupees in a leprosy centre. People from the nearby areas started coming in for counseling and guidance.

"Then, one day, an abandoned 11 month-old baby landed in my centre. I took a small place in Hutment colony and it soon became home to many destitute children. There was an old lady who needed shelter. She joined us and slowly, my family grew."

Now that there were several mouths to feed, Vidyaakar went house to house with a hundi (money collection box) in hand, taking in any help that was offered.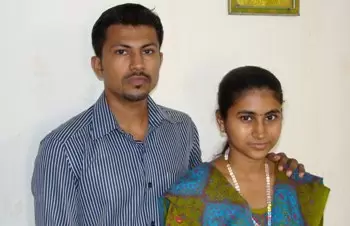 Siblings Rajan and Rajalakshmi, who grew up in Vidyaakar's home (See Box)
And then one night, there was a fire in the slum and their modest hut was burnt to nothing. Fortunately, papa managed to pull out the little ones under his care, and now, they were literally on the street.

"I still remember, it was 5.30 am and we were all huddled together near a public toilet in Anna Nagar, when a person came jogging by. He stopped and enquired about us.

"Realizing our state, he offered us his parking lot. We stayed there for a couple of days till I found another place for rent in NSK Nagar."

The children started to go to government schools which meant that their lunch was taken care of.

Hotels started giving their leftover food. "We would leave our doors open and had food whenever someone offered it, even if it was 11' o clock in the night," Papa recalls.
Happy Siblings

Orphaned at a very young age, siblings Rajan and Rajalakshmi had grown under the care of their maternal grandparents. But the ailing grandparents couldn't take care of the little ones anymore and so, they knocked the doors of Udavum Karangal.

Left with nothing but each other, Rajan would constantly hang on to his little sister like a shadow. It took them awhile to get used to their new big family.

Papa Vidyaakar had told the siblings that they now had more brothers and sisters to share their home with. And slowly, they opened up and learned to love other children like the way they did each other.

With each passing year, they grew up to be confident individuals. Today, Rajan is a successful computer engineer at Infosys and Rajalakshmi has completed her Bsc Maths with flying colors.

This June, she will turn a happy bride when she marries Dr Manikandan, a professor of economics.
One more daughter from Udavum Karangal will leave to begin a new journey of hope. As for her brother, he now has more than one sister to take care of and he takes his responsibility rather seriously.

Having worked in Institute of Mental Health (IMH) for two years, Vidyaakar also started caring for psychiatric patients.
For thirty years, he had raised several babies, seen them get educated, handled psychiatric patients, protected those who were abandoned and had seen death stare in his face more often than life.
But that has not robbed him of the sensitivity for the dying. Speaking of a recent familial loss, he says, "There was this cook who used to work in a hotel that fed us regularly. He had no one and joined us when he was bedridden.

"We cleaned him every day as he had bed sores. His only love in life was bananas. Fifteen days back, I gave him Ganga jal (holy water) and asked him if he wanted to have ground banana (he couldn't swallow solid food), he smiled happily and in few minutes, passed away. "

Children raised by him have made him proud. His home has produced three gold medalists and several college toppers.

His favourite memory though is of a child writing in his school book that his father's name was papa and his mother's name was papa too.

He smiles, "Being a mother is not by gender but by quality." But he does agree that being a male social worker has its limitations.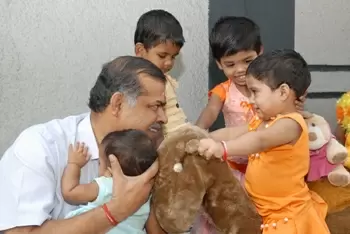 A child wrote that his father's name was papa and his mother's name was papa too
"While the boys grow up to be very close to me, there is a certain physical distance I need to maintain with the girls even if I treat them as my own daughters. If it was a female worker, all of them would have treated her like a mother!"

Udavum Karangal has homes in Madurai, Coimbatore and Thiruvanamalai apart from Chennai.

They also have community projects for cleft patients, child heart patients, a mobile school for children of migratory workers, and a hospital that provides basic healthcare facilities.

Having been there and done it all, Vidyaakar's advice for budding social entrepreneurs is: "Lot of people come to me and say, 'I want to do something'. But this is not like some pizza business, you cannot do it part-time, it requires commitment and passion.

"And when you help, never think whose mistake it was, it is always about whose life it is."

Wish to share your story?
Trending Now: