His life is a crusade to help the needy and the destitute
Rahul Vaishnavi
&nbsp | &nbsp New Delhi
09-April-2013
Vol 4&nbsp|&nbspIssue 14
It took Ravi Kalra, now 44, almost 20 years to finally set up an NGO and do what he always wanted to do - make Delhi a better place to live in.
Six years later he is at peace, despite his family deserting him, vexed by his devotion towards his NGO and his general altruistic zeal.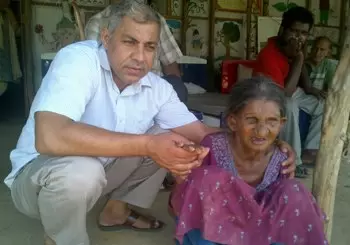 Besides senior citizens, mentally challenged people and destitute women, rescued dogs, goats, and cows live in Kalra's shelters
Educating the underprivileged, providing shelter to the abandoned or campaigning against noise pollution, Kalra and his NGO, The Earth Saviours Foundation, works towards solving the city's problems by engaging common citizens.
"I was not sure of leaving my career as a taekwondo instructor and immigration consultant to start something new. On other occasions there were financial constraints and family commitments.
"But, finally I took the plunge in 2008," Kalra, founder and president of The Earth Saviours Foundation said in an interview.
Among his many initiatives, one of the most prominent has been the campaign against honking when, back in 2008, Kalra spent his savings to print 500,000 'Do Not Honk' stickers and distributed them around the city for free.
"We stuck them on to the back of cars, buses and autos after taking permission from the owner and also distributed them at railway stations so that travellers can take them home and the issue gets maximum exposure.
"A majority of the drivers had no qualms with the stickers being put on their vehicles," he added.
In addition, every few months, Kalra along with his volunteers station themselves on the Delhi-Gurgaon expressway and black out the 'Horn Please' signs on as many trucks and buses as possible.
"So far, we have blacked out the sign on over 100,000 commercial vehicles using 500 litres of paint," he said.
Kalra also got made posters and banners with aggressive slogans like "Dear uncle, can't you drive without honking?"; "Honking is an itch" and another one which surely catches your attention "Even a dog does not bark without any provocation, then why must you honk?"
Kalra has got such posters and banners put up on the gates of several residential colonies in the city as well as intersections and major crossings.
"My friends advised me against getting rude slogans printed, but you have to do radical things to get the attention of people who are used to honking unnecessarily," he said.
Based in south Delhi's Vasant Kunj on an acre of land taken on lease, Kalra's NGO has make-shift sheds constructed that house rooms for the elderly, class rooms for kids, shelter for rescued animals and an office.
"The owner of the land had clearly said that no permanent structure could be made here. So, we erected tents all around," said Kalra.
At present, there are 80 senior citizens, mentally challenged people and destitute women apart from rescued dogs, goats, cows, birds etc. living in the shelters.
"We provide the residents with meals three times a day as well as take care of their health... we have our own ambulance for emergencies," said Kalra.
In addition, over 150 students study at the NGO and are provided free meals, uniforms and books.
"Classes are held every morning in the tents... we have 11 teachers who teach up to Class 5 standard," said Kalra.
However, with 38 employees on payroll, in addition to the monthly rent of the NGO's land, food and medicines, it's a struggle for Kalra to pull through every month.
"I think an NGO should not beg... we don't get any aid from the government or corporates but there are some individuals who recognize our work and help us," said Kalra.
Kalra has installed solar panels around the NGO and dreams of being self-sustained when it comes to electricity.
"All we need is a solar power plant which costs around Rs.10 lakh... If we get that we will able to fulfill our electricity needs on our own," he said. - IANS
Wish to share your story?
Trending Now: