This year's 'Person of the Year' award goes to a man who did what the government failed to

22-December-2012
Vol 3&nbsp|&nbspIssue 51
This nation needs more of the likes of Anil Joshi, an Ayurveda doctor and our 'Person of the Year' who lives in a town called Mandsaur in Madhya Pradesh. It is hard to believe that people like him still exist in this world.

The Weekend Leader's Mumbai reporter Kavita Kanan Chandra wrote about Joshi, an unsung hero, early this year and the story became a hit.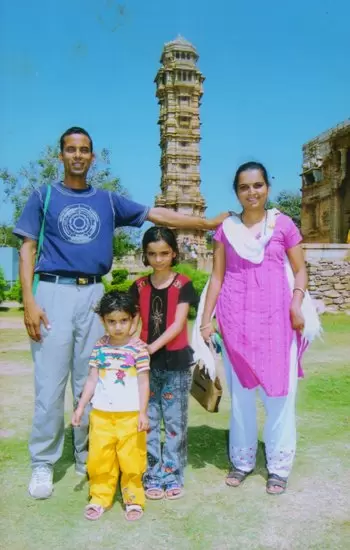 Anil Joshi with his family
Our readers loved Joshi's work. He had built about ten check dams in drought-stricken villages near his town by collecting one rupee each from the local people. These dams have become lifeline for hundreds of farmers whose livelihood had been affected due to lack of irrigation facilities and successive years of drought.

Joshi's heroic act was not in building the dams, but when he took that decision to help the villagers. It was that show of concern, of feeling the pain of a fellow human being, and identifying with that pain, and wanting to do something about it.

Joshi told Kavita that he was heartbroken when he witnessed the impoverished state of some of the people he knew at a village, where he was having a clinic since 1984, due to prevailing drought.

"Some of my patients were farmers who obtained 100-200 quintals of food grain during harvesting season but after eight years of meager rains, they were in a very bad situation and had to buy food grain to feed their family," Joshi told The Weekend Leader.

Moved by their plight, he decided to build check dams for them so that they would have water for their agriculture. He had no money, but that didn't stop him from stepping out of his comfort zone for the sake of a community that was hurtling towards a socio-economic disaster with no sign of help from the government.
Leadership is not about lording it over people, but leading the way to serve them. If only politicians could take a leaf from this man's life, they can do better public service.

Joshi demonstrated great leadership skills when he chalked out an action plan to salvage the situation and help the villagers. He collected money, one rupee from each person, borrowed cement bags from friends, filled it with sand, and along with villagers stood in the middle of a river "where water flowed with a strong current" and piled up the bags to create a water storage facility.

And when it rained after fifteen days, the water that got collected in the check dam recharged the ground water in the area. Agriculture was revived and the farmers were happy. Joshi sold his wife's jewels to build one more check dam, and nine others later.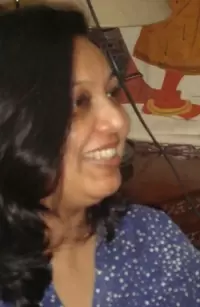 Kavita Kanan Chandra
The Weekend Leader's editorial team has chosen him as 'Person of the Year' for his exemplary community service. Vellore Institute of Technology (VIT), one of India's top educational institutions, has joined hands with our flagship initiative and so this year the award has been titled, 'The Weekend Leader - VIT Chennai Person of the Year.'

In 2010, we chose Tanishk Shyamya, an IIM graduate, who changed the lives of street food vendors in Ranchi through her social enterprise, Streets India, as our 'Person of the Year'.. In 2011 the honour went to V Venkatraman, who provides lunch at One Rupee to thirty poor people daily at his restaurant in Erode, Tamil Nadu.

Joshi will receive 'The Weekend Leader – VIT Chennai Person of the Year Award' at the VIT Chennai campus on January 24, 2013. The award includes cash prize of Rs.10000, a trophy and citation.

As we take a year-end break, we are skipping the next weekend edition, but will come back with more inspiring stories the week after.

Wish you all a Happy New Year!

P C Vinoj Kumar is Editor of The Weekend Leader
Wish to share your story?
Trending Now: