An alumnus of BITS, Pilani, and Wharton is now ushering in change in rural India

23-November-2012
Vol 3&nbsp|&nbspIssue 47
In the hinterlands of Haryana, Andhra Pradesh, and Rajasthan, scores of women are being trained to be employed in BPOs set up by Ajay Chaturvedi, a BITS Pilani alumnus and former Citibank employee.

Ajay (38) had quit a flourishing career abroad to embark on a spiritual journey in the Himalayas which eventually led to his founding of HarVa (Harnessing Value of Rural India), a 'for profit rural enterprise'.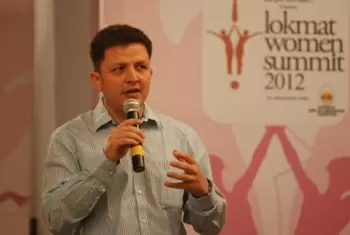 Ajay is providing jobs to hundreds of rural women in BPOs
Thanks to his organization, about thousand women, many of them just high school drop-outs, now operate computers with ease and have acquired the skills to work in BPOs.

The women are trained for about 3-4 months before they are put on the job, where depending upon their skill levels, and the amount of time they spend in the 'digital huts' they earn anywhere between Rs.3500 – Rs.8000 per month.

HarVa recently bagged a project with an MNC in the US, which can provide jobs for about 100 women. "At one stage we had 11 BPOs, but we have scaled it down to 4 units due to management issues. We are opening a unit shortly in Rajgharh in Rajasthan," says Ajay.

The workforce fluctuates according to the job at hand. Up to 400 women get jobs when the workload is at its peak.

Ajay set up the first rural BPO in 2009 in Bhiwadi, Rajasthan. He later forayed into community farming initiatives, and set up student help desks.
In the farming sector, Ajay encourages farmers to opt for crop diversification to boost their income. He offers suggestions on what crops are suited to a particular area.

He also counsels them on using appropriate irrigation methods. In Uttarakhand, he asked farmers who were cultivating Eucalyptus to switch to mango cultivation, as the former sucked a lot of ground water.

The student help desks, which function in Haryana, Rajasthan, Andhra Pradesh, Uttar Pradesh, and Meghalaya, offer free career counseling. Thousands of enquiries have poured in, and they have been unable to respond to each of the enquiries. "We have been able to attend to only about 5000 enquiries. Thousands more are awaiting our response," says Ajay.

After working abroad for some time, Ajay returned to India determined to find answers to the questions of life that had been haunting him since he was a student at Wharton.

"My spiritual quest began at 26 in Business Strategy class at Wharton. I started the self inquiry then. At 33, I went to the Himalayas and spent time with my guruji. At 36, I started HarVa," says Ajay.

His story reminds one of Robin Sharma's bestseller, 'The Monk Who Sold His Ferrari,' which talks about oriental wisdom and lets you delve deeper into yourself to understand life from a different perspective.

"People thought I gave up (when I went to the Himalayas), I didn't give up but gained much more," says Ajay.

Wandering in the Himalayas he observed the villages at close quarters and that provided the spark for HarVa, which he established in his words, as a 'socio-capitalist business model.'

In 2011, he acquired a company 'Source Pilani,' a for-profit village based BPO that leveraged low cost rural talent and inexpensive infrastructure to provide services to companies at unmatched price.
The Rajgarh based company had strong capabilities in medical transcription, social media monitoring and regional language voice services. It also provided solutions for business support functions like data processing, software testing and call center support.

But ask him why he has started only 'all women' BPOs? He says he had no plans as such, but it so happened that only women lapped up the opportunity of working in a BPO when he went knocking at the villages.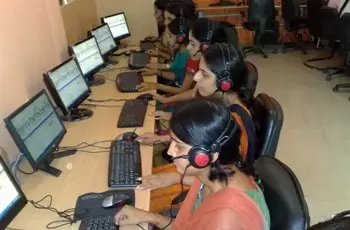 Women workers at a rural BPO
Women responded well. "I neither preached to them nor questioned them about their customs, traditions, attire or anything, but just went there with a proposal for free computer training to all," says Ajay.

The rural women proved quick learners. Even those who had studied only up to class eight and were seeing computers for the first time learned to use a keyboard within 4 hours, he says.

He is experimenting with solar energy and 'gobar gas' plant to power the centres. The pilot project is yielding encouraging results. "The dung from 50 cows is enough to run 40-45 computers," he reveals.
Ajay steers clear of terms such as 'women empowerment,' saying, "when women are equal to men, where is the question of empowering them."

He recalls an old Chinese adage, 'Give a man a fish and you feed him for a day. Teach a man to fish and you feed him for a lifetime' and says that one has to do a bit more – dig a pond, fill it with rain harvested water, culture fish, and buy back fish from the man!

Ajay's philosophy for HarVa is perhaps encapsulated in the above words.


Trending Now: