Disability does not stop this young man from creating records

Prantick Majumder
&nbsp | &nbsp New Delhi
19-November-2012
Vol 3&nbsp|&nbspIssue 46
Sai Prasad Vishwanathan, India's first disabled skydiver who has since childhood suffered a loss of sensation in the lower half of his body, will add another feather to his cap when he goes to Antarctica in 2013.
In his twenties, Sai will become the first Indian with a disability to travel to the icy continent.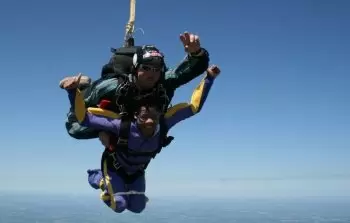 Sai Prasad during his skydiving attempt (Photos: IANS)
Sai said he had an extra growth in his spinal cord and a surgery to remove it left him disabled. "This put tremendous stress on my parents. Lack of awareness and societal shame of bringing up a child with disability pushed them to a corner. Not a hospital was left unvisited to find a cure for my disability," Sai told IANS in an email interview.
"It is a childhood no one should have. No parents should be given. But it happened," he said.
He was forced to change many schools as they could not help him due to his disability. But, believing that his "salvation" lay in education, his parents pushed him through different schools.
"My disability turned out to be my asset. It gave me many skills of my life," said Sai who hails from Thiruchirapalli in Tamil Nadu but stays in Andhra Pradesh with his family.
He later received a scholarship for a degree at the University of Wisconsin-Madison in the US.
Sai went on to become an engineer.
"It was pleasantly shocking at how disabled friendly the US was. Their infrastructure support for the physically-disabled was simply mindblowing. Every public place, transport, nook and corner was accessible.
"It was like a little heaven, for a person with disability," he said.
His life changed when he spotted a skydiving advertisement on the university campus, and went for it. Thanks to that, he is now in the Limca Book of Records as the first Indian with a disability to skydive from a height of 14,000 feet.
"I was selected from across the world, as one of the 30 Antarctic Youth Ambassadors in 2012, and will become the first Indian with a disability to travel to Antarctica in February 2013," he said.
Leading disability rights' activist Javed Abidi is all praise for Sai.
"Sai Prasad Vishwanathan is a true role model for millions of young disabled people across the country on how disability is not an impediment to success," Abidi said.
His story "is a testimony to the fact that if a disabled person has access to the same opportunities like any non-disabled person, the possibilities are endless".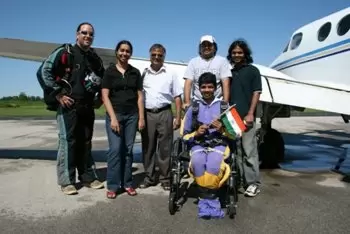 Sai appeared in Aamir Khan's popular TV show, 'Satyamev Jayate'
Sai has won a host of awards, including the Helen Keller Role Model Person Award instituted by the National Centre for Promotion of Employment for Disabled People (NCPEDP) in 2011.
He has also been featured in TV programme "Satyamev Jayate" hosted by Bollywood actor Aamir Khan.
"Aamir Khan brought the disability issue the much-needed attention. For the first time in the history of our country, disability was being discussed from the viewpoint of education and infrastructure, rather than karma and attitude," said Sai.
With the help of four friends, Sai has started an initiative called Sahasra, which provides scholarships to needy and meritorious students for engineering and higher education.
The initiative has so far helped 50 students for their engineering education, and provided scholarships worth Rs.12 lakh in two years.
It was selected as one of the top 10 business plans in a competition conducted by the Hass School of Business, University of California, Berkeley. - IANS

Wish to share your story?
Trending Now: