A monk who gave up a life in the Big Apple to set up his own garden of love and compassion

Madhu Gurung
&nbsp | &nbsp Lumla
02-November-2012
Vol 3&nbsp|&nbspIssue 44
There is an unhurried serenity about Lobsang Phuntsok, 42. He is much like the mountain breeze of the isolated village of Lumla, situated an hour's drive from the popular border town of Tawang in Arunachal Pradesh.
Here Lobsang bought five acres of land six years ago to create his Garden of Love and Compassion, or Jhamste Gatsal, which today is home to 82 happy children.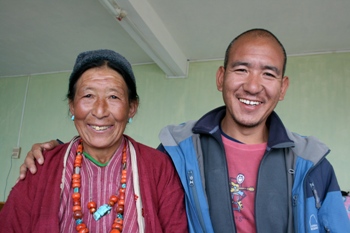 Lobsang Phuntsok with his mother (Photos Courtesy: Lobsang Phuntsok)
For these abandoned, abused orphans, Lobsang is their genla (teacher) and their only hope; for Lobsang, this garden he has painstakingly put together is his raison d'être for living. As the son of an unwed mother, who has lived through the pain of rejection and, for years, struggled with feelings of anger and negativity, he understands them well.
Lobsang, whose name literally means 'kind heart', was saved by his grandparents, who took him into their home and gave his life a new direction.
He recalls, "My childhood was difficult. My mother was really aggressive and there was a time when my grandparents felt they needed to protect me from her. Their biggest challenge was all the hate and bitterness I felt. During quiet moments they would hold my hand and tell me to be good."
The turning point came when he was coaxed into becoming a Buddhist monk. He was just six when one day there was an army helicopter flying above their village, "My grandfather pointed to it and said, 'If you become a monk, you will get to ride a helicopter.'
I agreed immediately." Becoming a student at the Seraje Monastery in faraway Coorg, Karnataka – where he was one of the youngest monks – was a new experience.
"I can still recall shaving my head and putting on new robes and not being too happy about it initially," he smiles.
Yet, the process of healing had begun. This was evident when he came home for the holidays for the first time. By then his mother had got married to an alcoholic and when he visited her he could see that "she was very vulnerable and sad and it helped me change my attitude towards her."
Life took another significant turn for the young monk, when in 2000 he accompanied Tsona Gontse Rinpoche of the Bomdila monastery in Arunachal, for the Millennium Peace Conference in the US. During the visit, he was invited to teach Buddhism in Boston and decided to stay on.
Yet, whenever he came back, Lobsang was filled with a sense of hopelessness. "Everywhere I looked I saw children living in abject poverty and neglect. I wanted to do something for them. So I decided that I would teach in the US, make money and start a school in Tawang," he explains.
He set up Compassion of Action, a non-profit organisation, in 2003 and could formally call for funds by 2005. The following year, enough money had been collected and he returned to start work on his dream project.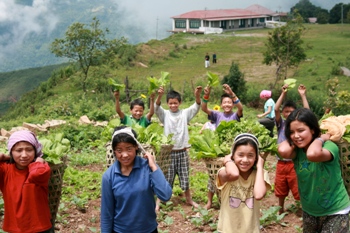 Children picking fresh vegetables from the kitchen garden adjoining their school
Of course, that did not turn out to be a cakewalk, but running from pillar to post for agreements and licences only strengthened Lobsang's resolve. The school building was completed, the kitchen and bathrooms followed, and then a staff of 35 was hired.

Jhamste Gatsal welcomed its first batch of 34 students. The majority of the children, handpicked by Lobsang, were from homes where parents were unable to feed or care for them; some were orphans.
Lobsang recalls how at first they came as a frightened, starving and distrustful lot, slowly learning to trust each other and the people around them. "It took at least a month for the children to play, and laugh without fear," informs the attentive teacher.

That's mainly because each one of them has a troubled past. Lobsang talks of the two orphaned sisters that he rescued from Gispu village when he was on one of his trips to Tawang.
The village headman took him to see the girls, who were living with their 80-year-old grandmother. "The old woman was weighed down under a basket-load of stones, working as a labourer, building roads. They survived on whatever she earned. Today, the sisters are with us and doing well," he narrates.
On another occasion, snowed in for 21 days in the remote Tsachow village close to the Indo-China border, Lobsang and his team had to take refuge in an army camp.
"There, a young boy, Sanjay, would come at meal times and sit at a distance. We would share our food with him. When I made inquiries about him, I was told his parents, who were alcoholics, had recently sold their baby girl to support their drinking habit.
"I asked the village headman if we could take Sanjay back with us. When the road opened the headman accompanied us along with Sanjay and two other orphans. No one from that village had ever gone to school," he relates.
Today, Sanjay is one of Lobsang's most challenging pupils. He rarely smiles and is very aggressive but Lobsang says, "I understand Sanjay, I have been there."
Interestingly, being with these children has freed Lobsang from his own painful memories. In fact, he even made peace with his father, who had abandoned him and his mother.
"My father was a well-known man. When he fell sick, I knew I had to meet him if only to set a good example for my children. In that first meeting, he told me, 'People make so many stupas but the real stupa is in building children's lives and you are doing that'. Two months later he passed away," recalls Lobsang. Interestingly, his estranged father had grasped the philosophy behind the school.
"At Jhamste Gatsal, we focus on three areas – an intelligent mind, a kind heart and a healthy body. If negative emotions can convince people to live in hate and give up their lives, then compassion can also be taught," Lobsang explains.
He adds, "Jhamste Gatsal is committed to supporting its students beyond schooling. That's one of the reasons we are not expanding yet. We have a waiting list of 200 children whom we cannot accommodate, as we do not have adequate infrastructure. Even I am living in a storeroom. We plan to take in more children by 2013, if we are able to construct family homes by then."
For now, the children are divided into four houses named after medicinal plants – Ganglha, Pangyen, Serchen and Gurukum – that grow in the region. Each house mother has the charge of around 20 children.
While a bulk of its financial assistance comes through individual donations, Papel – a programme run by inventors of Facebook – also funds bright, young American kids to come to Jhamste Gatsal and help out.
Says Lobsang, "A young man, Chris, has set up our computer system, which we use to access online resources although it's been designed in such a way that we don't need to be online. We are raising money for laptops for the kids as well."
In September, another young woman funded by Papel will be coming to put up a solar panel tracker in school that will move along with the sun to constantly harness its energy. "We fully intend to tap wind and solar energy. For now, as there's no running water here, we are trying drip irrigation and already our grounds are protected by a solar-powered electric fence," he reveals.
Ultimately, it's hope and love that makes Jhamste Gatsal special. As its founder puts it, "I want more children to live in this garden of compassion. I pray that I get many more lifetimes to work for them. In each child I see a Lobsang. When they play, study and smile, it keeps me going." - Women's Feature Service

Trending Now: