A brave woman who saves both tigers and trees in a most backward region

Saadia Azim
&nbsp | &nbsp Saraikela-Kharsawan district
21-September-2012
Vol 3&nbsp|&nbspIssue 38
Chami Devi Murmu, 42, is fondly called the 'Lady Tarzan of Jharkhand', not because she has befriended tigers or can talk to monkeys and elephants in the Muturkham Chaura and Kadel Pahar jungles of Saraikela-Kharsawan district.
She is on a mission to protect the local wildlife by saving the forests that have been fast vanishing due to the havoc caused by the timber mafia and Naxal insurgency in the area.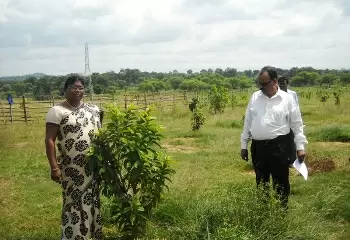 Chami Devi has made it her mission to plant trees to save the fast-vanishing forests in her district of Saraikela-Kharsawan (Photos: Saadia Azim WFS)
A native of Barisai village, which falls in the Rajnagar block of Seraikhela Kharsawan, it has taken Chami nearly 24 years to mobilise women from over 40 villages to plant Sal, Eucalyptus and Acacia trees, among others, to replenish the heavily depleted green cover.
Chami's eco-brigade of Self-Help Group (SHG) women has planted more than a million trees and has also developed watersheds to help raise the ground water levels in the region.
A part of the Maoist movement's red corridor, Seraikhela Kharsawan has seen insurgency, with many of the local poverty-ridden villagers drawn into the armed struggle.
It is one of the most backward districts of the country and has been included under the Central Government's Backward Regions Grant Fund Programme. In this citadel of the Chau dance form, people's livelihood options are very limited and agriculture is particularly tough given uncertain rain. The failure of the monsoon immediately translates into barren fields.
The jungles of Muturkham Chaura and Kadel Pahar, a backward, hilly terrain, have not just been the traditional source of firewood and food but have also supplied timber for construction of all homes in the area.
Unfortunately, years of illegal felling of trees by the local timber mafia has depleted this green cover. In fact, according to the state government's Forest Department records, over a period of two decades Jharkhand as a whole has gradually lost 50 per cent of its 'protected' 24 lakh-hectare forest.
Today, however, the women of Seraikhela Kharsawan do their best to prevent even a single tree being cut down without the permission of the forest authorities. "Trees are our lives. They fulfill our very real needs for firewood and food and so I thought why not I become the saviour of our lifesavers," says a confident Chami.
"Our network of women is so strong that we immediately come to know where a tree is being chopped. Our organisation, the Sahyogi Mahila group, a cluster of various SHGs, now plants trees and also protects them," she adds.
Ten years back, when Chami decided to start the re-forestation drive, she kept the needs of the local people in mind. The group began by planting Acacia trees that are best suited for firewood. These were followed up with the hardy Neem, Sal, Sagwan and Sheesham that are useful in building homes and making furniture. Mango and Guava trees were planted for their fruit.
Besides reviving the forests, Chami and her all-women brigade have also renewed the fading hopes of the local people. Today, despair is slowly giving way to happiness.
The land, that had been barren due to very poor irrigation facilities, is now yielding paddy and arhar dal (yellow lentil) because of local efforts to build watersheds in the area.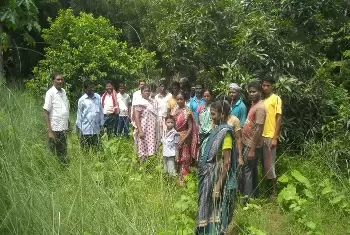 Chami with her all-women brigade in the Muturkham
"When we had started work on this, we did not have any support from the government. The women gradually built small structures to save the rainwater and prevent it from trickling off the hillsides. We started making diversion canals, small sheds, float bundings, and water harvesting tanks to save water. Of late, we have started growing crops in the region," reveals Chami.
Adds a proud Deola Baske, 50, who has been associated with Chami for the last two decades, "The land had become barren and there was no food. We could not grow crops as there was neither any facility for irrigation nor was the Rain God merciful. But now things have changed. We, the female brigade now save trees, create dams and grow crops."
In the last decade, as more than a lakh trees have been planted – the average density used to be a tree every 24 feet whereas now its one every six feet. Consequently, the wildlife in the region has also made a comeback. Monkeys, jackals and flocks of elephants, once a rare sight, are now common.
Says Sukurmoni Hembrom, another close aide of Chami's from the initial days of struggle, "I remember the situation used to be quite bad. The men were either getting involved in the Maoist movement or they spent their days drinking and sleeping. The influential timber mafia had a free run of the forests and they chopped down each and every tree that was more than three feet tall. Had the women not come out of homes and formed SHGs, we would not have found a way out of this problem."
Over the years Chami's movement, which had started in 1988, has only become bigger. Nowadays, she and her team conduct rallies in villages to mobilise more women to join them. So far, they have 3,000 dedicated volunteers and together they connect more than 45 villages.
Chami, however, feels a lot has to be done before her golden dream is fulfilled. Says the Santhal woman, "Jharkhand means 'the land of forests' and in our local Santhal language it also means 'a piece of gold'. For me, our forests are gold and we need to preserve them.
"For this I will need to save all of the state's 24 lakh hectares of rich forests, and my team and I are going to achieve this. After all, our survival is dependent on our ability to save our forests." - Women's Feature Service
Wish to share your story?
Trending Now: