The poor man's doctor wants all doctors to treat one patient free of charge a day

07-September-2012
Vol 3&nbsp|&nbspIssue 36
No matter how tired Dr Shyama Prasad Mukherjee might be feeling on a particular day he simply does not have the heart to refuse seeing a patient. At 75, the good old doctor tries to restrict the number of his patients to thirty per day, but ends up seeing 40-50.
His patients, mostly the poor, visit his clinic in Ranchi from across the State of Jharkhand. And not without reason!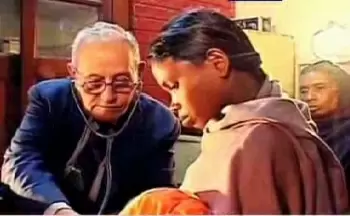 Doctor in action: A TV grab from CNN-IBN which honoured Dr. Shyama Prasad Mukeherjee as a Real Hero
Incredible as it may sound, Mukherjee's consultation fee has remained Rs.5 for several decades.
This retired HOD of pathology department from Rajendra Institute of Medical Sciences (RMCH) has upheld the Hippocratic Oath since the day he became a civil assistant surgeon in 1959.
In a country where millions suffer without proper treatment due to their inability to pay the exorbitant medical expenses, this benign doctor is doing a yeoman service to mankind.
"My message to doctors is that they examine and attend to at least one poor patient every day free of charge. If all the doctors in India can do this, it would be a great service to humanity," says Mukherjee.
Ranchi became his home since 1966, when he started treating patients after college hours for a fee of Rs 5. Within few months, word about him spread and thousands of BPL (below poverty line) patients began to flock to his clinic
In a State where the poor have no place to go except Government hospitals, which are in such deplorable condition, Mukherjee came as a godsend for the sick from the economically weaker sections.
Mukherjee's daughter Malobika says it's not just the meager consultation fee that her father charges, but also his superb diagnostic sense, that has made him popular among the poor. Patients with long time illness have been healed after they consulted him.
"I have seen many patients suffer because of incorrect diagnosis. Patients with arthritis come with great pain and even if I am not able to cure them fully, they get good relief and begin to walk," says Mukherjee.
He says scores of patients come to him with high fever, since they could not afford to pay for the battery of tests that are prescribed in other places. When he treats them and they are cured, it gives him great happiness.
Never has Dr Mukherjee hankered after money or recognition and prefers to do his work silently. His concern for the poor extends beyond medical treatment and he counsels them on issues such as hygiene, healthy food, and good parenting.
Mukherjee spends few hours at his Lalpur Pathology Lab in the morning and then from 12 pm to 9 pm at his clinic. Even though he wishes to retire early, the beeline of patients waiting for him doesn't give him much rest.
The doctor says that his own students charge Rs 500 as consultation charge, and in Ranchi, Rs 100 is the minimum amount. There is sadness in his voice when he says that he has been not able to inspire any of his students to follow his path.
Although working for a pittance, the humble doctor still feels he's done little. Are the doctors listening?

Trending Now: