Melanie finds 'fulfillment' in Jharkhand hospital project
31-July-2012
Vol 3&nbsp|&nbspIssue 30
US-born Indian actress Melanie Kannokada, seen as Seeta McKinsey in "Love, Lies & Seeta", pursues acting goals with the same fervour as her social work. If the actress is happy about her movie assignments, she is equally excited about a hospital in Jharkhand.
Not many know that Melanie is one of the co-founders of Hospital for Hope, a not-for-profit organisation that is working towards construction of a hospital in Jharkhand.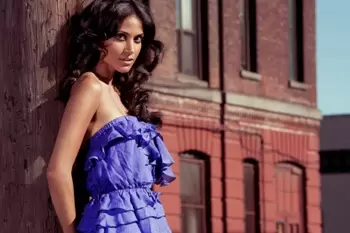 Melanie is supporting the building of a hospital in Jharkhand, which is nearing completion (Photo: IANS)
"In addition to pursuing my career as an actress, I will be getting into producing my own projects. And I'm continuing to focus on our Hospital for Hope non-profit. We are currently building a hospital in Jharkhand for 1,00,000 villagers, and I'm proud to say we are almost near completion," said Melanie in an e-mail interview.
A mechanical engineer from Stanford University, Melanie feels that celebrities' association with NGOs make them visible.
"I think adding the glamour of celebrities into the charity world definitely increases the visibility and exposure of all the amazing causes out there. These days, celebrities have so much influence, and they can use this to rally support to the causes they personally believe in," she said.
The former Miss India America, who is the face of cosmetics brand Bare Essentials, left her high paying consulting job to pursue acting and describes each phase of her life as "exciting".
"Current phase of my life is heavily focused on my acting and my non-profit organization. Both provide me with so much fulfillment. I'm constantly learning and growing. I'm meeting inspirational people and I'm doing what I love to do, every day," she added.
When asked what prompted her to join showbiz, she explained saying, "It wasn't necessarily the glamour of the entertainment industry that attracted me so much. Rather it was my genuine curiosity and love for acting that I couldn't deny.
"Even though I was in a very prestigious corporate career, my heart wasn't in it. I realised I wanted to let my creative juices flow."
The 26-year-old's parents migrated from Kerala and settled near Chicago, US where she was born and raised.
After "Love, Lies..", Melanie has other projects in pipeline, including Telugu movie by Raj Nidimoru and Krishna DK of "Shor In The City" fame.
She refused to divulge too much about the Telugu project, but said: "It's a comedy starring Varun Sandesh and Sandeep Kishan who are both very talented actors. I can't wait to see the final product! It is the first time my project will be filmed in India."
Writing and producing is also on the cards.
"I am also getting into writing and producing my own projects. Most recently, I joined forces with a few of my acting colleagues to create our own comedy series," she said.
Before "Love, Lies & Seeta", she made a guest appearance alongside comedy legend David Spade in the TV show "Rules of Engagement".
"The Nine Lives of Chole King" and "Parenthood" are the other sitcoms where she did cameos. - IANS
Now, You Can Give Back to TWL
Trending Now: