Teacher turns real life hero for water starved tribals

Quaid Najmi
&nbsp | &nbsp Nagpur
27-June-2012
Vol 3&nbsp|&nbspIssue 25
Hundreds of tribals living in the remote forests of Maharashtra's Yavatmal district rejoiced when fresh and cool water started gushing out in full force from a tubewell in the parched Nandgaon locality.
The tubewell, among four drilled this week out of donations from school and college students, was the brainchild of Manish Dedhwal, a teacher of the BCM High School, Ludhiana.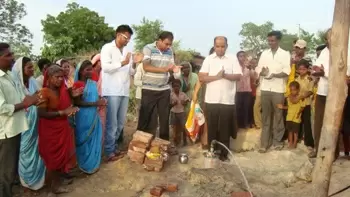 Water gushing forth from the new tubewell inaugurated in Nandgaon village (Photo: IANS)
The Nandgaon tubewell is dedicated to the memory of 11-year-old Monu Kapoor, who succumbed to leukemia and was denied water in his last few moments as he had lost his lungs.
"His mother Rama Kapoor, an English teacher in the BCM High School, was heartbroken as Monu was her only child. She made an instant donation of Rs.51,000 for this project, saying no child should be deprived of water," said Dedhwal.
The newly-drilled tubewell was inaugurated Monday at a solemn prayer ceremony with Monu's picture garlanded and all tribals standing in silence. The donor, Rama Kapoor, is expected to visit the place soon, Dedhwal said.
Dedhwal, and Jitender Kumar, a student of the Guru Nanak Engineering College, had visited Yavatmal last December on a field trip after hearing of the large number of farmers' suicides in the region.
"We were shocked to see women and children trudging with vessels on their heads for 8-10 km for collecting drinking water from wells or polluted water sources in the forests," said Kumar.
They assured the villagers that they would do something for them and returned to Ludhiana.
"We formed the 'Friends of Vidarbha Club' in our city and appealed to our students, colleagues and others for donations. People started chipping in as per their capacity and we collected around Rs.200,000, including Rama Kapoor's generous donation," Dedhwal said.
Armed with the financial resources, last week they travelled over 1,500 km from Ludhiana to Yavatmal and identified four villages in dire need of water.
They are: Kundi, Ambazari, Hivara, all falling in the Zari sub-district and Nandgaon in the Kelapur sub-district.
Local contractors were hired to drill tube-wells in each of these parched villages. They struck water at average depths of 400 feet, since it is the height of summer and monsoons have eluded the region so far, Kumar said.
"Besides, we have installed submersible pumps, electric motors, and connecting pipelines at strategic locations in these tiny hamlets to enable people get ample water daily," Dedhwal explained.
Each tubewell cost in the range of Rs.50,000, all inclusive, and the last bit of the work was completed Monday evening, Dedhwal said.
"We are happy that we could fulfil our promise of bringing drinking water to the doorsteps of these villagers and hope that we are able to do more," said a pleased but weary Dedhwal.
Fortunately, the Friends of Vidarbha Club has got the endorsement of a leading medico and social worker, Shantakumar Verma, and donations are still coming.
"So, after collecting sufficient funds, on our next trip, we plan to construct a small hospital for the benefit of the tribals here as they badly need good medicare," both Kumar and Dedhwal said.
The duo admitted that this would require huge funds but were confident that the people of Ludhiana and other parts of Punjab would chip in for the noble venture.
Suresh Bolanwar, a local villager who is also coordinating the project, said that this is the first time people have seen water in such abundance right next to their homes.
"For decades our story has been the same. During monsoon, we collect rainwater flowing from the roofs, small streams and seasonal rivers and, after monsoons, walk up to 10 km to collect water for our daily basic needs," Bolanwar said.
He said that the Nandgaon tubewell, dedicated to Monu Kapoor, has virtually become a pilgrim place and people are coming from other hamlets to collect water from it, considering it to be holy water.
Local NGO Vidarbha Jan Andolan Samiti chief Kishore Tiwari said that the organization (VJAS) had raised the issue of malnourishment and starvation among the Kolam and other tribes in the region, problems of water scarcity and related issues with the Bombay High Court, Nagpur Bench, in 2001.
Later, a team of the National Human Rights Commission visited the region and promised to initiate necessary steps with the state government, but nothing has happened so far, Tiwari said. - IANS
Wish to share your story?
Trending Now: