'Amar Gaon' will bring dwarves together and enable them to live comfortably

26-April-2012
Vol 3&nbsp|&nbspIssue 17
Almost 70 dwarfs, ranging from one-and-a-half feet to three feet in height, across Assam will soon have a place to live in with dignity and comfort, with a theatre actor setting up a village with houses adapted to their stature.
Pabitra Rabha, a National School of Drama (NSD) graduate and a theatre personality of the state, is setting up the special home for these short people in Jalah village near Tangla in lower Assam's Udalguri district, about 90 km away from the state's main city of Guwahati.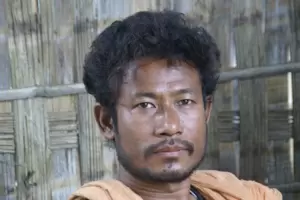 Pabitra Rabha wanted to bring dignity and self-respect into the lives of the dwarfs and this he achieved through theatre
"I have got four bighas of land for the project 'Amar Gaon', meaning our village in Assamese. We are now working on the designs of houses for the people. The houses in the village will be designed in a way so that the 'little people' can live comfortably in the houses," said Rabha.
"It is difficult for them to live in normal houses due to their physical stature. But at the same time the houses should not be too small as that can again affect the psyche of these people."
Amar Gaon will include houses, a centre for their professional training and skill development and a place for rehearsals as well as other aspects of their lives.
"There are about 70 such people in various districts of Assam. It took me four years to find out the total population of these people. At present eight of them are working with us. We are planning to accommodate at least 30 of them in Amar Gaon initially," says Rabha who also runs a theatre group called Dapon.
For many of them used to working in circuses as clowns, dressed in bizarre costumes replete with bulbous nose, wavy hair and painted faces, Dapon has given new meaning to their lives.

When James Daimary, a clown with Moonlight Circus got an opportunity to work in the Assamese play 'Kino Kou' (What to say?) he found a medium to communicate his angst, despair and helplessness with the audience.

"My character depicted the struggle of a dwarf to integrate with mainstream society as it happens in real life when I used to be ashamed to even venture out to the market," said James.

The play based on the complex lives of dwarfs was performed by 35 dwarfs, all non-actors, who were meticulously trained in theatre by Rabha.

Rabha hails from a family with musical leanings and artistic talent. He used to play ethnic Assamese musical instruments as his mother sang at Namghar (Prayer hall) and father recited the Mahabharata.

His two brothers were painters. He imbibed the rich cultural traditions of Assam, and became conscious of social issues even at a young age. Later, he joined National School of Drama.

At one stage, he left behind a promising career in films – he had acted in Hindi movies like 'Tango Charlie' and 'Mukhbir' directed by Mani Shankar – to take up theatre seriously.

"I thought why not promote theatre in the Northeast region and create plays to highlight social issues and organize theatre workshops," says Rabha who started Dapon in 2003, whose fame gradually spread across the Northeast and beyond.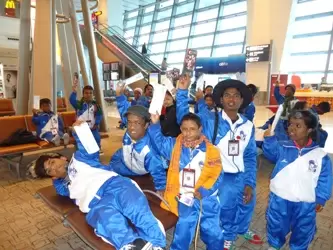 There are now 23 dwarfs including 8 girls in Dapon
In 2008 he got the idea of including dwarfs in Dapon as he felt they were a hugely ignored community. "They are capable of doing any work as any other normal person, but only for their short height and different physical appearance they are stigmatized by society," he says.

Rabha went door-to-door to meet dwarfs from the seven districts of Assam, from Jorhat to Kokrajhar, and tried to convince them to join theatre.

After two years of hard work, seventy dwarfs were brought to Tangla for a 45 day theatre workshop. After the training, some of them left to complete their education with new found confidence.

There are now 23 dwarfs including 8 girls in Dapon, which has a total strength of around 50 artists.

James, being one of them, says theatre has given him dignity and confidence. He no longer hesitates to meet people. Apart from being a stage artiste, he makes sundry items from bamboo and sells them.

Dapon provides vocational training to the dwarfs for an alternate livelihood and funds those who want to pursue their education.

Another dwarf, Akshay Das is bringing up his two normal children with dignity and has a small vegetable business. "As a theatre artiste I get immense respect from people and I am very happy now," he says.

Listening to the testimonies of the dwarfs about how Dapon changed their lives, one is convinced that Rabha's efforts have borne fruit.

Rabha had recalled that when he had brought the dwarfs to Tangla, the locals just stared at them like museum pieces. But the same village looks up to the little actors with newfound respect now, which is a tribute to Rabha's initiative. – with inputs from IANS


Trending Now: