Rajasthan school kid bags IPL contract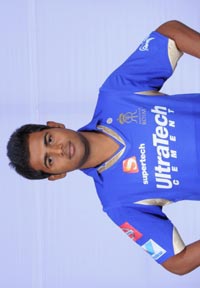 Eighteen-year-old left-arm spinner Kumar Boresa, who plays for Pali District Cricket Association, and had represented Rajasthan U-16 team in the Vijay Merchant Trophy in 2009 and 2010, has bagged an IPL contract with Rajasthan Royals.
The Class 10 student, who has also led the Stanford School team in many districts and state-level tournaments, won a talent hunt contest conducted by Rajasthan Royals and Dainik Bhaskar to unearth the hidden cricketing talent in Rajasthan.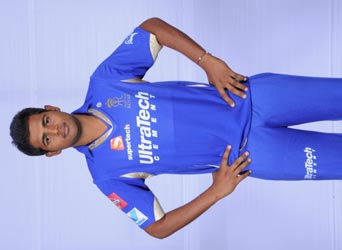 Kumar impressed with his fine spin bowling, all-round skills, and fair play
Kumar who won the contest in 2012, has signed a contract with the Rajasthan Royals worth Rs 10 lakh, and will don the royal blue jersey in the IPL 2013.
The cricket star programme was organized in Rajasthan from September to November last year.
The programme included an SMS-based application system following which the applicants were tested on various skills in the centres of Jaipur, Jodhpur and Udaipur by RR Coach Monty Desai and other appointed talent scouts.
The top candidates from all these centres were called to Jaipur at the Sanskar School grounds for the Cricket Star Academy and after 3 days of matches, Kumar Boresa from Pali was chosen as 'Cricket Star Rajasthan' winner for his fine spin bowling, all-round skills, discipline, enthusiasm and fair play.
While initially the grand prize was an internship with the Royals, the young lad impressed all which prompted the team management to upgrade his internship to a full IPL contract with Rajasthan Royals.
"I used to see the big players on television and never imagined I would get a chance to meet them or practice with them.
"It is an unforgettable moment for me, my family and my seniors who have always supported and helped me excel in cricket. I am grateful to Rajasthan Royals for giving me such an opportunity," Boresa said.
Raghu Iyer, CEO, Rajasthan Royals, said, "With the cricket star programme, we are looking to find and promote talent in Rajasthan and provide an opportunity for the youth to showcase their skills. We were mighty impressed with the talent that Kumar displayed during the 'Cricket Star Rajasthan' programme, and we are all very excited about presenting him in the upcoming IPL season." – TWL Bureau