Delhi on Track to Erase 'Garbage Mountains': CM Kejriwal Reveals Bhalswa Update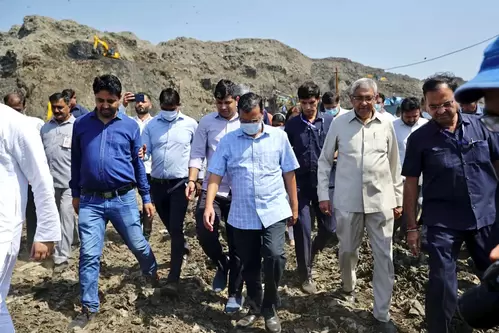 Delhi Chief Minister Arvind Kejriwal has reaffirmed his commitment to addressing the longstanding issue of garbage disposal in the city.

He took to X, providing an update on the progress of removing garbage from the Bhalswa Landfill site, indicating that the work is advancing at a pace exceeding the set targets.

Kejriwal said: "We had promised the people of Delhi that we would remove the mountains of garbage present in Delhi. We are engaged in this work day and night."


He said that his personal visit to the Bhalswa Landfill site revealed significant advancements in the cleanup efforts.
During his visit, MCD Mayor Shelly Oberoi, MCD in-charge and MLA Durgesh Pathak, Deputy Mayor Aaley Mohammad Iqbal, and MCD Leader of the House Mukesh Goel, along with senior officers of the MCD, were also present.
Looking ahead, the Chief Minister shared the goals, explaining that they intend to eliminate 30 lakh tonnes of garbage by May 2024, exceeding this target by planning to remove 45 lakh tonnes of waste.
"With its removal, 35 acres of land will become free," he said.
"I am delighted to report that the work of clearing trash is progressing much faster than the set target. Not only has the goal of removing 14 lakh tonnes of garbage by September been achieved, but more garbage has been cleared than the target specified," he added.
He pointed out that by September, the Bhalswa landfill site had cleared 18 lakh tonnes of garbage instead of the designated 14 lakh tonnes.
Saying that the site receives about 2,000 tonnes of new garbage daily, he said that the process of hiring another agency is underway so that both agencies can work together to completely clear the Bhalswa landfill site.
Kejriwal said that when the current agency clears 45 lakh tonnes of garbage by May 15 next year, approximately 35 acres of land here will be vacant.
"Once all the garbage is cleared, there will be a significant amount of available land. People coming to Delhi from Punjab and Haryana via the road next to the Bhalswa landfill site used to be greeted by the sight of a mountain of garbage. When this garbage mountain is cleared, this land can be used in various ways. The agency and engineers from the MCD deserve accolades for their work in removing garbage at a pace exceeding the set target," he said.
He informed that after removing 45 lakh tonnes of garbage by May 15, 2024, a second agency is being hired to handle the remaining garbage. The process for which is nearly complete.
"Currently, there is no standing committee in the MCD. We are waiting for the Supreme Court's order regarding this. Once the Supreme Court's order is received, elections for the standing committee will be held. Tenders cannot be issued without the recommendation of the standing committee, so this is stuck in a legal process. Efforts are being made to find a solution to this. The total area of the Bhalswa landfill site is 72 acres. After removing 45 tonnes of garbage, approximately 35 acres of land will be vacant," he clarified.
According to Kejriwal's post on X, the initial target aimed to remove 14 lakh tonnes of garbage from the Bhalswa site by the present date. However, they have already removed 18 lakh tonnes of garbage.
It is worth noting that the Bhalswa Landfill still contains a total of 65 lakh tonnes of garbage, which indicates the scale of the challenge. For which, Kejriwal stated that another agency would be brought in to assist with the cleanup effort in the coming days.
Moreover, Kejriwal said that similar progress is being made at other landfill sites across Delhi. "I will visit there next week," he said.
Meanwhile, Delhi's Mayor Shelly Oberoi said that the removal of garbage mountains is progressing rapidly. "Delhi will soon be free of garbage mountains. The process of appointing an additional agency for this is in its final stages. Delhi will be freed from garbage mountains ahead of schedule," he said.
She mentioned that since Kejriwal's last inspection, the removal of garbage from the Bhalswa landfill site has accelerated significantly. "The Bhalswa landfill site now appears quite empty. The dream of making Delhi garbage-free will soon become a reality," she said. - IANS