Sift Kaur Samra Clinches Historic Gold in Rifle Shooting at Asian Games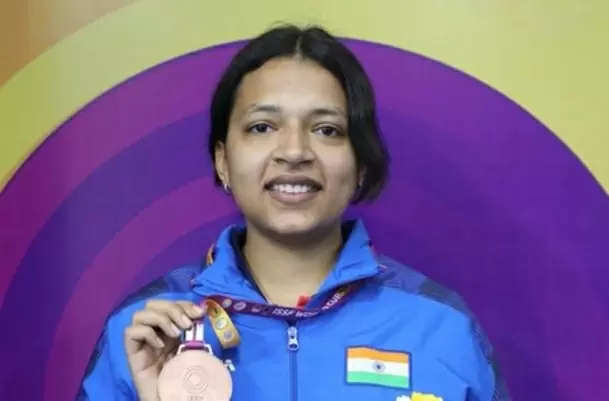 Sift Kaur Samra, a 22-year-old MBBS student from Faridkot in Punjab, made history at the Asian Games at the Asian Games becoming the first Indian to win a gold medal in rifle shooting as the country dominated the shooting ranges on Wednesday by claiming seven medals at the Fuyang Yinhu Sports Centre in Hangzhou.

Sift Kaur, who had a year back contemplated quitting the sport altogether as she was finding it difficult to juggle studies and sports, persevered with shooting and made history for India, winning the gold medal in the Women's 50m Rifle 3-Positions Individual with a world record score of 469.6.

She improved on the previous world record of 467.0 set by Seonaid McIntosh of Great Britain in the ISSF World Cup in Baku in May this year. Sift finished ahead of Qiongyue Zhang of China (462.3) and compatriot Ashi Choksey (451.9). It could easily have been a golf-silver result for India but for a poor score by Ashi Chouksey on her final shot that dropped her to the third position.


In all, India won two gold, three silver and three bronze medals on the Wonderful Wednesday at the Asian Games, with Rhythm Sangwan, Manu Bhaker and Esha Singh winning the gold medal in the women's 25m Pistol Team event.
The silver medals were bagged by the Sift Kaur Samra, Ashi Chouksey and Manini Kaushik in the Women's 50m Rifle 3-positions Team event, Esha Singh in the Women's in 25m Pistol Individual and Anant Jeet Singh Naruka in the Men's Skeet Individual.
Naruka had earlier partnered with Angad Vir Singh Bajwa and Gurjoat Singh Khangura to win bronze in the Men's Skeet Team event.
The 26-year-old Anant Jeet Singh Naruka also made history by winning the first silver medal for India in the Men's Skeet after Dr Karni Singh had bagged a bronze medal in the 1974 Games in Tehran.
Anant Jeet shot brilliantly in a shooting discipline in which the Indians do not have much history or success. He battled the 60-year-old Abdullah Al-Rashidi of Kuwait, a three-time World Champion who won bronze medals in the 2016 and 2020 Olympic Games. Al-Rashidi had won the gold medal in the 2010 Asian Games, as a neutral, and in 2014 at Incheon for Kuwait.
Anant Jeet matched Al-Rashidi shot for shot till 40 targets, before missing his first bird on the 44th shot. He missed one more bird on the 46th turn before winding up with a 4-2-4 series to finish with 58 out of 60.
Al-Radhidi produced a perfect score of 60 out of 60, equalling the World Record set by Angad Vir Singh Bajwa, which is also the Asian Record, set in Kuwait City in 2018. The bronze medal went to Al Attiya, a bronze medallist at the London Olympic Games in 2012, who is an experienced rally driver, having won the Dakar Rally on multiple occasions.
Anant Jeet's performance was totally unexpected as he overcame the likes of Nasser Al-Attiya, a bronze medallist in the 2010 Guangzhou Asian Games and the two Chinese Wu Yunxuan and Liu Jiangchi.
It was also a great result for Esha Singh, a product of the Gun For Glory Academy of Olympic bronze medallist Gagan Narang at Hyderabad, as she upstaged her senior teammate Manu Bhaker to win the silver medal. This is an event in which India's Rahi Sarnobat won the gold medal in the 2018 edition and winning gold in the Team competition and silver in the Individual in Hangzhou is a great result for India. - IANS