Assam Chief Minister Himanta Biswa Sarma Inaugurates Assam Bhawan in Vellore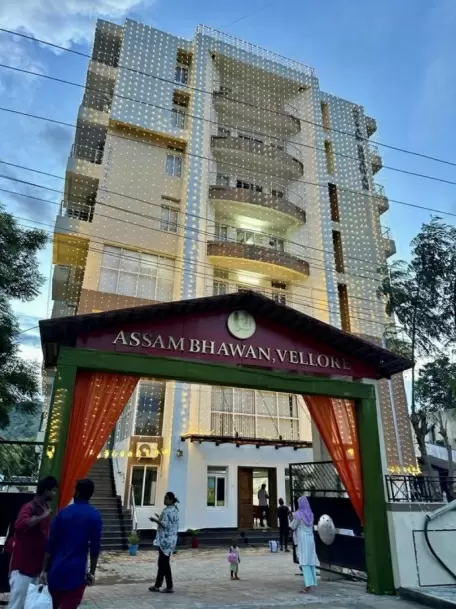 Assam Chief Minister Himanta Biswa Sarma on Tuesday inaugurated Assam Bhawan at Vellore in Tamil Nadu, officials said.

The Assam Bhawan built on an area of 4340 square metre with an estimate of Rs 23 crore.

Sarma termed the day momentous, as he dedicated Assam Bhawan in Vellore to the service of the people of Assam.


"The 'Assam Bhawan' will be very helpful to the patients and their attendants who come to Vellore for advanced treatment. It will also be beneficial for the students from Assam who come to Vellore for higher studies. The Assam Bhawan will address the accommodation issue of the patients and students," he said.
It has been built in four phases as this six storied building has suites, double bedded accommodation, one 2BHK unit, 40 double bedded guest room, three five sitter male dormitory, one seven seater female dormitory, one reception and lunge, one dining hall, one kitchen, one store, one office, one Assam Emporium and office and one staff dormitory.
For the management of the 'Assam Bhawan', 12 sanctioned posts have been created. The Chief Minister also said that the presence of Christian Medical College and Vellore Institute of Technology within 10 KM radius has increased the importance of the Bhawan.
He also said that for the convenience of the people of Assam, the State government earlier already set up Assam Bhawans in Kolkata, Mumbai, Chennai, New Delhi and Shillong.
However, the current government has also taken steps for reconstruction of Assam Bhawan situated at SP Marg in New Delhi and Russell Street in Kolkata.
The construction of Assam Bhawan is going on in full swing in Bengaluru which will be inaugurated in the current financial year.
Sarma said that steps have also been taken to build Assam Bhawan at Ahmedabad and Pune. One more Assam Bhawan is being built in the national capital which will have a convention centre as well as Namghar to reflect Assam's cultural heritage at the national level.
The Chief Minister thanked the Tamil Nadu government and the people of Vellore for extending all help in the construction of Assam Bhawan.
The state ministers Ranjeet Kumar Dass, Ashok Singhal and other dignitaries were present on the occasion. - IANS