PM Narendra Modi to Boost BJP Morale at 'Karyakarta Mahakumbh' Ahead of Madhya Pradesh Polls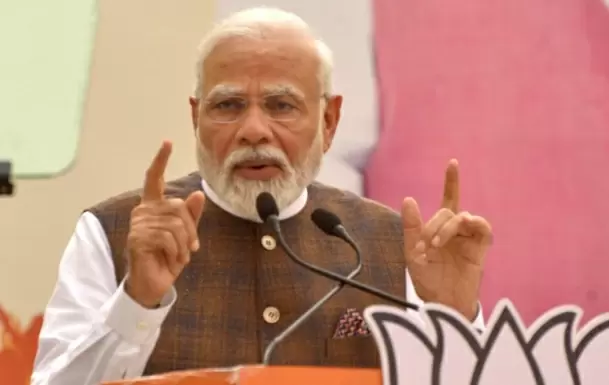 Cutouts and hoardings of the Prime Minister, other BJP leaders and party flags covered the capital city of poll-bound Madhya Pradesh ahead of PM Narendra Modi's visit on Monday.

Upon his arrival, Prime Minister Modi will address a mega rally – 'Karyakarta Mahakumbh' at Bhopal's Jamboori Maidan located in BHL area under Govindpura Assembly constituency.

Donning party caps, BJP workers – men and women of different age groups, even some minors started arriving in Bhopal early this morning.


The state BJP unit, which is eying to retain power in Madhya Pradesh in the assembly elections due this year end, has made elaborate arrangements for its workers arriving from the different parts of the state.
The road – around a 500 meters stretch leading from Gandhi Chowk to Jamboori Maidan, which is the main entrance, has been decorated with the arts of tribal communities.
At every 10-15 meters stages were set up where tribal artistes in their traditional attire would be seen dancing and beating drums.
PM Modi was scheduled to arrive at Jamboori Maidan at 11 a.m to address the BJP's 'Karyakarta Mahakumbh', which is being organised on the occasion of the birth anniversary of the BJP's fore-founder Deen Dayal Upadhyay.
As Madhya Pradesh is set to witness a heated pool-battle between the BJP and Congress and just few days left for the elections code of conduct to be announced, PM Modi's mega rally is supposed to boost up party workers.
A large group of workers from Chhindwara's Pandhurna arrived in several buses during early hours, and were happy that Chief Minister Shivraj Singh Chouhan had declared Pandhurna a separate district.
Notably, Padhurna- one of Tehsil of the state's largest district Chhindwara has been declared as a new district recently.
Chhindwara is the political bastion of former chief minister and state Congress head Kamal Nath and he presents his home district as a model of development. "Kamal Nath has done a lot of developments in Chhindwara, but the other parts of the district are still waiting for schools, colleges and other developments. He (Kamal Nath) works for people of Chhindwara only," a BJP's member (Mandal member)from Pandhuran said talking to IANS.
Some other pointed out Kamal Nath's soft-Hindutva – arguing that the Congress leader organised two mega religious events of Dhirendra Krishna Shatri (Bagheshwar Dham head) and Pandit Pradeep Mishra in Chhindwara, but he didn't apply tilak on their foreheads.
"Kamal Nath welcomed Dhirendra Shastri and Pradeep Mishra with aarti, but he didn't put Tilak on their forehead. He neither wears tilak (chandan) on his forehead, nor does he tie Raksha sutra on his wrist," a BJP worker from Chhindwara said, while others in the group agreed with the loud sound.
Food stalls for BJP workers have been set up at an adjoining ground of the Jamboori Madian.
Party workers who have ID cards bearing Deen Dayal Upadhya's photo and BJP's symbol – Lotus and signed by the party's Mandal offices would get entry in food stalls and will be allowed in the pandal setup at Jamboori Maidan.
The 'Karyakarta Mahakumbh' is being organised on the birth anniversary of Jana Sangh co-founder Deendayal Upadhyaya to mark the formal culmination of the BJP's 'Jan Ashirwad Yatras' that crisscrossed the length and breadth of the state, party leaders said.
Reports claimed the BJP is expecting a gathering of 10 lakh people at the event to demonstrate the party's strength. PM Modi has visited and addressed around half-a-dozen public rallies in poll-bound Madhya Pradesh in the past few months, he had address the last rally – 'Janjatiya Gaurav Diwas' (Tribal Pride Day) at Bhopal's Jamboori Maidan on November 15, 2021. - IANS