Local BJP Leader Beats Injured Tribal Man With Slipper In MP's Anuppur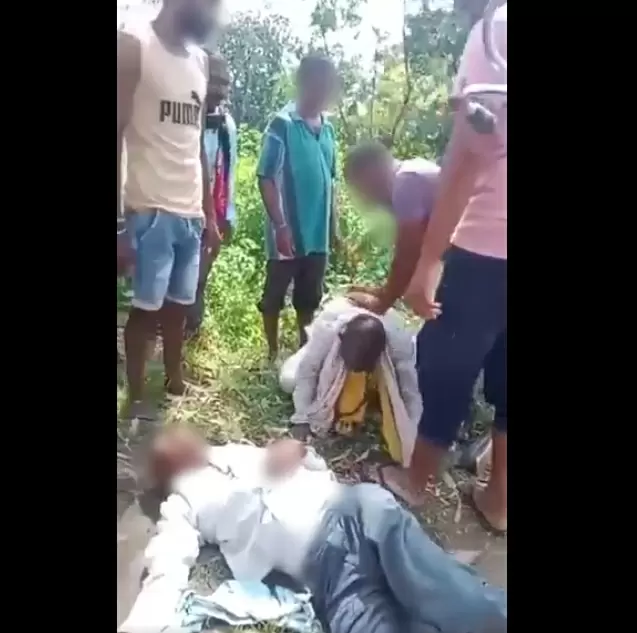 Two months after Sidhi urination incident in Madhya Pradesh, another local leader of the ruling BJP was seen beating a tribal man with a slipper.

The incident was reported in Anuppur district, adjoining Sidhi district.

In a viral video, BJP 's Ganesh Dikshit, who is Mandal Adhyaksh of Anuppur district, was seen beating the tribal with his sleeper in the presence of over two dozen people.


As per the reports, Barnu Singh (60) was driving a two-wheeler with his relative Bhoma Singh (55) as pillion-rider when they were hit by a speeding mini-truck. Bhoma Singh received fatal injuries on his head and died on spot.
Seeing the incident, locals rushed to the spot. Ganesh Dikshit also reached there. In the viral video, Dikshit is seen asking about the dead person lying on the road. Barnu Singh, who was shocked, after the incident could not reply, which made Dikshit furious and he started beating him up with his slipper. Some people tried to stop him, but he kept beating the man furiously.
The incident occurred on Tuesday and the local police claimed to have registered a case against Dikshit and some other people. However, the police are yet to arrest the accused persons.
Anuppur district BJP president Ravindra Rathor later removed Dikshit from the post stating that the latter's act had dented the party's image.
"Your act has tarnished the party's image and therefore you have been removed from the party's membership with immediate effect," a letter signed by Ravindra Singh, Anuppur district BJP president read.
The state Congress has condemned the incident and has demanded answers from Chief Minister Shivraj Singh Chouhan and state BJP president V. D. Sharma.
State Congress president Kamal Nath said, "Shivraj Singh Chauhan ji, you cannot ignore this gruesome video. Next to the dead body of a tribal man in Anuppur district, a Bharatiya Janata Party leader is seen beating another tribal man with slippers. BJP is becoming a party of tribal atrocities in Madhya Pradesh."
Former Union Minister and senior tribal leader (Congress) Kantilal Bhuria claimed the BJP leadership was protecting its party workers who did inhuman acts. "Police lodged an FIR against Ganesh Dikshit, but he was yet to be arrested by the police. It is a highly condemnable act by the BJP workers and he should be punished under the stringent Act of atrocities against tribal," Congress leader said. - IANS