Arrest of Kurmi leaders: Massive protests in Bengal tribal pockets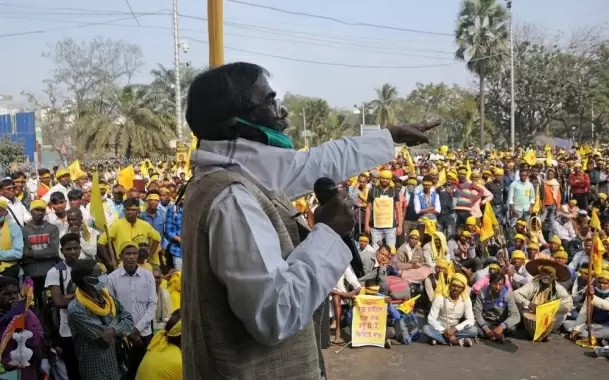 Massive protests were being held by the Kurmi community on Monday against the arrest of its two leaders, Rajesh Mahato and Nishikanta Mahato, in connection with the attack on the convoy of Abhishek Banerjee, the Trinamool Congress national general secretary and the party's Lok Sabha member.

Following protests the Kurmi community leaders' normal functioning was paralyzed in certain pockets of the tribal-dominated districts of Bankura, Purulia, West Midnapore and Jhargram.

The protesters resorted to road blockades, processions and rallies. The leaders from the Kurmi community said that these protest demonstrations will continue and will take a more serious shape in the coming days if the arrested leaders are not released immediately. "At the same time our movement will continue for the grant of Scheduled Tribe status," said Kurmi leader Ajit Mahato.


Meanwhile, BJP's national vice-president and the party Lok Sabha member Dilip Ghosh said that he doubts that that attack on Abhishek Banerjee on Friday was a drama staged by Trinamool Congress to gain public sympathy.
"It is being alleged that the rear glass of the vehicle of state minister Birbaha Hansda was smashed. But there is not a single eyewitness to that. I doubt it is cheap publicity which ultimately will not work out," Ghosh said.
The police action started after West Bengal Chief Minister Mamata Banerjee at a public rally at Salboni alleged that BJP was trying to instigate a Manipur-like caste violence in West Bengal by instigating the Kurmis against other tribal people.
First Rajesh Mahato, a teacher in a state run school was transferred from his native district to a distant one and then he was arrested on Sunday. Thereafter, the police arrested his close confidante Nishikanta.
A total of nine arrests have been made in this connection so far. All are likely to be presented at a district court on Monday. - IANS