Gurugram: Sextortion accused who drove man to commit suicide held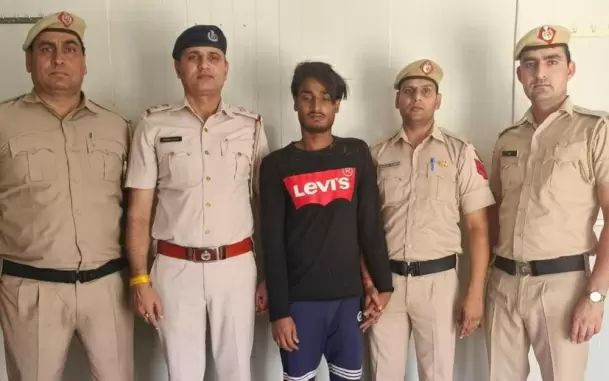 An accused has been arrested from Nuh in connection with the suicide of a 38-year-old man in Dhankot village of Gurugram.

According to the police, the victim took extreme step after the accused threatened to make his offensive videos viral on social media and demanded ransom.

In connection with the matter, the Gurugram Police have arrested a 26-year-old man Shakeel alias Shokeen from Haryana's Nuh district.


During questioning, the accused revealed that he along with his associates has been carrying out such incidents for the last one and a half years and has executed about 30/35 incidents of sextortion.
According to the police, the victim committed suicide on November 15, 2022, in Dhankot village.
The family also performed his last rites after an autopsy but while checking the mobile phone of the deceased, it was found that the victim was forced to commit suicide.
While scanning the victim's mobile, the messages and video calls of the accused revealed that the accused was asking for money in the name of making the objectionable video viral on YouTube and transaction details of Rs 72,800 were also found in the deceased phone records, police added.
A case was registered for inciting the man to commit suicide by threatening him with sextortion at Rajendra Park police station.
Following that, a team of Dhankot police posts led by Sub-Inspector Pradeep Kumar arrested the accused from Nuh.
According to the police investigation, the accused was involved in sextortion.
The police team produced the accused before the court which remanded him to police custody.
During interrogation, it was found that the accused along with his accomplices used to convert his voice into the voice of a girl through a voice changer Bluetooth handset and used to talk to people posing as a girl. While making a video call, he would play a nude video on the back screen and show the nude video playing on the screen while talking in the voice of a girl to the victims he called.
"The nude video and the girl's voice to the person in front, it seemed that a call has been made by a naked girl. He would also ask the victims to take off his clothes and record that call. After that, along with his accomplices, the accused would have cheated the person demanding money by pressurising and mentally harassing him, threatening to make the recorded video viral on social media," the police said.
"The same happend with the deceased in this case and due to the pressure/harassment created by the accused with his accomplices, the victim committed suicide," Sub-Inspector Pradeep Kumar, the investigating officer of the case, told IANS.
Police recovered one voice changer Bluetooth headset, one mobile phone, and some cash from the possession of the accused.- IANS