Bihar CM Nitish Kumar Meets Uddhav Thackeray, Sharad Pawar in Effort to Forge Grand Alliance of Non-BJP Parties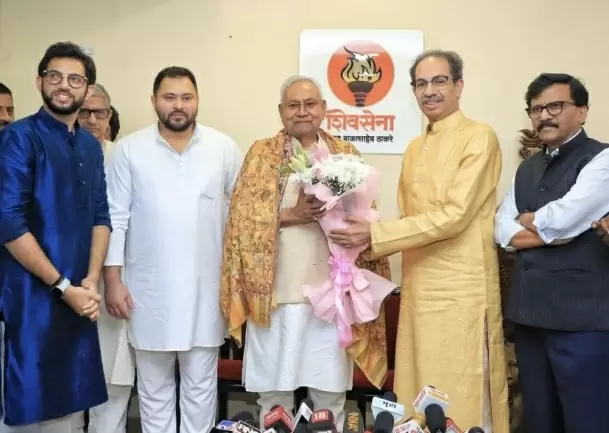 Bihar Chief Minister Nitish Kumar, accompanied by his deputy Tejashwi Yadav, on Thursday met Shiv Sena-UBT President and former Maharashtra Chief Minister Uddhav Thackeray, Nationalist Congress Party President Sharad Pawar and state Congress Working President Naseem Khan as part of his efforts to forge a grand alliance of all non-BJP parties.

After the meetings, Nitish Kumar said that if more and more opposition parties unitedly stand and work together, it can help achieve a better fight against the BJP in the 2024 Lok Sabha polls.

"When all opposition unites to fight, there will be a direct contest (against the BJP). We can get good success and the country can head in the right direction," remarked Nitish Kumar, who was accompanied by his Janata Dal-U's national Secretary Kapil Patil and others.


He observed that what the BJP is doing is not good for the country and its imperative for the opposition parties to work together and save democracy in India.
"There should not be any dispute. All must remain united with the same objective to work in the best interests of the country, and provide an alternative in the next elections," he said.
To a query whether Pawar would be the main face of the opposition alliance, Nitish Kumar said that "nothing could be more delightful than that", and he had requested him to work more vigorously both for his party and the entire country.
Khan welcomed the visiting dignitaries at Mumbai Airport and wished them the bet for their efforts to work out a united opposition front, saying Nitish Kumar had already met Congress top brass in New Delhi recently.
Earlier this morning, Nitish Kumar and Yadav, JD-U President Rajiv Ranjan Singh alias Lalan Singh, Bihar Legislative Council Chairman Deveshchandra Thakur and Bihar Cooperation Minister Sanjay Kumar Jha, were accorded a grand welcome on their first visit to Mumbai with huge banners and posters heralding their trip, said a JD-U official.
The duo and others were accorded a traditional Maharashtrian style welcome at the Thackeray residence 'Matoshri' in Bandra where they had lunch with Uddhav and Aditya Thackerays, with MP Sanjay Raut also present.
Later, they drove to Pawar's residence 'Silver Oaks' in south Mumbai where they were welcomed by Sharad Pawar and his daughter Supriya Sule and others.
In the past few days, Nitish Kumar has been jetting around the country meeting top Opposition party leaders including Mallikarjun Kharge, Arvind Kejriwal, Hemant Soren, Naveen Patnaik, Mamata Banerjee, Akhilesh Yadav, Sitaram Yechury, D. Raja and other. - IANS