Tamil Nadu Finance Minister P.T.R. Thiagarajan Reassigned to IT Portfolio in Cabinet Reshuffle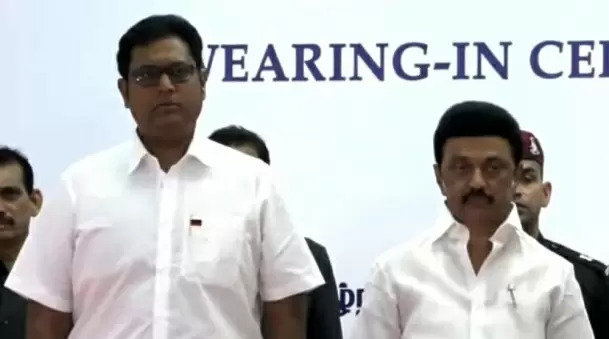 Subsequent to the swearing in of T.R.B. Raaja as a minister on Thursday, Chief Minister M.K. Stalin reshuffled the portfolios of some of the ministers.

High profile finance minister of the state, P.T.R. Thiagarajan was divested of his ministry and given a low-profile IT portfolio.

IANS had earlier reported that he would be stripped of the portfolio and Industries minister Thangam Thenrasu will take charge of finance.


As expected, TRB Rajaa will replace Thangam Thenarasu in the high profile industries ministry.
State information minister Saminathan has been given the ministry of Tamil development department.
Mano Thangaraj is the new Diary development minister instead of S.A. Nasser who has been dropped from the cabinet.
PTR in his official twitter account posted, "I am grateful that CM@mkstalin has now assigned me the portfolio of Information Technology -globally the #1 industry for investment and job-creation today. We know that technology shapes the future."
Notably, Thiagarajan was in the dock after an audio leak in which the speaker - alleged to be PTR - was heard saying that Stalin's son Udayanidhi Stalin and his son-in-law Sabareesan were making huge money after the Stalin government assumed office.
Thiagarajan denied this and added that this was an artificial intelligence-created audio tape mimicking his voice. He had met the Chief Minister and conveyed his position.
However, Stalin was not willing to forgive and wanted to clip the wings of the high flying minister in his cabinet.