Tamil Nadu CM Stalin Supports Finance Minister PTR Thiagarajan in Face of Alleged Audio Tape Leaks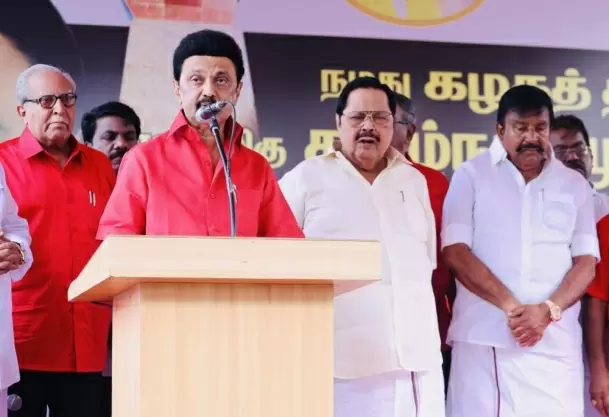 Tamil Nadu Chief Minister M.K. Stalin has said that there is cheap politics behind the alleged audio tape leaks on state Finance minister P.T.R. Thiagarajan.

He said that as PTR himself has clarified twice on the tapes, there was no need for him to further talk on the subject and give publicity to anyone.

Stalin said, "PTR himself clarified twice and I don't want to talk any further on this and give publicity to those indulging in cheap politics."


State Finance Minister Thiagarajan had met Chief Minister Stalin at the latter's Alwarpet residence on Monday. This has eased tensions between the first family of DMK and PTR Thiagarajan after the alleged audio tape dialogues attributed to the finance minister.
It may be recalled that a day after the audio tape was released, PTR had on April 26 taken to Twitter and in a video said that the tape was fabricated using Deepfake and called it an attempt of cheap tactics to disrupt the Dravidian model of government in Tamil Nadu.
DMK spokesman T.K.S. Elangovan earlier told media persons on Monday that the party won't file a case in the court as it was a personal attack on PTR and it was for PTR to file a case. - IANS