Cash Rewards Offered for Proof as Controversy Surrounds 'The Kerala Story' Film Alleging Mass Conversion and Terror Recruitment
Thiruvananthapuram / Mumbai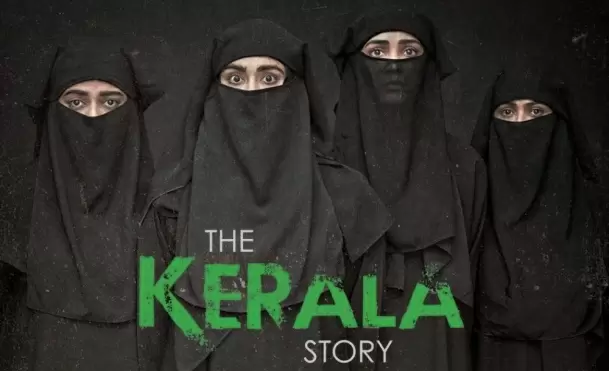 Amid the controversy surrounding the upcoming film "The Kerala Story", the youth wing of a leading state party and two individuals separately promised cash awards for those who prove its storyline correct and provide facts.

The film starring Adah Sharma, slated to release on May 5, claims that around 32,000 women have gone missing from Kerala after being brainwashed, converted and sent for terror missions in India and abroad.

P.K. Firoz, chief of the Muslim Youth League, the youth wing of IUML, the second-largest member of the Congress-led UDF, said they will give Rs 1 crore if those who made the film prove the storyline to be actually correct.


The second announcement came from a blogger, K. Nazeer Hussain.
He said that he would "give Rs 10 lakh to anyone who can produce evidence that women were converted and forced to join the Islamic State".
Lawyer, and also an actor, Shukkur, wrote on Facebook that he would also give "Rs 11 lakh to anyone who will name the Kerala women who were converted, and then joined the Islamic State".
As soon as the teaser of the film was released, the ruling CPI-M-led Left and the UDF demanded that the film should not be screened. Kerala Culture Minister, Saji Cherian said "if 'The Kerala Story' is screened, people should boycott it".
He also said that legal action would be taken.
The film is directed by Sudipto Sen. It traces the journey of four female college students in Kerala who become part of Islamic State. The film also stars Yogita Bihani, Siddhi Idnani, and Sonia Balani. It is produced by Vipul Amrutlal Shah.
Meanwhile, actress Adah Sharma has shared that her upcoming film 'The Kerala Story' has not shown Kerala in a "derogatory light".
Adah took to Twitter, where she shared a selfie of herself in a pink saree with gajra in her hair.
She said: "Many senior persons in high posts have commented on #TheKeralaStory after watching the 2 minute trailer."
"My parents have always asked me to respect my elders so with due respect to all of them i hope they can take 2 hrs out of their busy schedule and watch the movie. I'm sure they will see that we haven't shown Kerala in any derogatory light. Jai hind."
In 'The Kerala Story', actress Adah Sharma is playing the role of Fathima Ba, a Hindu Malayali nurse, who is among the 32,000 women who went missing from Kerala and were then recruited to the ISIS (Islamic State of Iraq and Syria) after being forced to convert to Islam.
The film has courted controversy for portraying itself as a real story and for making false claims that thousands of women from Kerala are being converted to Islam and recruited into ISIS. It faces allegations of promoting the Sangh Parivar's agenda.
Film director and producer Vipul Amrutlal Shah talked about his film 'The Kerala Story'.
As the story is based on true events, Vipul said that it involved a lot of research and it is an attempt to bring out the truth in front of everyone.
He said: "The film is an amalgamation of years of research and true stories which have never been dared to be told before, it will uncover many hidden truths that have been hidden for long. It will uncover the dangerous threat radicalisation poses to the women of our nation and will create awareness about this conspiracy being hatched against India."
"The film aims to become the voice of tens of thousands of women across the globe who have been indoctrinated and exploited for terrorism and other crimes," added Vipul.
Apart from Adah, the film also features Yogita Bihani, Sonia Balani and Siddhi Idnani.
It is slated to hit theatres on May 5. - IANS