BJP Unveils People-Centric "Praja Pranalike" Manifesto for Karnataka Assembly Elections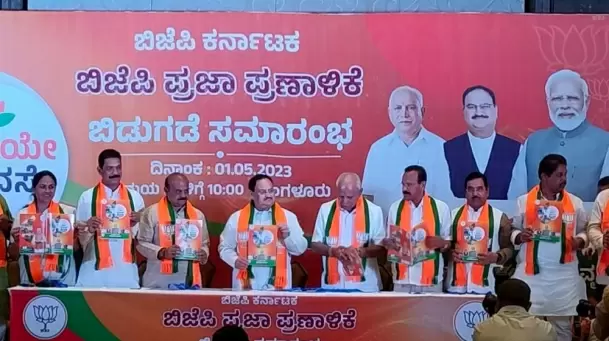 BJP national chief J.P. Nadda released the party's manifesto for the upcoming Karnataka Assembly elections on Monday, promising the implementation of Uniform Civil Code, free half-litre Nandini milk, and three free of cost LPG gas cylinders to the poor families.

The saffron party called it "Praja Pranalike (people's manifesto)".

Nadda released the manifesto here in the presence of former Chief Minister B.S. Yediyurappa, Union Minister for Mine, Coal and Parliamentary Affairs Pralhad Joshi, Karnataka BJP President Nalinkumar Kateel and others.


The party has assured free LPG cylinders for BPL card holders thrice during Ugadi, Ganesh Chaturthi and Diwali festivals.
The BJP has promised free half-litre Nandini milk for the BPL families under the Poshane Scheme. It has also proposed canteens in city corporation limits in the name of 'Atal Ahara Kendra'.
The manifesto also talks about standardisation of the government schools.
The party proposes to build five lakh houses in the urban areas and 10 lakh houses in the rural areas. Along with five kg rice, five kg of siridhanya will also be distributed in ration shops.
"Opinions of all the people have been taken. Opinion has also been taken from all the 224 constituencies," Chief Minister Basavaraj Bommai told reporters at Hubballi.
"The expert opinion is also taken to prepare the manifesto. This is a pro-people manifesto. It is going to be Praja Pranalike. We are trying to focus on doing what is possible in realistic terms...It is a very good election manifesto," he said. - IANS